QUEENSLAND, AUSTRALIA – Monday 18th April to Sunday 8th May 2005
Cliff CHARLESWORTH (47B) & his wife Pauline
[Reporter: Gerry PECK]
Day Three – Coochiemudlo Island
Wednesday 20th April
For our next piece of Australiana, a trip was made to Coochiemudlo Island, out in Moreton Bay. This is always a pleasant interlude and although we received one disappointment, we had a pleasant sojourn on this little tropical paradise that nestles just a kilometre or so offshore from Victoria Point on the mainland. The sea was millpond calm, as is almost always the case in these sheltered waters, being in the lee of the very large islands that skirt the entire southern coast of Moreton Bay. Coochiemudlo itself is a mere one square kilometre in size but it is a perfect miniature of all the larger islands that throng these waters.
In the past, the little island bus has always been there to greet each landfall of the water bus that plies between Coochie and the Point. Unfortunately, the lady who has been running this service is indisposed and thus we missed out on the excellent and informative tour that she usually provides for a paltry five bucks. The bus is apparently up for sale, so it looks as though she is not going to continue with it. Pity, because she was a good historian and a fine narrator of anecdotes on the islands development and the characters that it produced along the way.
Despite the bus being AWOL, we enjoyed a bit of a walkabout and a leisurely stroll along a pristine and quite deserted beach, with plenty of seashells and pieces of coral to indicate what a populous body of water Moreton Bay is. We even found a couple of large chunks of the very soft rock that gave rise to the islands aboriginal name. Coochiemudlo being their word for "Place of the red rock". Prior to European settlement the local indigenes would gather to hold various rites at certain times of the year and the soft rock, which can be ground easily into a smooth and very fine paste, was used as facial and body decoration. The rock produces red or dark yellow colouration, both colours being present in the chunks that litter the island.
The weather showed signs of deteriorating, so we decided to return home for a late lunch rather than eat at the island's cafe. Once the threat of rain petered out, we drove along to see if we could arrange a hire car for Cliff and Pauline's run to the Coral Coast, where Pauline wants to see if she can scuba dive on the Great Barrier Reef. We located a hire company where a Hyundai Getz was available for hire at very good rates, so the necessary dates were booked.
<![if !vml]>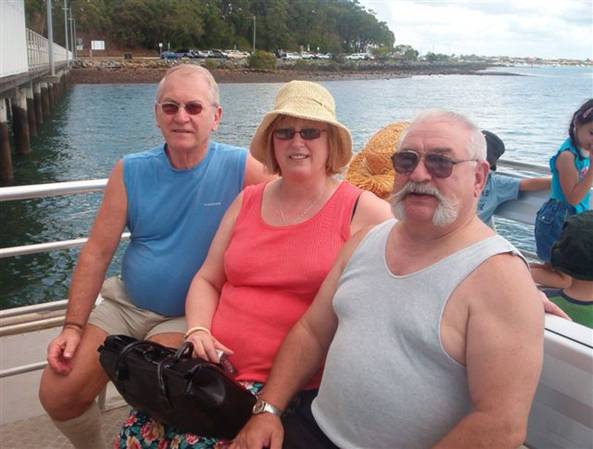 <![endif]>
Cliff, Pauline & Gerry
(Photograph: Margaret Peck)
<![if !vml]>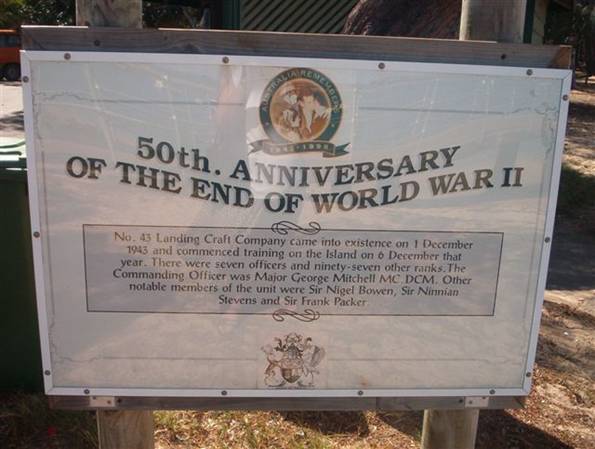 <![endif]>
(Photograph: Margaret Peck)
<![if !vml]>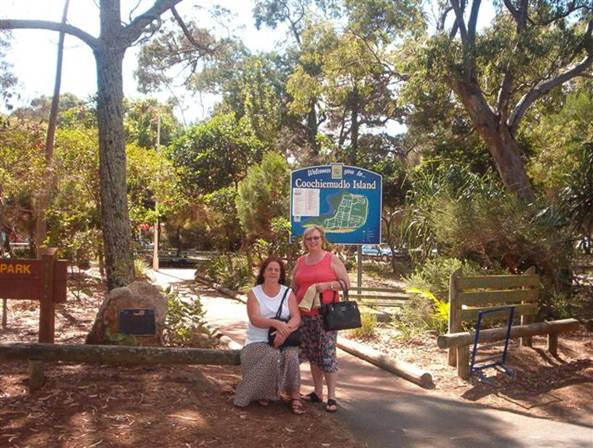 <![endif]>
Margaret & Pauline
(Photograph: Gerry Peck)
<![if !vml]>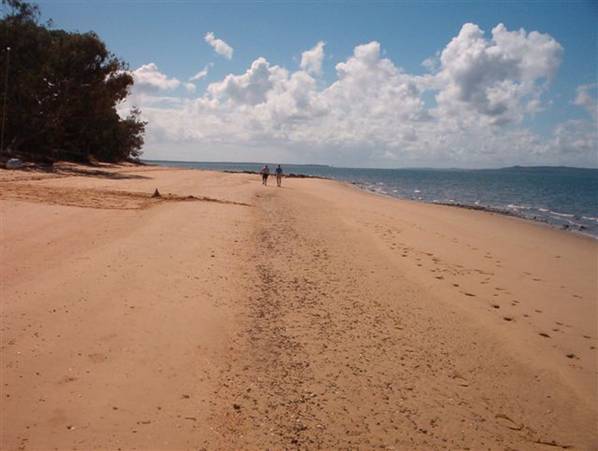 <![endif]>
Strolling on a Crowded Queensland Beach - Gerry & Cliff
(Photograph: Margaret Peck)
<![if !vml]>
<![endif]>
Cliff & Maragret
(Photograph: Gerry Peck)
<![if !vml]>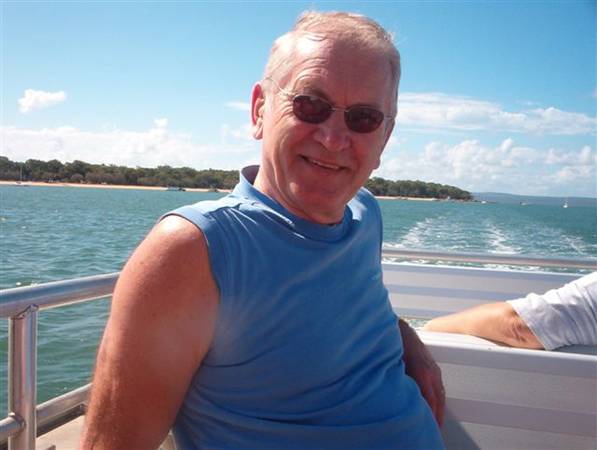 <![endif]>
Cliff, Looking Windswept and Interesting!
(Photograph: Margaret Peck)
Day Four – Logan Hyperdome
Thursday 21st April
Pauline wanted to take in some of the local shops and shopping malls, so that was the main theme of the next day's schedule, first there was some washing and such to be done though. We drove around our local area of Logan City and after a shufti at various shops, made our way to the Logan Hyperdome complex. Both Cliff and Pauline were surprised at the number of shopping malls that abound and impressed with the variety of goods and services offered.
<![if !vml]>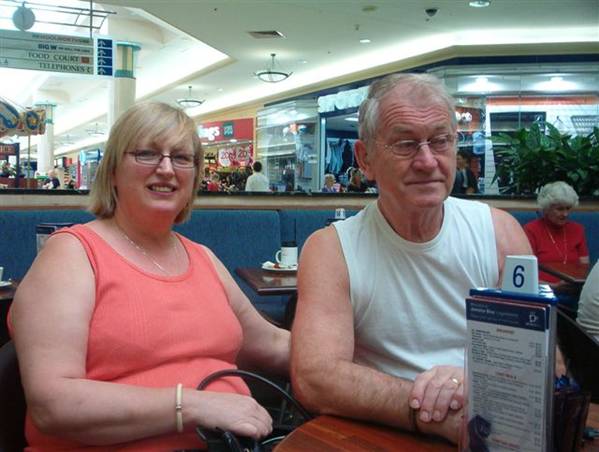 <![endif]>
Pauline & Cliff
(Photograph: Margaret Peck)
Later that afternoon, Cliff and I had a session on my pool table and enjoyed some good games, plus a few glasses of Maggie's home brew. (She makes it, I drink it).
Day Five – Sanctuary Cove, Gold Coast
Friday 22nd April
Friday we decided that a trip to Sanctuary Cove was on the agenda and we set off for the very select locale where the rich and infamous dwell in unabashed luxury. There is a famous and well-patronised golf course there and also a very swish shopping complex. However, Oz being Oz and to prevent the locals getting a swelled head, the shopping complex is clad in corrugated iron. Also, surprising as it may sound, the prices at these shops are very reasonable and indeed pretty competitive if the truth be told. Pauline found some nice opal jewellery and bought it for herself. We checked out the marina, with its opulent boats and even had a look over a large houseboat that can be hired out. There are many kilometres of sheltered canals and rivers threading their way all through the Gold Coast, so there is no shortage of places to take a boat or to moor up for a night. It is a bit like the Norfolk Broads except that many of the man made canals have luxury homes along the banks. Originally the whole area was one huge mangrove swamp that followed the coastline and extended inland for some kilometres.
<![if !vml]>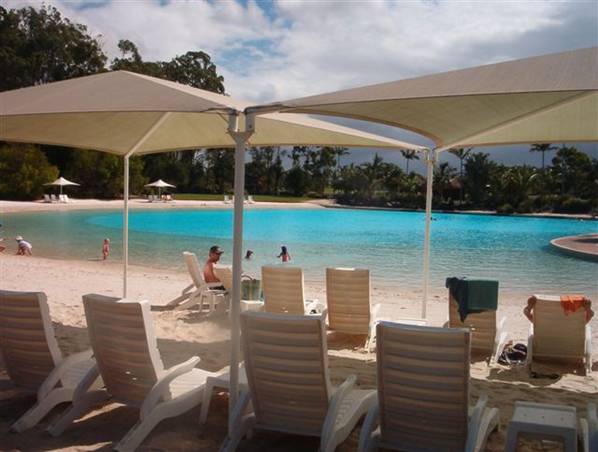 <![endif]>
<![if !vml]>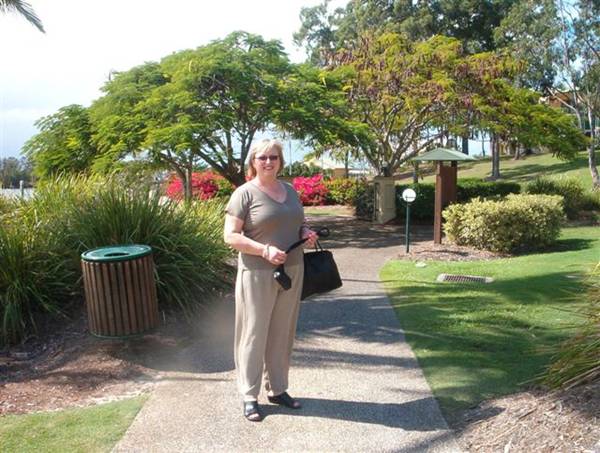 <![endif]>
Pauline
We ordered a table at "Georges" Restaurant, which does an excellent lunch at a very reasonable price. Alas, something went awry and after waiting for forty minutes for a table, I "gripped" the nearest staff member. This produced a table within sixty seconds! Whilst we had been waiting for the table, we had ordered three glasses of the house red and a glass of Moselle for Maggie. The bill for the four drinks came to $42. This came as a very rude surprise! To put it into perspective, we normally buy a drop of very nice red in a 4 litre cask for around nine bucks. The meal arrived in good time once we were seated and all of us had a vey nice beer battered barramundi fillet with chips and side salad, no complaints whatsoever, it was a superb meal. However, when the bill was presented, it was over the top by around $40. A quick squizzo elicited the fact that we were being charged (again) for the drinks we had consumed in the lounge. I went for the table waiter immediately and told him quietly but firmly what the problem was. I pointed out to him, ever so politely, that there was no way I was going to be king hit twice for the roughest red I had ever drunk since coming to Oz. He was back in about two minutes flat with the corrected bill and an apology. I will deliver my considered judgement to management by letter in due course.
As we left the shopping complex, Maggie spotted a battery powered talking parrot, which she just had to buy so we can have some fun with it when our little granddaughter comes here to be baby-sat.
We made our way to Surfers Paradise for a look around the area by Cavill Mall, once again there were signs that the weather was about to break and indeed we had a shower or two as we made our way along the Mall. We soon got ourselves into one of the Arcades that have entries into the Mall. Cliff and Pauline had a ball on one of the "take your money" machines in the fun parlour inside one Arcade. A phone call from our daughter, who needed a pick up from Kingston Station saw us headed for home and we made it to the Kingston bridge just as she arrived at the pick up point, she rang us to say she could see us on the approach road. More money than sense, eh?
Published: May 2005
---
<![if !vml]>

<![endif]>