QUEENSLAND, AUSTRALIA – Monday 18th April to Sunday 8th May 2005
Cliff CHARLESWORTH (47B) & his wife Pauline
[Reporter: Gerry PECK]
Day Six – Gold Coast & Anstead
Saturday 23rd April
Another run to the Gold Coast for Cliff and Pauline, they wanted to organise a few bits and pieces for friends and rellies when they got back to the Old Dart. We decided to take them to Harbour Town and see what they made of that. It is a huge outdoor shopping Mall at Labrador and there are a number of factory outlets there, where bargains are a matter of course. Pauline spent a few dollars on bits and pieces but listened to our advice that many of the items on sale were to be had for less at the weekend markets in Carrara, where we were headed on the Sunday morning. We lunched at "Mustang Sally's", an al fresco eatery in the Harbour Town complex. We all enjoyed a sumptuous seafood basket, with calamari, battered prawns, crumbed whiting fillets, scallops, sea food bites and chips at $10.50 a head. A good Aussie lager washed that all down very nicely!
<![if !vml]>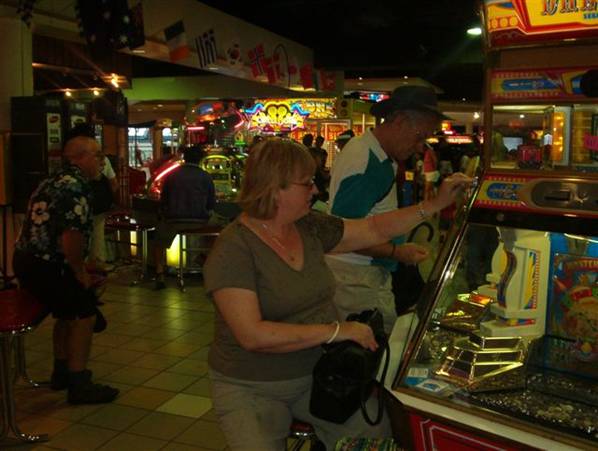 <![endif]>
Lunch
<![if !vml]>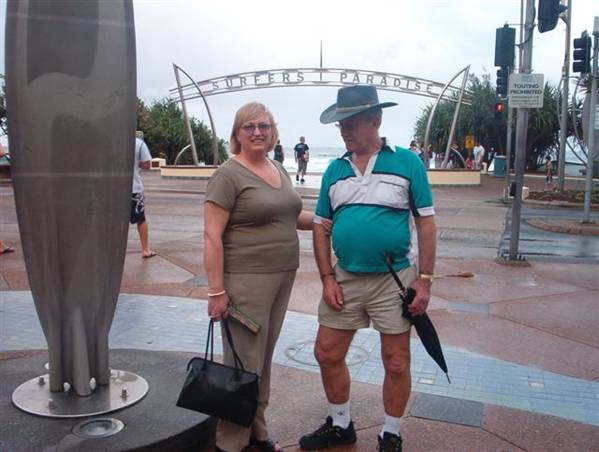 <![endif]>
From the Gold coast we had to charge back along the Pacific Freeway and then along the length of the Ipswich/Logan Tollway ($2.50 for the privilege). The purpose of this mad dash was to drop in on Reg and Vera Harper at their acreage in Anstead.
Visiting "The Harpers"
We had the usual warm welcome from these lovely people and spent an idyllic afternoon yarning about days gone by at Arborfield and sampled some tasty finger food and more Aussie beer while doing so. Wally and Pam dropped in from next door. Wally is a former RAAF Squadron Leader and a top bloke, no "side" to them at all. We left to return, via the ferry across the Brisbane river at Moggill, in time to catch the second to last crossing before the service closed up for the day.
(below) The Mogill ferry crossing the Brisbane River
<![if !vml]>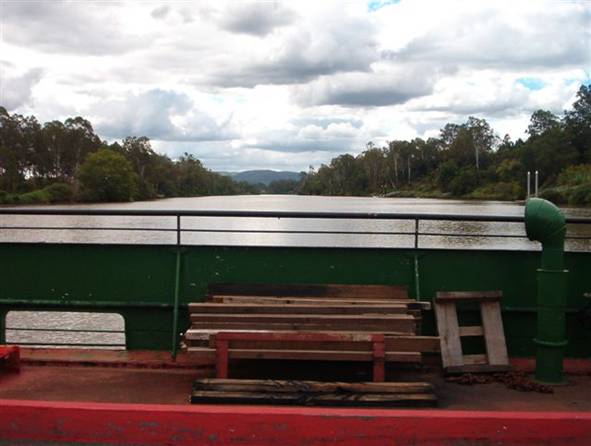 <![endif]>
<![if !vml]>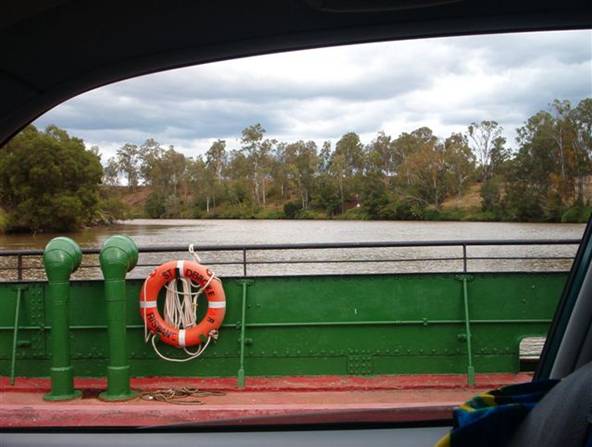 <![endif]>
(below) Le Maison Harper
<![if !vml]>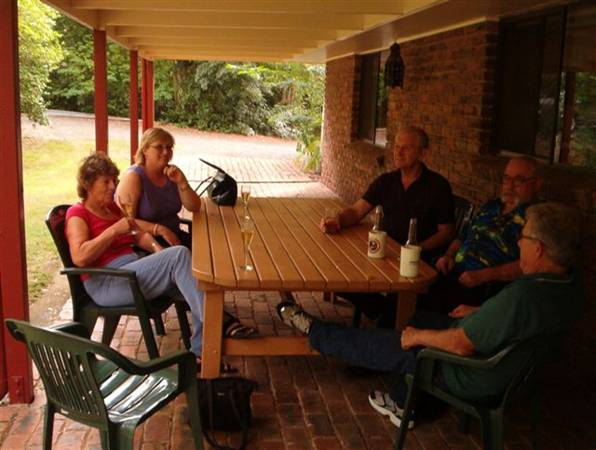 <![endif]>
Vera Harper, Pauline Charlesworth, Cliff Charlesworth, Gerry Peck, Reg Harper
(Photograph: Margaret Peck)
<![if !vml]>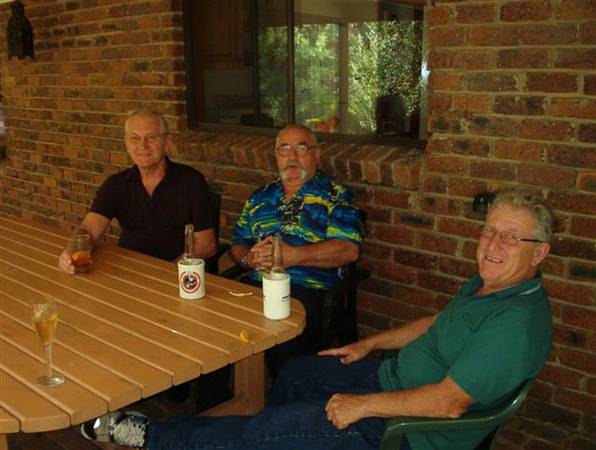 <![endif]>
Cliff, Gerry & Reg
(Photograph: Margaret Peck)
<![if !vml]>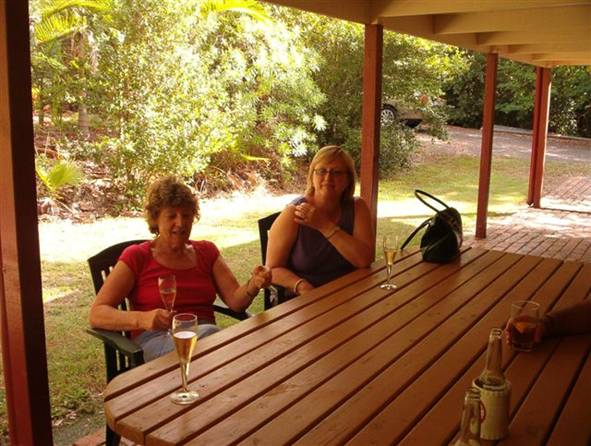 <![endif]>
Vera & Pauline
(Photograph: Margaret Peck)
<![if !vml]>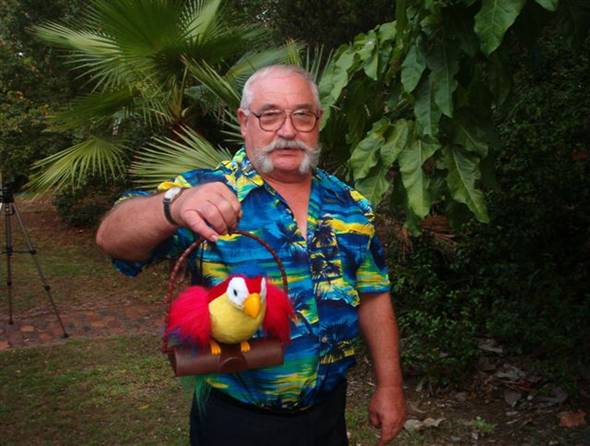 <![endif]>
"Who's a pretty boy, then?" – Gerry & feathered friend
(Photograph: Margaret Peck)
<![if !vml]>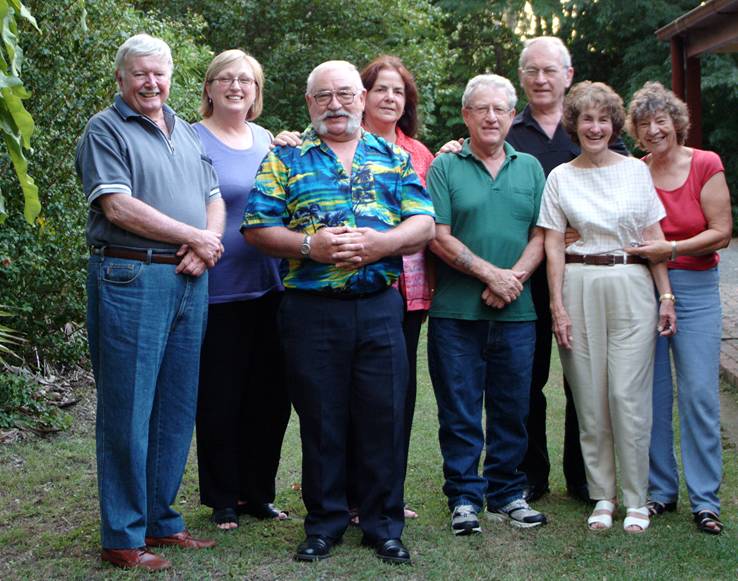 <![endif]>
"The Meeting"
Wally, Pauline, Gerry, Margaret, Reg, Cliff, Pam, & Vera
[Note: Wally & Pam are Reg & Vera's immediate neighbours]
(Photograph: Vera Harper)
<![if !vml]>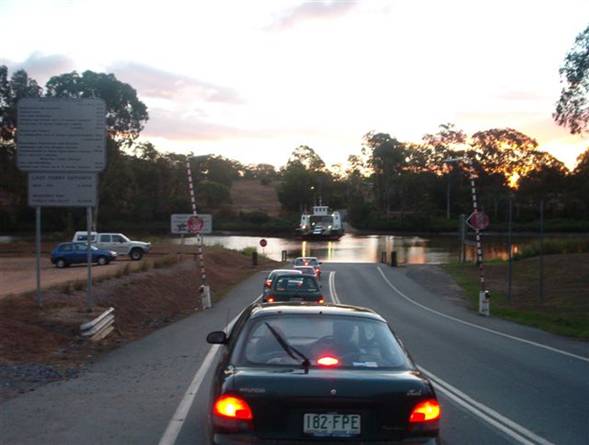 <![endif]>
Going home into the sunset
(Photograph: Margaret Peck)
Day Seven – Carrara
Sunday 24th April
This was the day for a trip to the Carrara markets which are situated along the Broadbeach/Nerang road. They were quite packed but there were plenty of bargains. Pauline and Cliff were staggered to see something their sons had paid 90 euros for in Spain going for the equivalent of 15 euros here. Seafood baskets were available at one of the cafes for $7.90 and Pauline was delighted to acquire two didgeridoo's for her sons at the bargain basement price of $29 each. Criteria being that they had to fit in their luggage for the return trip. Cliff meantime had buttonholed an Emu oil salesman and was being talked into a free rub in on his dicky knee. Oddly enough, Emu oil is renowned as a useful tool for many maladies, so he was pleasantly surprised to feel some relief. Seeing some of the uses for it prompted both Maggie and Pauline to buy a small jar each. If it works, I will dust off the chandeliers!
<![if !vml]>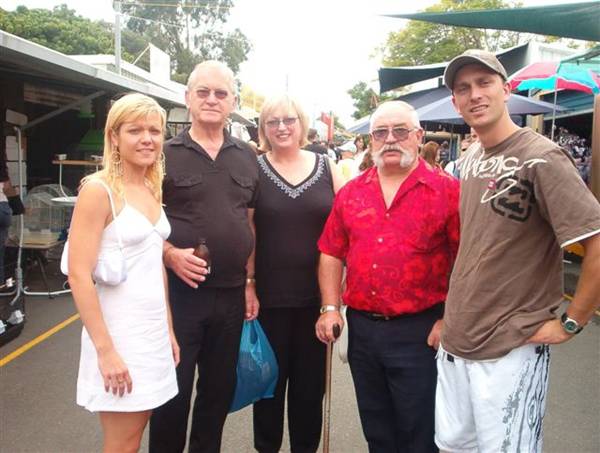 <![endif]>
At Carrara Market – Kathleen, Cliff, Pauline, Gerry, Travis
(Photograph: Margaret Peck)
We fought off the temptation for another meal out and returned home for a late lunch. A quiet afternoon was then enjoyed so we would be nice and relaxed ready for our Toowoomba jaunt at sparrowf@rt on Monday morning and the ANZAC Day march in which we intend to take part.
Published: May 2005
---
<![if !vml]>

<![endif]>