QUEENSLAND, AUSTRALIA – Tuesday 4th May to Friday 20th May 2005
Gordon BONNER (49B) & his wife Muriel
[Reporter: Gerry PECK. Photographs: Margaret PECK]
Day Six – Kingston
Monday 9th May
Just 24 hrs after the departure of Cliff and Pauline Charlesworth, we were all prepared for the arrival of Gordon and Muriel Bonner. It was two years since we had last seen them, this had been during their previous trip to Oz and at the time they had been visiting with George and Marion Millie up in Toowoomba. On that occasion, we had all enjoyed a great day together and the invitations to return and spend some time with us had been issued at that time. Reg and Vera Harper had also urged Gordon and Muriel to spend some time with them and after a few days with Maggie and I here in Kingston, Gordon and Muriel would go to the Harper's acreage to spend some time with them.
George, as promised, got in touch to let us know that the Bonner's were on their way and that they would probably arrive an hour or so earlier than originally scheduled. I had sent an E mail with all the necessary details to get them safely from door to door and had every confidence in their ability to get here without any problems. Pretty well to the minute, by my estimation of how long they would be in transit, their car arrived in our driveway and we hastened outside to greet them both. Handshakes and hugs all round and then it was inside for a cuppa and the inevitable chinwag. I was pleased to see that Gordon wasn't showing any obvious side effects from his bout with Pancreatitis, although he did comment that he still felt a bit under par and felt he had a way to go before he was back to 100%.
Once the informalities were over, we organized the removal of their luggage and showed them into their bedroom and after all the gear was stowed away, Gordon parked the car under the carport, next to mine. As is usual with our guests, we asked Gordon and Muriel if they wanted to have a look around the garden and surrounds and this was eagerly agreed to.
<![if !vml]>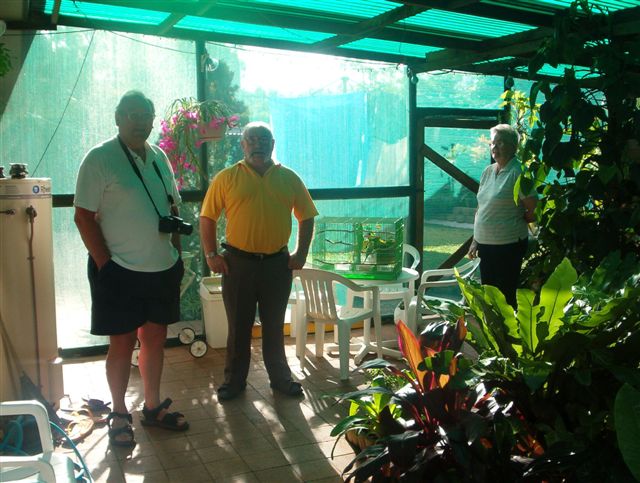 <![endif]>
In the fern house, before the fall – Gordon, Gerry & Muriel
Gordon, an extremely keen photographer, grabbed his very expensive camera and followed us outside, immediately spotting several things to take pictures of. Maggie was chatting to Muriel and I was making my way back to the fern house when there was a sudden yell and a crunching sort of noise, we all turned around and saw Gordon had measured his length adjacent to the back rock wall at the top end of the garden. Anxious in case he had sustained any major injury, we all sped to his side. Apart from some superficial grazing, Gordon himself was OK. The camera manifestly was not! The crunching sound had been caused as Gordon fell over with the camera underneath him. "It broke my fall" was his wry comment as he looked at the damage. It appears that Gordon had decided to capture a snap of one of the blooms and in order to get the angle and light just right, had stepped over the rock border that edges our back garden on three sides. Unfortunately, he had neglected to do up his sandals and this had been his undoing, as one of the straps caught on the rocks and upended him as he stepped back onto the paved area.
We sorted out Gordon's abrasions and then organized some lunch. Obviously dismayed at the damage to his camera, Gordon was slightly mollified when Muriel surrendered hers to his tender mercies, so that he could still take photos of anything that he might find of singular interest. Of course, Muriel's was not as up to the minute as Gordon's camera but it was still a good one and better than the alternative. Over lunch, we decided to see what could be done about possible repairs, with Gordon saying that if repair costs were less than 200 quid, which was his insurance "excess", then he would get the damage rectified while he was over here in Oz. A thorough check of the phone book revealed that all of the places likely to be viable as regards possible repairs were on the north side of the City.
After more thought on the matter, it was mooted that Vera might be the one to consult about this, as she is an avid photographer too and very much into every aspect of the hobby. This turned out to be the answer, as Vera immediately responded that she was a regular customer of the dealership that sold and repaired FUJI digital cameras. What was more to the point was that she was going to our eldest son's the following morning to deliver her old computer to him, prior to having the data transferred to the new one he was building for her. Thus it was arranged that we would drop the camera into Gregory and Tammy's place later that afternoon, so that Vera could pick it up next morning and drop it into the FUJI dealership on her way home. Perfect!
Much happier now that something positive had been decided as regards his pride and joy, Gordon was able to relax and was ready to enjoy a glass of wine. This was chilled and Gordon was horrified. He is a wine buff and believes very firmly in drinking wine at room temperature, undaunted, we opened a blend of Shiraz, Merlot and Sauvignon from the stock we had in the larder. Being the peasant wot I am, I enjoy wine any way I can get it and after summer temperatures that occasionally get into the forties Celsius and with humidity in the high nineties, I have learnt to like a chilled plonk. Gordon was very nice about it though and only gave me a very mild lecture on the proper way to drink and appreciate wine. It was delivered and received slightly tongue in cheek, as is only right and proper amongst those of our ilk.
We decided to drive around the local area and give Gordon and Muriel a better idea of where they were and what the area looked like prior to driving down to "Peckingham Palace" as we have named Gregory and Tammy's place. They found this very interesting and were particularly delighted and pleasantly surprised at just how close we were to the open country on the one hand, and the civic and business centre of Logan city on the other. After a good look around the area we headed down to "Peckingham Palace" and arrived to find them flat chat, with customers in and out in a steady stream. Once the stream slowed and the shop area was closed, we went around Greg and Tam's palatial home so that Gordon and Muriel could see how the nouveau riche of Oz live. The piece de resistance for Gordon though, was Greg and Tam's pet car, a yellow Nissan 300ZX sports coupe. Fourteen month old Granddaughter Caitlyn was doing her best to charm everyone as usual and making a very good fist of it too. After handing over the battered FUJI camera, we headed for home.
Almost as soon as we got home, daughter Kathleen arrived on the doorstep to introduce herself and son in law Travis. After they had left, an evening repast of Kartoffelsalt mit knackwurstchen und side salad was Maggie's treat for us all and went down very well indeed. Last to meet Gordon and Muriel was our second son, Douglas, who was working a late shift and arrived home around . Everyone thus introduced, Gordon and Muriel succumbed to the rigours of the day and headed off to bed.
Day Seven
Tuesday 10th May
During the chit chat on the Monday, just after a brief but enjoyable visit by Dusty (Roy Ashman) it had been mentioned by Gordon and Muriel that they wanted to see more views and different locales rather than visit the usual tourist traps. Maggie had remembered seeing an advert for trips along Pumicestone Passage in one of the local papers that we have delivered free every week. She couldn't remember the name mentioned in the advert but was adamant that such a service existed. Pumicestone Passage is the stretch of sea between Bribie Island and the mainland and is almost like a wide river in appearance. It has pods of dolphins and groups of dugongs (Sirenia) scattered throughout the length of the passage and we thought it might be just what Gordon and Muriel were seeking. Unfortunately, Gordon and Muriel were still a bit tired, so we missed out on an early start, essential if the morning traffic along the north south axis of the coast is to be avoided. We fronted up along the Gateway Arterial (tollway) and found that it was rather busy, so we had to endure a fair amount of stop start for the first twenty five or so kilometre's prior to the gateway bridge and the tollbooths. Once past the bridge we made good time to the junction with the Bruce Highway and had no further traffic hold-ups all the way to Bribie Island itself. Acting on Maggie's instincts, we swung a left at the junction of the Bridge and the Island itself, scooting along the esplanade seeking the boat that did the trips. Not so much as a signboard was visible anywhere, so we went back and onto the main road, eventually getting onto the esplanade on the other side of the bridge (No right turn from the end of the bridge) and after another fruitless search for a signboard, we stopped for a recce on foot.
Spotting a couple of local council workers actually in motion, I went across and enquired as to where the boat that did the tours was usually docked. "On the other side of the bridge!" came the immediate response. So off we went again, still no joy in spotting any sign of a departure point though, so another foot recce was undertaken. A lady came along and amongst many other topics that she broached in the ensuing conversation, should anything so one sided qualify as thus, she stated that the boat was actually a ramped vessel that simply pulled onto the beach behind a nearby tackle shop that was situated opposite the pub. Armed with this information, we went along to the vicinity thus identified and were told, after more enquiries at the tackle shop, that the bloke who ran the trips called himself "The ferryman" and his trips always had to be booked in advance. He did a couple of all day tours a week and a couple of four hour ones, so we had dipped out all round on that one. Undaunted, we decided to opt for an early lunch and in the café next door, ordered fish and chips for four. We sat on the rear verandah of the café, which overlooked a small jetty fronting out onto Pumicestone Passage, plenty of bird life, including pelicans and an egret, as well as the ubiquitous seagulls. As we sat there, enjoying an excellent piece of fish, superbly cooked in light beer batter, a pod of dolphins passed along the passage, about a hundred metres offshore. In the background, the silhouettes of the Glasshouse Mountains dominated the skyline and Gordon was very keen to get a closer look at these monoliths (volcanic plugs). So, after an excellent lunch, washed down by a milkshake, we set off to see if some good views could be obtained. The weather was not really the best by now but we thought that it might be OK as long as the rain held off.
<![if !vml]><![endif]>

<![if !vml]><![endif]>

<![if !vml]><![endif]>

<![if !vml]><![endif]>

<![if !vml]><![endif]>

<![if !vml]><![endif]>

<![if !vml]><![endif]>
We got back onto the Bruce highway and took the bypass for Beerwah and Landsborough, stopping in the lee of Mount Tibrogargan to allow for some shots to be taken of it. We went off of the beaten track to see if we could get more interesting views of Tibrogargan and the other mountains but a combination of trees, indifferent light and a 700 metre walk up a very steep and muddy walking track to a lookout position acted as a deterrent. By now, I had begun to feel the side effects of a milkshake on top of a fish and chip lunch, so a loo was high on my list of priorities. We decided to make our way to the Ettamogah Pub, a landmark on the Bruce highway but turned the wrong way on exiting the bypass. Desperate by now, I found a service station and availed myself of the facilities. Another lookout was indicated alongside of the service station so we decided to take a look. Alas, it was another 700 metre climb on foot after half a kilometre or so of tarmac, as it was very muddy looking and very steep again, we took a rain check on that one too. A quick trip along the Bruce highway and we arrived at the Ettamogah Pub. Which is a faithful replica of the pub made famous by cartoonist Ken Maynard in the "Pictorial" magazine over many years. Gordon and Muriel were very taken with the place and we enjoyed a drink there while Gordon snapped away to his hearts content. Some nice souvenir shops by the pub too, so Muriel had a chance to do some window shopping.
<![if !vml]><![endif]>

<![if !vml]><![endif]>

<![if !vml]><![endif]>
We made our way back to Kingston for a feed of spaghetti bolognaise, followed by Maggie's home made plum and apple pie and then awaited the arrival of granddaughter Caitlyn, whom we were minding for Greg and Tam so they could attend the gym. A phone call from Vera delighted Gordon, as she was able to report that the camera repairs were well under his limit as regards insurance excess. He told Vera to go ahead and sanction the repairs for him. Estimated downtime was a fortnight so arrangements were made for Vera to pay up front and then for Gordon to reimburse her for repairs and postage to his daughter's place in Aberdeen, NSW.
Day Eight
Wednesday 11th May
Wednesday was selected as the day to take a look at Sanctuary Cove and environs; again a slightly later start was undertaken as some washing needed doing for Muriel and Gordon. Both Gordon and Muriel were fascinated by the luxury homes that abound in the area of Sanctuary Cove, and the immaculate looking golf courses caused some comments too. There wasn't a blade of grass out of place as we drove past them and into the residential and retail complex that is the hub of the Cove. It is a fascinating place for all sorts of reasons and the wealth that is commonplace in that area is all around and most plainly evident. The luxury boats moored in the marina and the profusion of shops and eateries of various sorts bemused our guests, as did the artificial beach that the Hyatt Hotel has had built to allow guests to swim and avoid the dangers of bullsharks in the Coomera River and the canals that permeate the whole area like a watery labrynth.
| | |
| --- | --- |
| <![if !vml]><![endif]> | <![if !vml]><![endif]> |
| | |
| <![if !vml]><![endif]> | <![if !vml]><![endif]> |
We had decided, on recent performances, to forego eating at the Cove and for lunch we made our way to Harbour Town mall at Labrador, where we had an excellent seafood basket at $10.50 a head, washed down with a very decent chilled ale. Gordon was after another pair of sandals, so while he and I scouted out the various shoe shops, the ladies had a good look around the rest of the Mall. No luck with the shoe shops, as the stocks of sandals are greatly diminished during the winter months here. So after we had collected the ladies, we set off back to the Cove to take a boat trip along the river and waterways adjacent to the Cove itself. We were the only four people on the boat and I rather fancy that the lady skipper would have preferred to have gone home early but to her credit, she did a good job of the trip and kept up a very informative spiel as we cruised the waterways. The weather had by now deteriorated again and rain was about, so after the boat docked we set off again for home.
A feed of kartoffelsalat and pork chops soon restored my good humour and Muriel asked Maggie for the recipe, so it can't have been too far off of the mark. During our chat later on that evening, Gordon made the comment so often heard, that a good big 'un will always beat a good little 'un. I had to smile inside at that, I had my hardest fight ever against a lad who was within an ounce of my bodyweight at the time and not a millimetre taller. Maggie glanced my way and I knew she was thinking about the "gorilla". A whopping big bloke who "road raged" me and paid the penalty. I was never a good little 'un, I was an evil little 'un and bowed the knee to none.
Day Nine
Thursday 12th May
Thursday was a disaster as regards the weather and it was teeming down all morning but rather than waste the time, Gordon decided to go for a haircut and give his car a bit of a run in doing so. I went along and guided him along to the local shopping mall, where he soon organized a short back and polish for himself. A quick shufti at the local shops inside the mall and we returned home. Maggie had been studying the radar weather maps in our absence and she trotted out the prognosis that it would clear out in the bay by early afternoon. Gordon and I likened her prognosis to the one that was given to Eisenhower just prior to the 6th June for D Day. Gordon, who had come to respect Maggie's opinions, was all for giving it a punt. So without further ado, we set off for Coochiemudlo Island in Moreton Bay. Both Gordon and Muriel loved the open countryside that we passed through on our way to Redland Bay and Wellington Point, the departure point for the ferry and water buses that service Coochiemudlo and the other Islands.
<![if !vml]>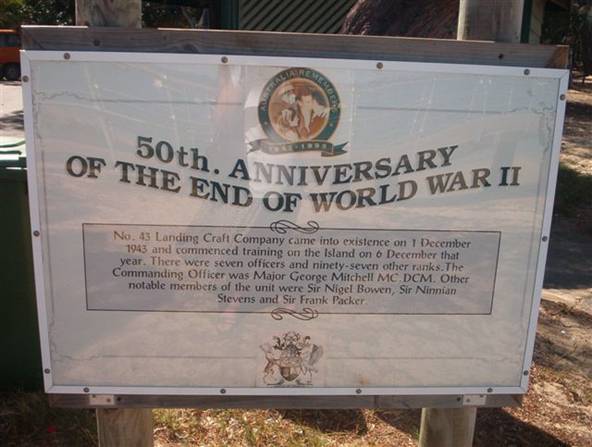 <![endif]>
It was still raining as we boarded the waterbus for the kilometre long trip over to the Island but I thought that the sky was looking less dark and threatening. Enthusiastic to get some shots in, Gordon agreed that it was indeed less gloomy looking as we set off. Good old Maggie was spot on with her mini forecast, because after about thirty minutes on Coochie, the sun broke through and the vista across the bay to the outer Islands was superb. Both Gordon and Muriel liked the peaceful ambience of Coochie, with its deserted beaches and friendly locals. We stopped at the Island's restaurant for a cuppa after a pleasant stroll along the wooded edge of the strand.
We had arranged to go out to the Buffet Gardens restaurant at Sunnybank Plaza that evening, so we made our way home to prepare ourselves for the evening jaunt. Sunnybank is basically an upmarket Chinatown and there are some top places to eat in that area. Gordon and Muriel had invited us to dine at their expense and they were very pleasantly surprised at the standard of the cuisine, the choices offered at each of the smorgasbord tables and the very reasonable tariff. Our two sons and their other halves joined us at the restaurant, (paying their own way of course) and Gordon was tickled pink to see them turn up thus. Muriel was meanwhile renewing her acquaintance with young Caitlyn, who kept us all amused with her antics. That was a very nice evening out and all of us thoroughly enjoyed it, most convivial.
| | |
| --- | --- |
| <![if !vml]><![endif]> | <![if !vml]><![endif]> |
| Douglas, Tammy, Caitlyn & Gregory | Margaret, Gerry, Muriel & Gordon |
Day Ten
Friday 13th May
Friday dawned with another early shower and we quickly checked the radar map for some indication of what would eventuate during the morning. To our relief, all the signs indicated a fine day coming up. That would get Gordon and Muriel's washing dry, as it had been outside for a full day already. This was the day that Reg and Vera were taking up the reins as "mine hosts" for Gordon and Muriel, so once the packing was sorted out, I asked Gordon if he wanted to have one last photo shoot before they took their leave of us. Keen as mustard, he was al for it, so I drove him the few kilometers to Daisy Hill Conservation Park. We didn't see any Koalas outside of the atrium in the admin building but there were a number of wallabies out in the park-like grounds that form the small portion of the park that is open to the public. Gordon was just rapt and was off like a shot to get his camera going once again. He loved the setting and thought that the principle of an "interface" in the Park, where people and animals could mingle safely was an brilliant one, especially as the bulk of the Park is closed to people and thus allows the animals to decide if they want to see people or not. Interspersed with BBQ's and seat/shelters, it is a great spot for a picnic. We got back in time for a nice smorgasbord lunch that Maggie and Muriel had laid on. Dusty called in again after lunch and spent an hour and a half yarning with us. He had only been gone about five minutes when Reg and Vera showed up. He was disappointed to have missed them but had other commitments and couldn't stay any later than he did. A cuppa and a natter then Gordon and Muriel took their leave of us, promising to return for a quick visit at the end of their jaunt in Oz if at all feasible, we look forward to that. They left with Reg and Gordon in one car and Vera and Muriel in the other. I've heard of wife swapping but honestly, how kinky is that? Seriously, the reason for that was that Vera had to call in at Greg and Tam's for her new computer, which had been built to her specifications by the Pex. So that was us back to a quiet lifestyle once again, seemed very strange for a couple of days.
Published: May 2005
---
<![if !vml]>

<![endif]>