QUEENSLAND, AUSTRALIA – Tuesday 4th May to Friday 20th May 2005
Gordon BONNER (49B) & his wife Muriel
[Reporter: George MILLIE]
Day One – Toowoomba Arrival
Wednesday 4th May
Gordon and Muriel had originally planned to leave Aberdeen, New South Wales, on Monday 2nd May, but were delayed for 24 hours because Muriel was unfit to travel. Following an overnight stop which broke their journey at the approximate mid-point, they decided to deviate slightly from the recommended direct route to Toowoomba along the New England Highway, instead taking an alternative and slightly longer route running parallel to the westward, to arrive on our doorstep mid-afternoon.
Day Two – Japanese Gardens, Toowoomba
Thursday 5th May
Following their long drive during the previous two days it was decided that we should remain within the city boundaries and visit the Japanese Gardens adjacent to the University of Queensland Toowoomba Campus. Although not the best time of year to visit, there was much to see and photograph, particularly the water fowl on and around the lakes and waterfalls. We had a very nice leisurely lunch at the Springs Garden Centre Restaurant before driving back to the CBD to permit Gordon to visit a camera shop and Muriel to browse the clothing shops.
[Photographs: George Millie]
<![if !vml]>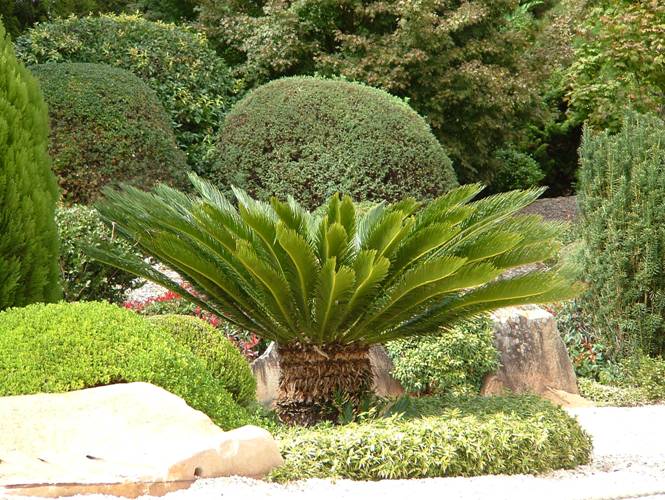 <![endif]>
<![if !vml]>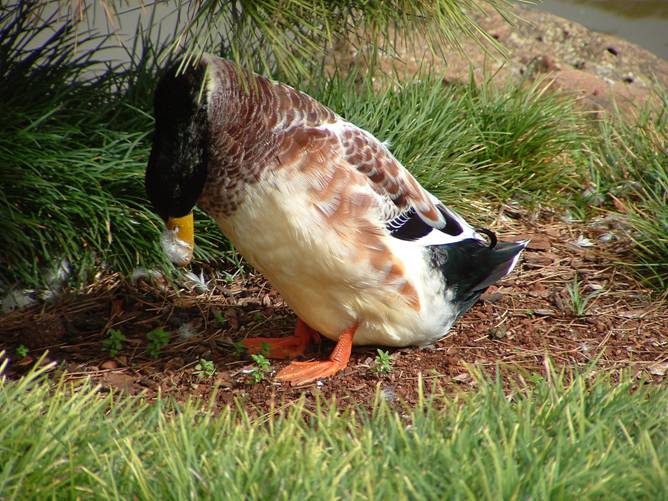 <![endif]>
<![if !vml]>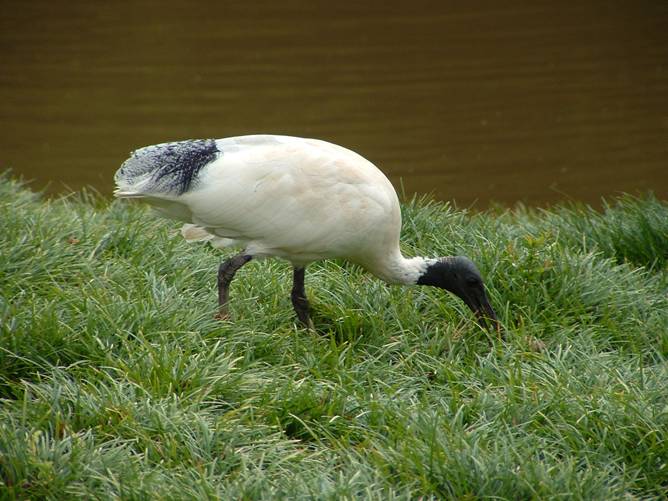 <![endif]>
<![if !vml]>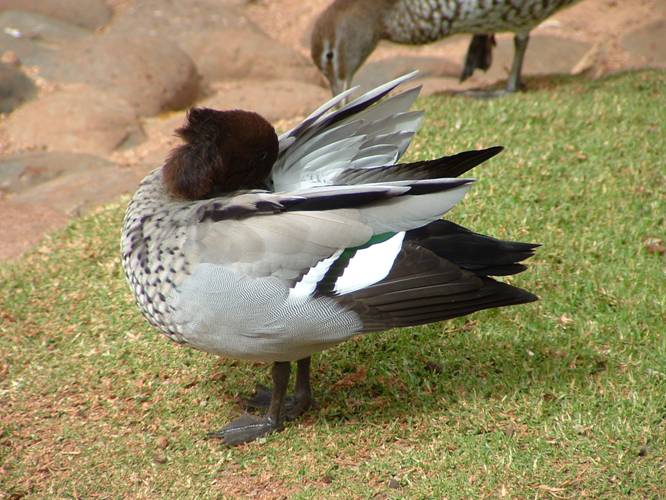 <![endif]>
<![if !vml]>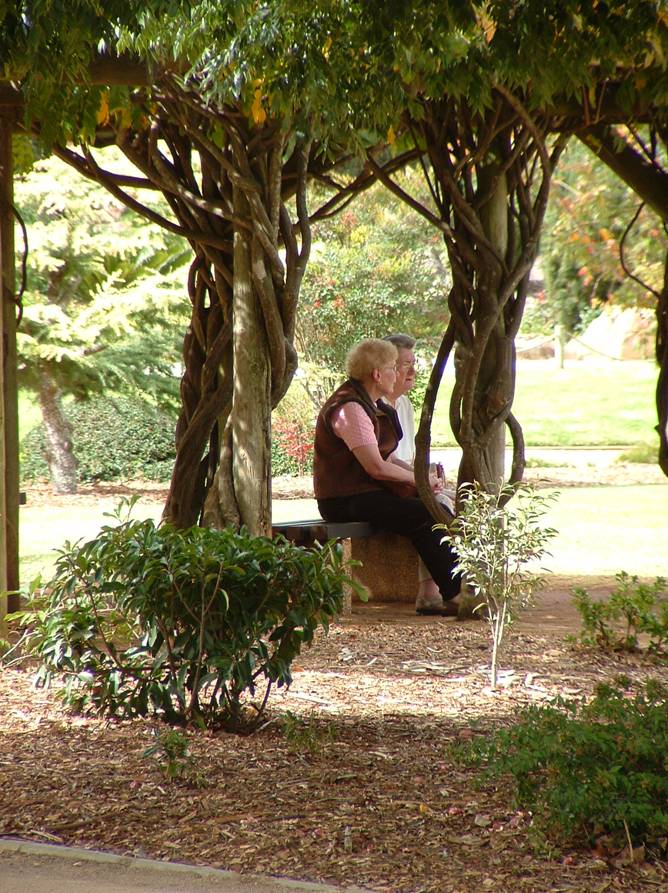 <![endif]>
Marion & Muriel
<![if !vml]>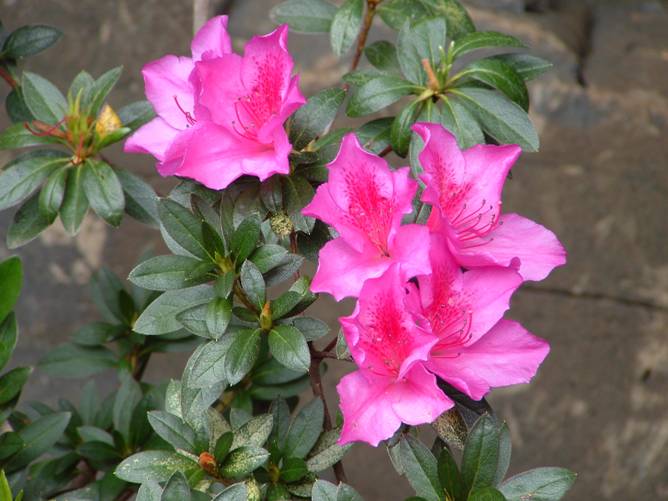 <![endif]>
<![if !vml]>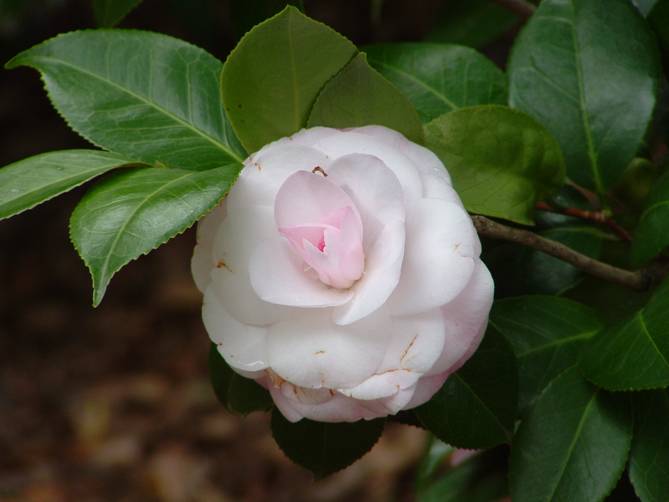 <![endif]>
<![if !vml]>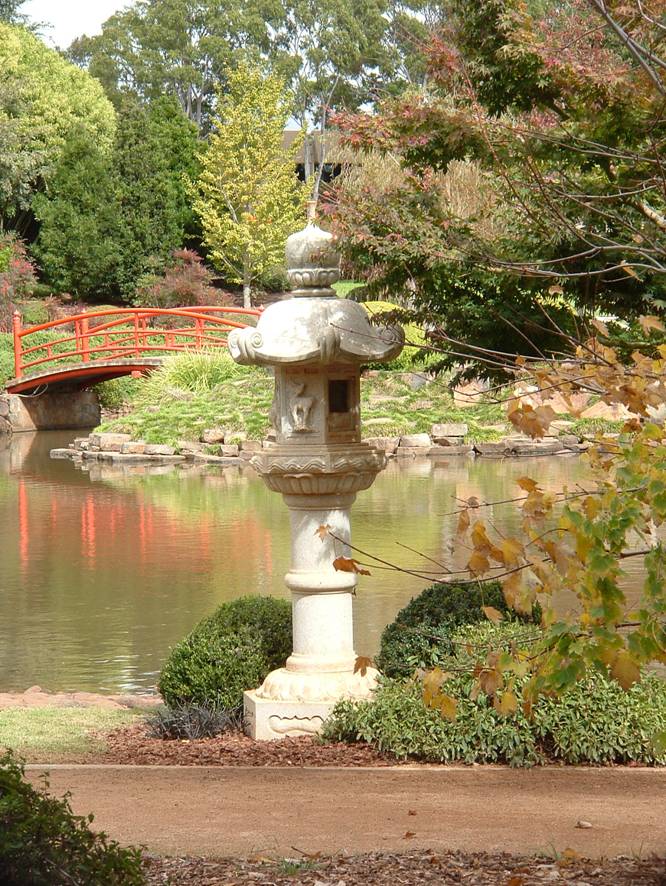 <![endif]>
<![if !vml]>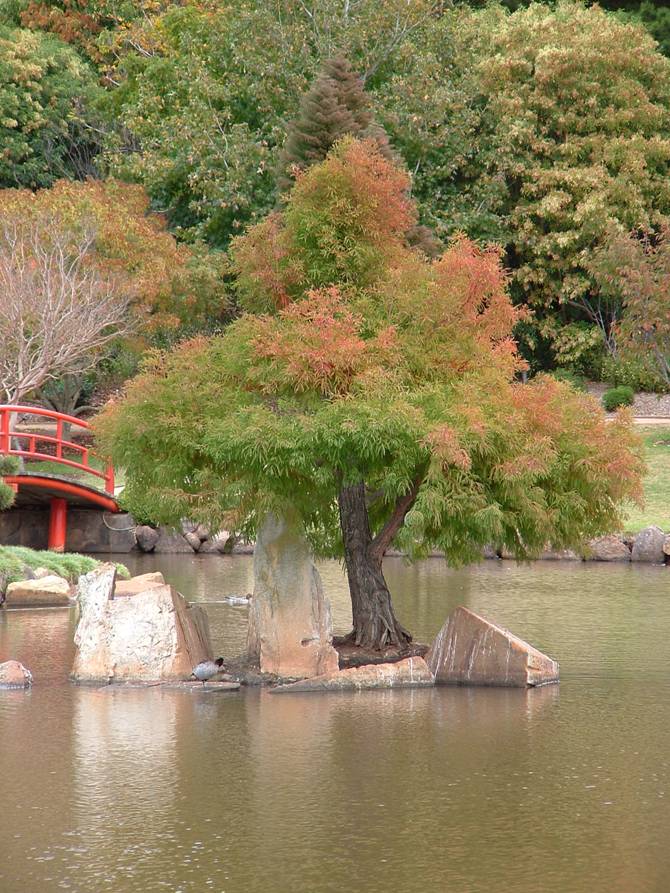 <![endif]>
<![if !vml]>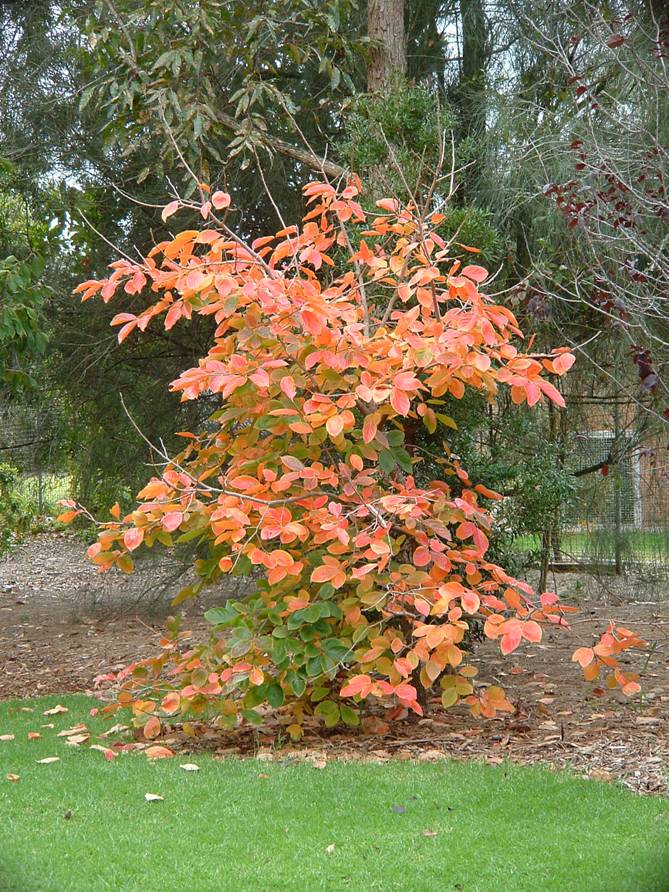 <![endif]>
Day Three – Crow's Nest
Friday 6th May
Crow's Nest lies 26 km north of Toowoomba along the road to Kingaroy. Although in normally picturesque surroundings the farming country is currently very dry and brown as we are in the eighth year of a seeming endless drought. We parked the car outside Salt's Antique Shop, one of the small town's main attractions, and spent a while wandering through. It has changed ownership since Marion and I last visited and to our disappointment it has gone downhill. It is now more of a junk shop rather than the genuine antique shop that it had famously been for a number of years.
The town was rather quiet and most of the establishments were closed for the Crow's Nest Country Show. Gordon took some photographs; we refreshed ourselves at the local café, and then drove out of town taking the road eastward to Ravensbourne National Park and a picnic lunch.
[Photographs: George Millie]
<![if !vml]>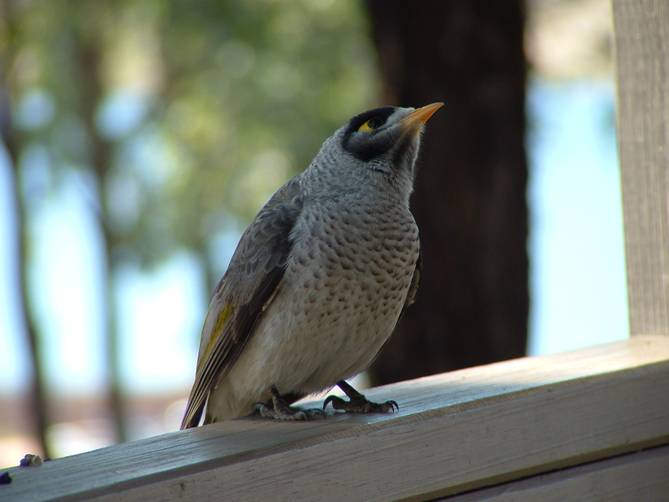 <![endif]>
(above and below) Australian Mynah
<![if !vml]>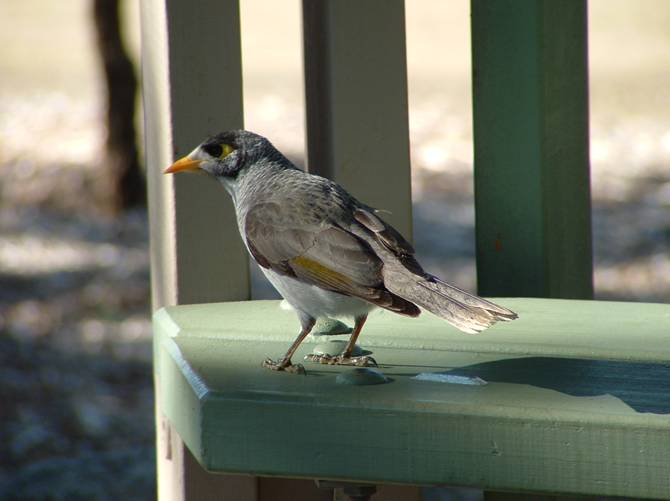 <![endif]>
<![if !vml]>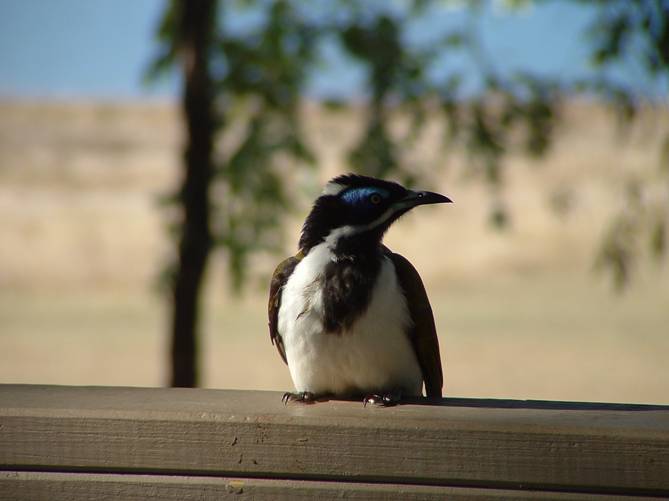 <![endif]>
<![if !vml]>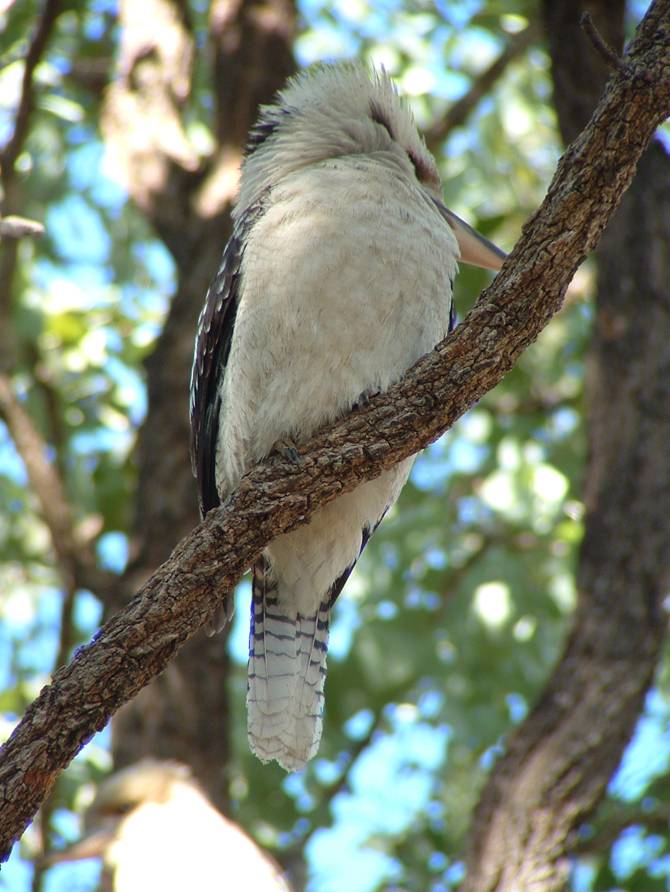 <![endif]>
Kookaburra
Day Four – Wineries Tour
Saturday 7th May
This service for tourists has only recently been introduced and we first became aware of it through TV advertising. Making enquiries over the telephone on Thursday 25th April I spoke to Bev Lindenberg who fully explained the tour and we were most surprised at the cost – normally $45 per head including lunch and wine tasting – reduced to $40 per head for pensioners. Without further ado she arranged to come round to the house the following day to make the final arrangements and collect the money.
<![if !vml]>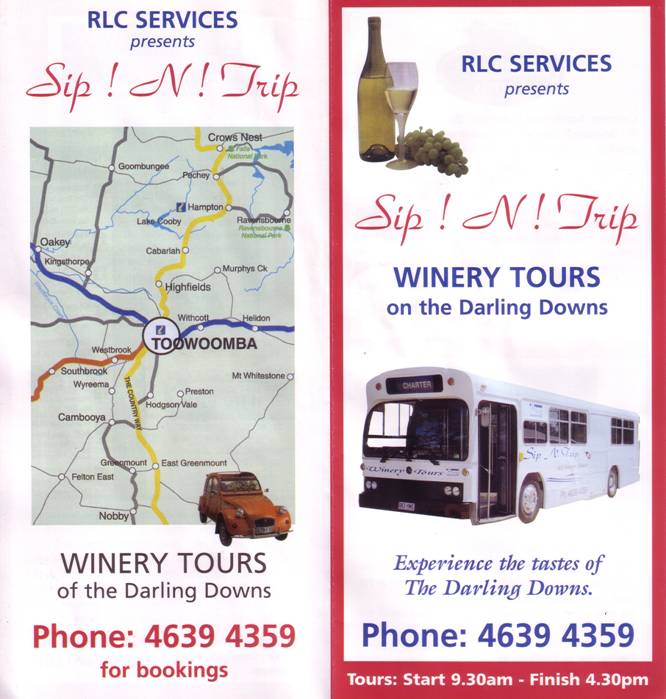 <![endif]>
E-mail address: rlcservices@bigblue.net.au
At about as arranged the 22-seat air-conditioned coach picked us up at the top of the street, Bev, our hostess and tour guide welcomed us aboard and off we went, driving out of the city towards Crow's Nest but on this occasion only as far as "Yesteryear Fudge & Collectables" at Highfields, where we arrived at .
<![if !vml]>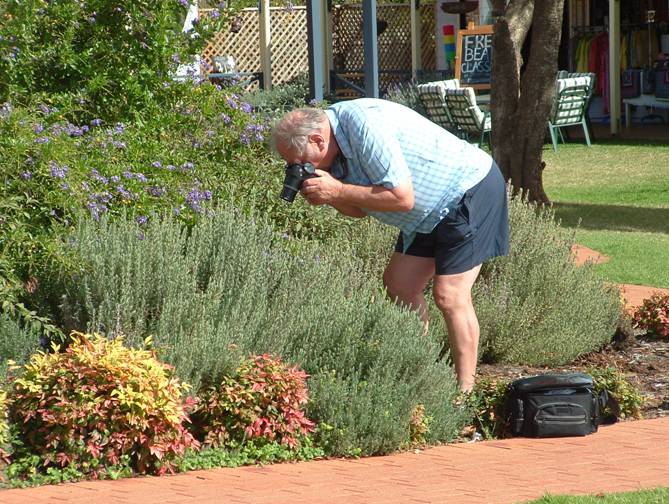 <![endif]>
Gordon photographing bees in the garden of "Yesteryear Fudge & Collectables"
Promptly at the fifteen passengers boarded the coach to commence the scenic journey to Preston Peak Winery, arriving at . The first item on the agenda was some wine tasting and a look at the views from the top of the Great Dividing Range. At 12.00 lunch, consisting of a selection of platters and pizzas, was served and washed down with wine or other drinks of one's choice.

By we were all feeling quite jolly and again boarded the coach for the cross-country drive to Gowrie Mountain Estate Winery, arriving at . This is a relatively new vineyard which has been open for only about eighteen months. Wine tasting is not free here and costs $2 per person, refunded with any purchases. We departed at about .

The coach arrived at our final stop, Wedgetail Ridge Winery, at . There is a very extensive selection of wines to taste and purchase, and for my palate the best of the bunch. Afternoon tea is available for those who feel the need of it, but has to be purchased.  At we boarded the coach for the return trip to Toowoomba.

<![if !vml]><![endif]>
Day Five – BBQ
Sunday 8th May
Our very old and close friends, the Lamont Family – Jeanette and Robin, their eldest son Neil and his wife Robyn and their children Amy, Caitlyn and Shauna – were invited to a BBQ and to meet Gordon and Muriel once again. Unfortunately their daughter Heather, her husband Doug and daughter Kirrin were unable to attend due to illness. But a very good time was had by all, and Jeanette, a folk artist of some renown, presented Gordon and Muriel with one of her paintings (below).
<![if !vml]>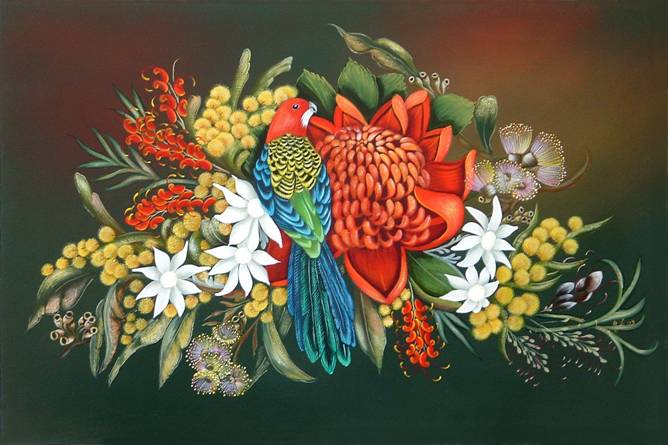 <![endif]>
Day Six
Monday 9th May
Breakfast taken at a leisurely pace and the packing completed, Gordon and Muriel said farewell and departed Toowoomba precisely at bound for Kingston and 'Yetaboon', the home of Gerry and Margaret Peck, arriving at .
Published: May 2005
---
<![if !vml]>

<![endif]>