Reg HARPER (51A) – 70th Birthday
Contributed by: George MILLIE (49B)
12th November, 2005
Reg's birthday falls on 11th November but this year, being his 70th, the event was celebrated the following day, Saturday 12th November, in the company of the Harper family and a large number of their long-time friends. Forward planning had been in hand for most of the previous twelve months and the event, with great difficulty kept completely secret from Reg, took the form of an informal lunch at Pullenvale, some twenty-five minutes drive north-west of Brisbane CBD, at the new home of Reg and Vera's daughter, Lisa.
Those attending had been requested to be at the venue by about mid-day, about half-an-hour before the arrival of Reg and Vera. Reg was under the impression that he was attending a simple family get-together and lunch without pomp and ceremony.
Marion and I, in the company of Jeanette and Robin Lamont, drove down from Toowoomba some 135km to the west of Brisbane atop the Great Dividing range, arriving at about to find ourselves to be the first guests to make an appearance. The Harper son and daughters, aided by a few willing helpers, were in a frenzy of last-minute preparation of the food.
<![if !vml]>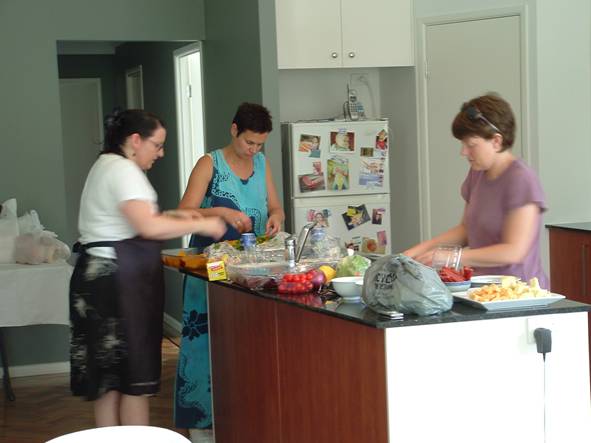 <![endif]>
Daughter Mandy, daughter-in-law Lisa, and friend Lisa
<![if !vml]>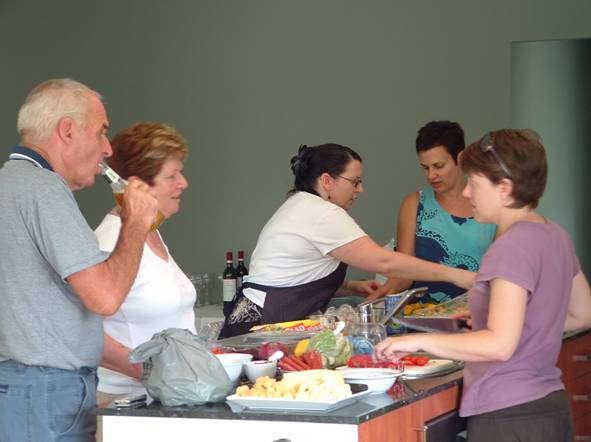 <![endif]>
(left) Reg's sister with her partner, Mandy, Lisa and Lisa
By the other guests began to arrive, gradually filling the house and spilling out into the garden. About eighty in all were eagerly awaiting Reg and Vera, and close to the allotted time Vera walked through the front door, to be closely followed by Reg who was lagging behind, closely followed by the attendant piper dressed in all his highland finery.
<![if !vml]>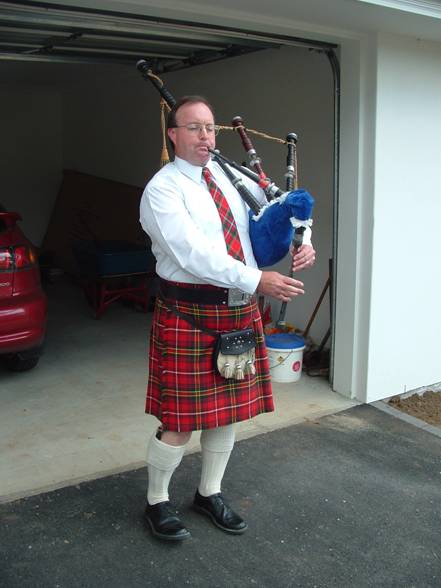 <![endif]>
The piper doing his warm-up routine
Suddenly appearing, silhouetted in the doorway, stood the Birthday Boy. Quite obviously in a state of utter bewilderment he paused on the doorstep, performed a low bow, followed by another, and hesitantly walked in to the sound of clapping and cheers.
Mid-way through a sumptuous feast I received the signal to "do the business" and left my seat to take up a position where I could be seen and hopefully heard by all. There being such a multitude of folk who didn't know me from a bar of soap I felt obliged to warn them that FEOFA would be mentioned, the meaning of the acronym, and that the membership was composed entirely of a small group of old soldiers who took every opportunity to do nasty things to each other.
The Speech, written and delivered by George Millie (49B):
Reg, yesterday you reached a significant point along life's path, the journey oft fraught with difficulty as you fought an uphill battle and overcame all manner of obstacles.
Yesterday you reached the summit marked by the milestone emblazoned "only 30 more to the centenary". Without serious blemish upon your character you have completed your allotted span. Fear not dear boy, it is now downhill all the way.
Today we celebrate your promotion to Septuagenarian Class III, joining illustrious company - Dusty and me, each enjoying an unspecified extension to our birth certificate.
It would be churlish of FEOFA not to mark this important occasion with an appropriate gift; a token of the high esteem in which we hold our mate; a simple gesture of our appreciation of your friendship.
Sadly, the simple gesture which I most favour is unacceptable in mixed company, so Plan 'B' it is.
This raises the question: "What can one possibly give a man who has everything … including my tool kit?"
The criteria for such a gift must of necessity be very exacting. Whatever form it takes, it must be unique; of minimum monitory value, yet possess such great intrinsic worth its acquisition would be beyond the means of even the richest in the land; and definitely not made in China.
There is only one way to satisfy these demands – to make it oneself.
Without the advice and guidance of the planning committee, Gerry; the invaluable assistance of our resident artist Jeanette; the skills I learned at Arborfield, and the minor but necessary outsourcing, this yet unseen masterpiece would be a considerably lesser object.
Dusty, will you please enact the presentation?
Presentation of the Plaque, conducted by Roy Dusty Ashman (42C):
Dusty rose from his seat and joined me. "A/T Harper! Front and centre!" came the command from Dusty to bring Reg to where we were standing, and reading from the engraved plate he announced:
"Presented by FEOFA to Apprentice Tradesman Reg Harper, formerly of AAS Arborfield, on the occasion of his 70th birthday, 11th November, 2005" and then handed the plaque over to Reg.
<![if !vml]>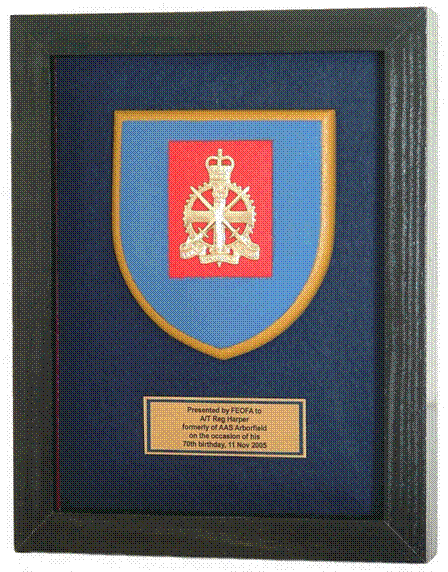 <![endif]>
The Toast, proposed by Gerry Greg Peck (53B):
Gerry now joined us and had to wait until order was restored – the assembly being in the uncontrollable and spontaneous throes of rendering "Happy Birthday" – and then he delivered a very moving tribute to Reg before proposing a toast.
Ladies and gentlemen, we are all here today to celebrate the 70th Birthday of our cherished friend Reg Harper. It has fallen to me to say a few words and propose a toast. In light of Reg having been born a Welshman, perhaps a rarebit would have been more appropriate but never mind.
You would have noticed Reg being preceded by the bagpipes as he made entry, which was done because it would have been silly to try blowing a leek.
Ladies and gentlemen, let me say that being a friend of Reg Harper has brought me a great deal of pleasure and I wouldn't have missed out on that for the world. If ever any of us need to seek an example of what a real man and loyal mate looks like, we need look no further than this wonderful man! Fellow guests, one and all, I give you Reggie Harper, God bless him.
Click on this link to read: A great day with the lads of FEOFA by Greg Peck.
Editorial comment:
I can certainly attest to the fact that Reg was definitely clapped in, but at the end of a very long day I am unable to confirm whether he was clapped out!
The artist, Jeanette Lamont:
<![if !vml]>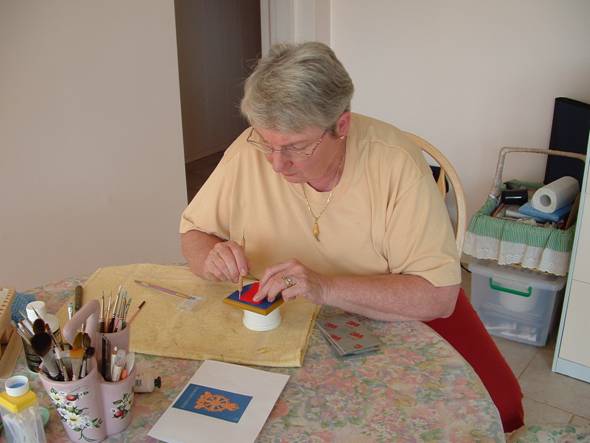 <![endif]>
Reg's response:
My dear friends, it is not often that I am lost for words, but yesterday was one of those days.
On my 7th birthday we were visited by Herr Hitler's Luftwaffe, and although it was fun to us kids it was a bit of a worry to our parents.
My 17th birthday was spent scrubbing the floor in the Officers' Mess at Arborfield.
My 27th was learning to use my new artificial leg.
When I was 37 I was flat broke with a lot of mouths to feed.
So folks, the number 7 was never my lucky one; yesterday you helped change all that.
It seems that I have a lot of good friends but you are very special comrades in the finest sense. Your ladies are very lovely too!
Thank you all.
22550070 A/T Harper R, and proud of it.
Published: November 2005
---
<![if !vml]>

<![endif]> Photographs