CALIFORNIA IN ENGLAND
a.k.a
LITTLE CALIFORNIA
a.k.a
THE CALI
Contributed by: Trevor STUBBERFIELD (52A)
By whichever name we knew it, here was an oasis of fun and relaxation away from the rigours and disciplines of life at the nearby Arborfield Army Apprentices School. There are several 'Cali' items dotted throughout this web site but this is an attempt to bring it all together in one location to give a fuller picture of just what entertainment could be found at this 'Country Park' cum 'Holiday Camp' during our time in the area.
The sources of information are many and varied. Where known it is acknowledged. Where the mists of time hide the originator then a vote of thanks is due to those who recorded these memories for us.
The first section of illustrations comes from The Wokingham Times dated 18th June 2003. The article was written under the headline 'Rekindling the heyday of one of the first holiday camps'. Some are photographs and some appear to be 'Artist's Illustrations' which don't copy too well but are fair enough to give a good picture of what was available there.
Following publication of the article a reader, Arthur Bush, who was living in New Zealand, sent a letter to the Wokingham Times in July 2003 in which he gave an interesting account of the early history of the 'California in England' park., correcting some of the information that had been printed. The letter can be accessed from
<![if !vml]>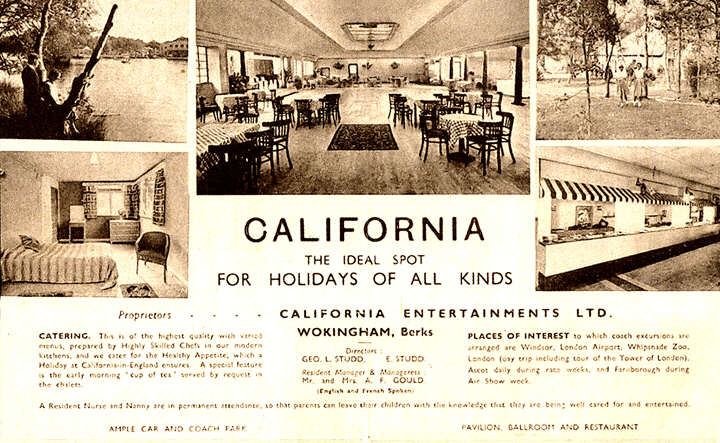 <![endif]>
This was an advertising flyer extolling the virtues of holidaying at 'The Cali'
<![if !vml]>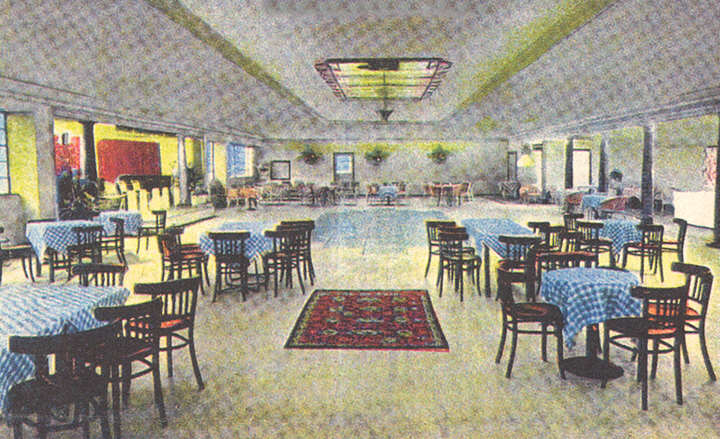 <![endif]>
The Ballroom which featured a superb dance floor with inset glass panels in the centre.
<![if !vml]>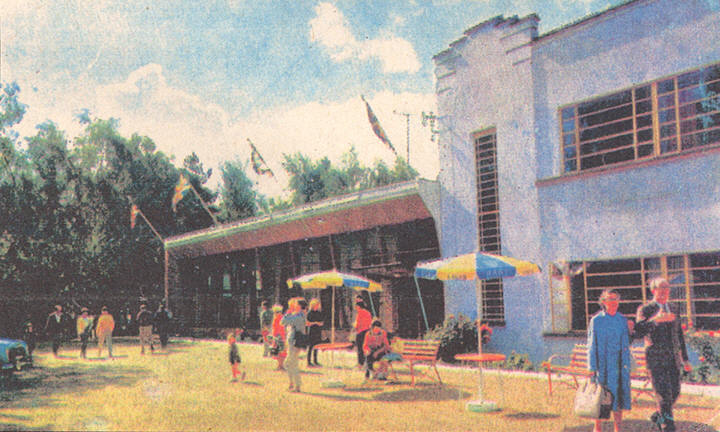 <![endif]>
Artist's exterior impression
<![if !vml]>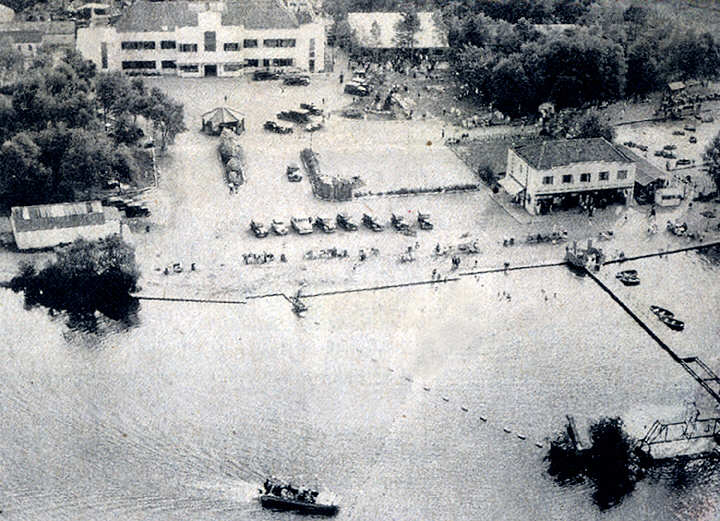 <![endif]>
A general view of the park layout.
<![if !vml]>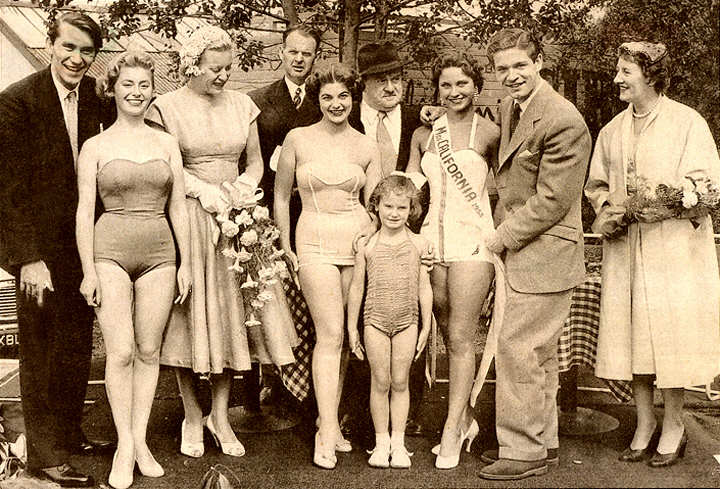 <![endif]>
Barbara Joyce, Miss California 1955, being presented with her sash by British movie star Anthony Steel.  The man right at the back is Ted Smith, a manager at Reading Royal Mail during the 70s and part time master of ceremonies, probably officiating at the contest.
Editor's Note. The following Information was revised on the 1st October 2012.
The gentleman in the trilby was originally thought to be a member of the Cartlidge family who owned the California-UK Country Park.  However, after carrying out some more research, I now believe him to be Alexander Zass, a world renowned Russian strongman, circus performer and animal trainer, who was the General Manager of 'The Cali' before handing over to Norman, son of the owner Frank Cartlidge, in the early 50s. 
A truly remarkable story of his life came to light and a second page has been added to this article which records his history.  From one link there are photos of Alexander, one of which confirms his facial appearance with our photo.  There is a link to a British Pathe video clip showing him performing at The Cali.  There is also a link to a Circus History message board with a message about him.
The page recording the story of Alexander Zass is available from the link below.
<![if !vml]>

<![endif]>
| | |
| --- | --- |
| | |
| <![if !vml]><![endif]> | <![if !vml]><![endif]> |
| Lucky Clown!!! | Evening entertainment |
| | |
Additional information added 1st December 2010
Still on the subject of Bathing Beauty Contests……..
<![if !vml]>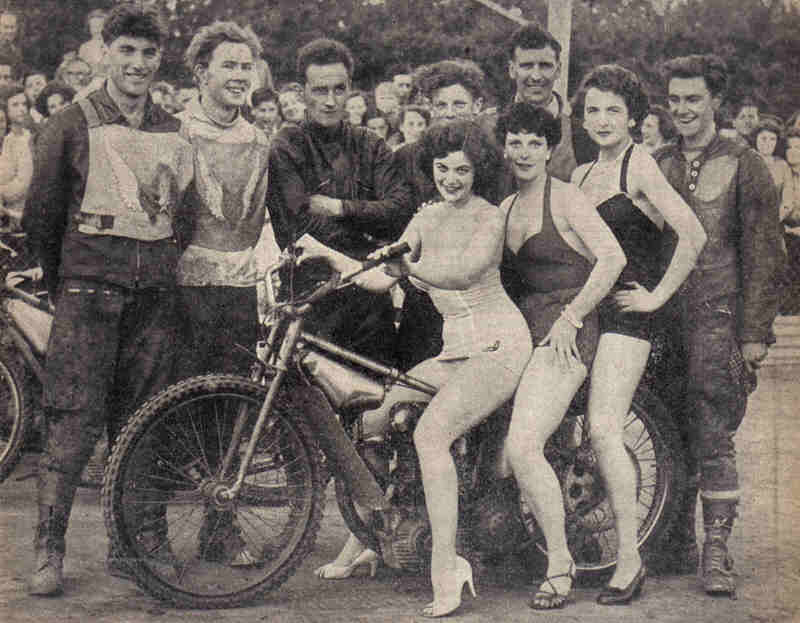 <![endif]>
This photo, contributed by Brian Horsnell, appeared in an article in the Slough & Langley Gazette  reporting on a California Poppies speedway team reunion in August 2010. The beauties relate very closely to the girls in the Miss California 1955 beauty contest featured above. This was taken during a Miss Berkshire Bathing Beauty Contest held at the once-popular track, which was based in the California Country Park near Finchampstead. The picture dates from Sunday, August 29, 1954, one year earlier, and shows three young ladies sitting on a powerful speedway bike before the start of a match against Brafield.  The title was won by Ann Johansen, nee Savage, a 20-year-old telephonist sitting on the front of the bike. She was no stranger to these competitions either, having been crowned Miss Reading in 1952. Sitting behind her in the photo are Allison Peachy and Janette Dean.  Ann is the 'runner up' brunette standing in the centre of the Miss California photo above.  The full article from the Gazette can be read from HERE.     
15th April 2021.
There's more. Can anybody help please?
In 1954 there was another Beauty Contest at the 'Little Cali'. Date and title of the event are unknown. However, what is known is that the awards were presented by British Actress Dawn Addams accompanied by her husband Prince Vittorio Massimo. The enquiry came from somebody who was there but who has the same memory problems as The Editor, being a fellow member of 52A who was also there. If you can help, please contact 'The Editor'. Any snippets of information, date, personal memories, local press articles or even photos would be gratefully received. All help will be acknowledged with our thanks.
Continue with the original article.
<![if !vml]>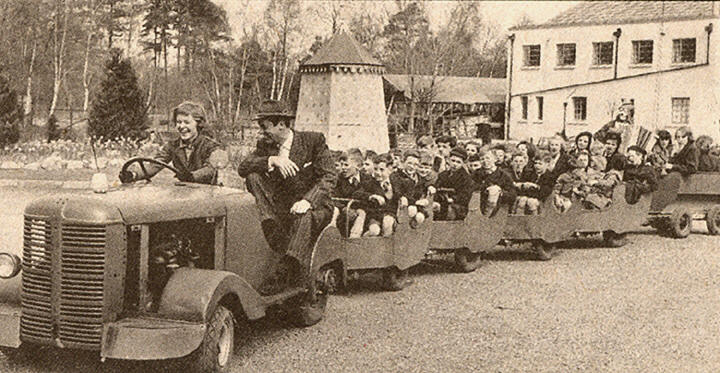 <![endif]>
One way to tour the grounds.
<![if !vml]>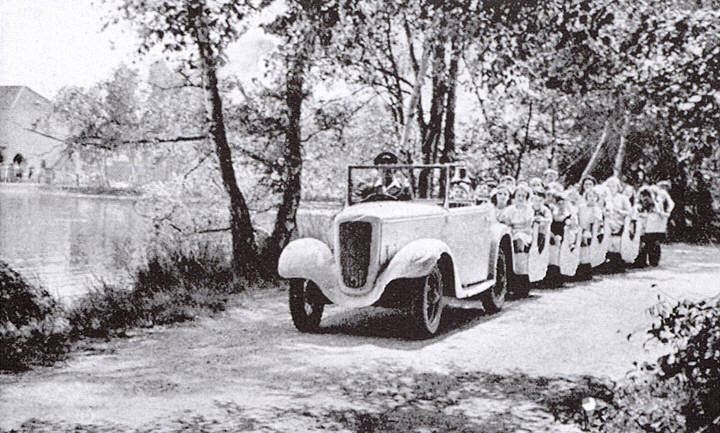 <![endif]>
A much earlier road train.
Below, 4 additional photographs added 1st February 2011
<![if !vml]>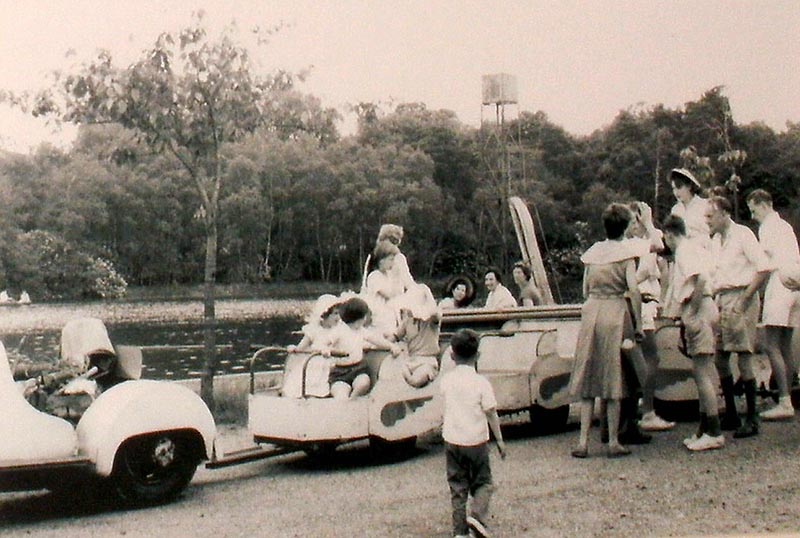 <![endif]>
Photo contributed by James Robinson.
Third version of the road train.
<![if !vml]>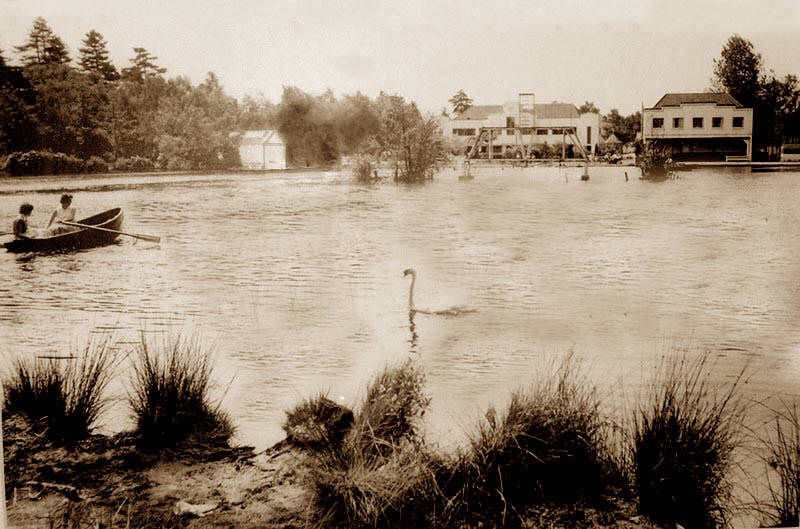 <![endif]>
Photo contributed by James Robinson.
Longmoor Lake, California in England.
<![if !vml]>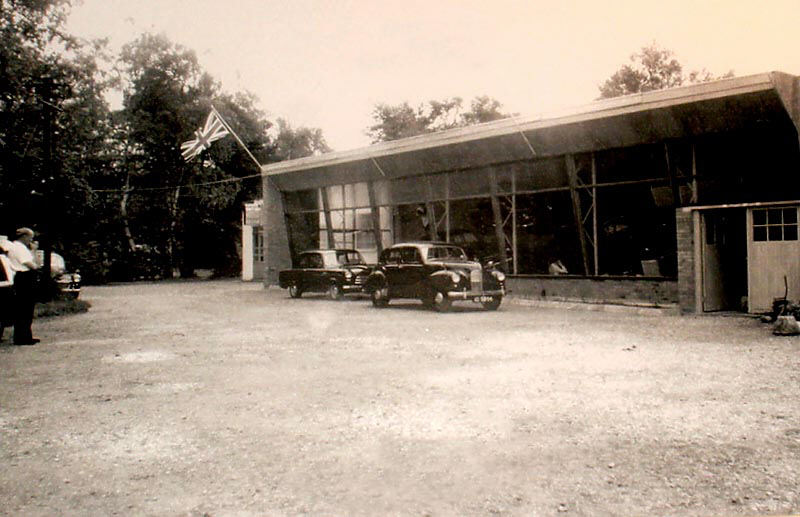 <![endif]>
Photo contributed by James Robinson.
Reception area, California in England, Lakeside Holiday Camp.
<![if !vml]>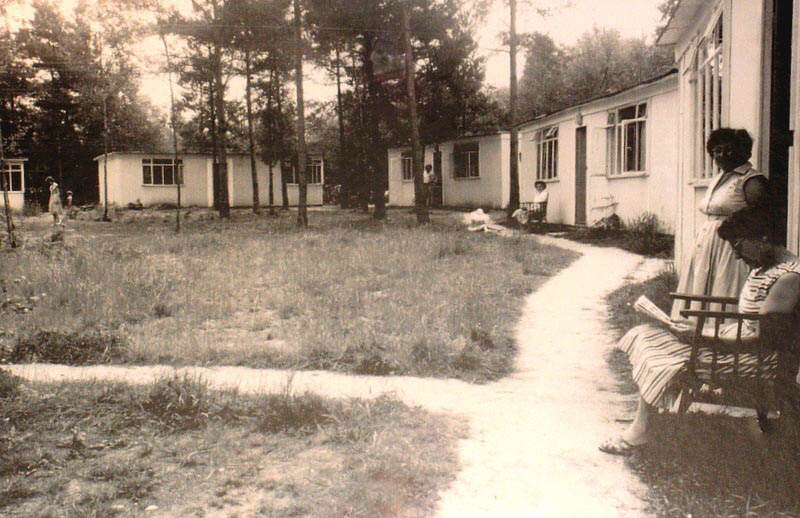 <![endif]>
Photo contributed by James Robinson.
Holiday chalets, California in England, Lakeside Holiday Camp.
The following images come from a variety of sources.
<![if !vml]>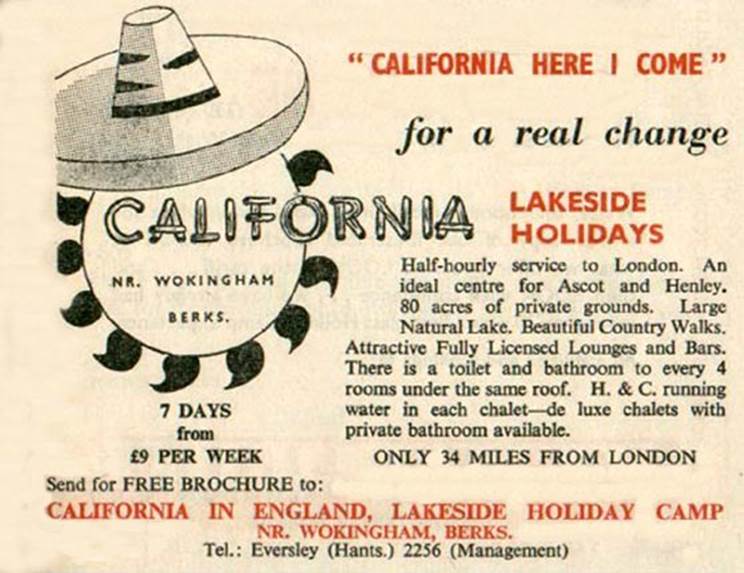 <![endif]>
Source: www.butlinsmemories.com
Full Board for £9. per week would seem to place the advert  around the late fifties to early sixties.
<![if !vml]>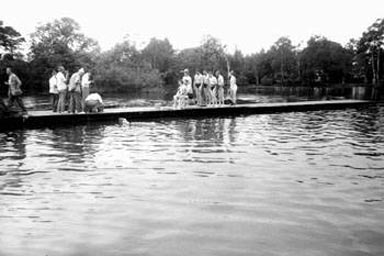 <![endif]>
<![if !vml]>
<![endif]>
circa 1960 - Longmoor Lake at California aka The Cali
<![if !vml]>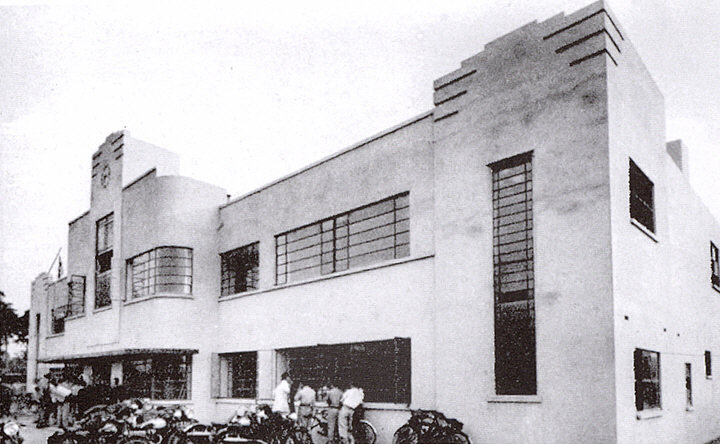 <![endif]>
It was a gathering point for many motor cyclists.
<![if !vml]>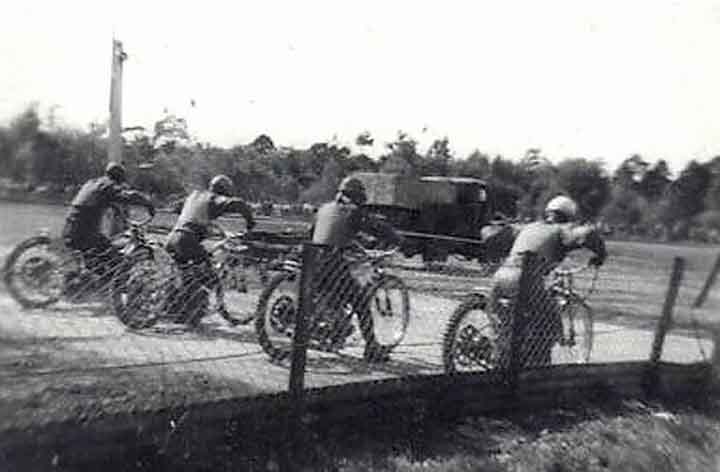 <![endif]>
The Starting Gate at the Little California Speedway Track.      Copyright © John Skinner
If you remember 'The California Poppies' speedway team then visit another page on our site from which you can indulge in the world of speedway by accessing a dedicated web site.  Click HERE.
In addition to our 'Little California, U.K.' others throughout the country were reviewed and can be seen from an on-site article which was in the 'Octane magazine, November 2015'
First Published: 15th April 2010.
Latest Update: 15th April 2021.
__________________________________________________________________________________
<![if !vml]>

<![endif]>