TOOWOOMBA, QUEENSLAND – Wednesday 25th to Saturday 28th September 2002
Contributed by George MILLIE (49B)
News
From

The East Coast

Gordon and Muriel Bonner took flight from Sydney to Brisbane on the morning of Wednesday 25th September, from thence travelling by the Airport Flyer – a mini bus providing a door-to-door service for passengers travelling between Brisbane International and Domestic terminals and Toowoomba. Arriving during the week of the annual Carnival of Flowers, a festival for which Toowoomba is much renowned in the region, was a bonus as the city public parks and private gardens at this time of year are a tapestry of colour and spectacle, attracting thousands of visitors from across Australia and abroad.

At our first meeting bridging a gap of some 50 years Gordon and I were as easy and familiar with each other as if we had parted merely the day before. In the evening our very special friends, the Lamont family, whom we first came to know in Singapore during the late 1970s, came over for dinner and to meet Gordon and Muriel. Robin 'Jock' Lamont served in the Australian Army Signals and was posted to Singapore when the ANZUK Brigade was raised. I was then a 'technical mercenary' in the Singapore Armed Forces, Air Defence Command, Chief Instructor of the Aeronautical Engineering Training Institute based at Changi Air Base – now a civilian airport.

The morning of Thursday 26th was spent on a conducted three-hour coach tour of the public parks and prize-winning private gardens around the city, followed by lunch, and last-minute shopping for food and wine in preparation for the reunion on the morrow.

The 27th dawned as usual with a clear blue sky and glaring sunshine, raising the temperature to 31 degrees C. First on parade were Roy Ashman [42B] and Kay bearing an enormous apple pie, quickly followed by Reg Harper [51A] and Vera bearing wine and beer, and Greg Peck [53B] and Maggie bearing a variety of salads and one of Maggie's famous trifles. Robin and Jeanette Lamont were also in attendance, melding easily with the ex-Boys because of the common special bond shared by all Servicemen. The chilled contents of the keg of Bitburger German beer soon disappeared and red and white wines were consumed thereafter. The air was rent with continuous laughter as past experiences were relived and shared, and the occasion was heralded a roaring success. The hours passed all too quickly and during the early evening the dispersion back to Brisbane returned silence and sanity to our abode. To quote follow-up email:

Gerry & Margaret PECK - "Today was as pleasant a day as I can ever remember; excellent company, all the trimmings, just great mate. Gordon and Muriel were exactly as I had imagined them to be, lovely people altogether. I was just content to sit quietly and soak up the atmosphere at that meeting of ex-Brats. We are a special breed you know, and it was immediately evident within seconds we were at it like old chums from way back, absolutely priceless mate! If that atmosphere were wine, it would be too dear for mere mortals to acquire; a veritable Ambrosia indeed, pity we couldn't have bottled it, eh? Thanks very much for making it possible for us all to gather together like that, I will treasure the memory!"

Reg & Vera HARPER – "Marion, you are voted the best hostess ever, thank you so very much. George you amaze me with what you have done for all us Old Boys. Something special happened yesterday that left me feeling rather emotional. After all those long years of putting the Arborfield experience to the back of my mind I now find myself in the company of true Brothers. Gerry Peck, whose wacky humour makes you feel that you have known him all your life, what a good mate to have if the going got rough; Dusty, a gentle kindly man who joined the Airborne just for the hell of it; Gordon, who started life in a grim orphanage and rose to be a proud officer in the world's greatest army; and yourself George, you truly inspire me with your talent and your strength. We spent the all too short hours together telling our stories and even after half a century we can remember the sound of boots marching down the square, the pipe band at church parade, the smell of the cookhouse, the hot sweet tea made with condensed milk; we didn't have to mention any of these things, they were just there with us.

You people have given me back something that I never realised I had lost. Thank you."

Jock LAMONT initially declined our invitation thinking he would be out of place, but finally acceded to Gordon's insistence that he and Jeanette grace us with their presence. Once in our company he immediately sensed the strong common bond between soldiers, no matter that they served in different armies, and gained a valuable insight into we of the lost brigade. He said he returned home with an aching face resulting from all the hilarious laughter. Both he and Jeanette enjoyed your company immensely – thanks to you all for making their day such an enjoyable experience.

Roy and Kay ASHMAN – "The meeting was superb and the memory of it will be with me for quite a while. Thank you again for your Hosting of the meeting, and the great food and drink provided. I think another such meeting should be on, if not this year, certainly early in the New Year. I was very fortunate to be included in your select number, and I thank you once more."

Marion and I had a great time; no clashes of character; no pregnant pauses; no pretensions; it was if the group had been in the habit of meeting regularly over a period of years. It was very much regretted that Ken Rogers [49B] & Betty (Sunshine Coast, Queensland) and Pat Haynes [49B] & Dale (Perth, Western Australia) were unable to attend. Since Gordon had originally told me of his plans to make the trip I have been looking forward to it with great anticipation – for me the reality far surpassed the dream. We hope that this is not the last we see of Gordon and Muriel in the Antipodes – they know that our respective doors are always open to them.

On the morning of 28th Gordon and Muriel's daughter, son-in-law and three grandchildren arrived. They had made the 12-hours drive from Sydney the previous day to collect them before setting out on a further three-days drive to Cairns in North Queensland for a three-weeks holiday on the Whitsunday Coast and Islands. It's a hard life – but somebody's got to live it!
Laurel Bank Park, Toowoomba, where the tour stopped for 'NAAFI break'
Thanks to Gordon for the wonderful photos
<![if !vml]>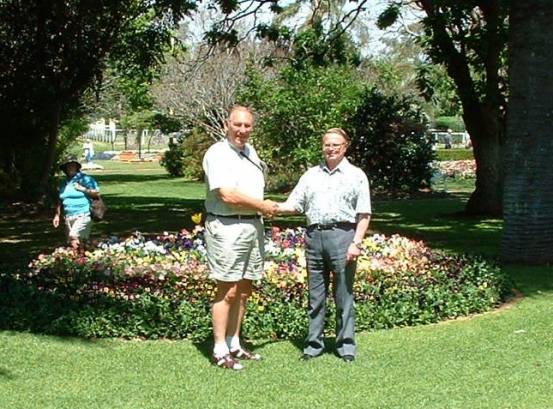 <![endif]>
Gordon BONNER & George MILLIE
<![if !vml]>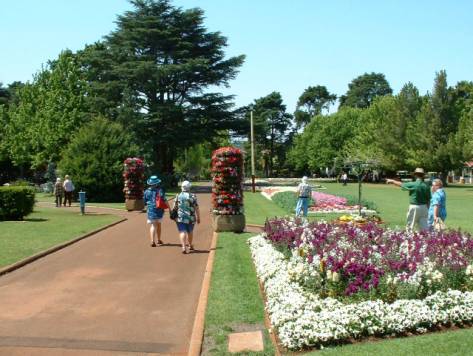 <![endif]>
<![if !vml]>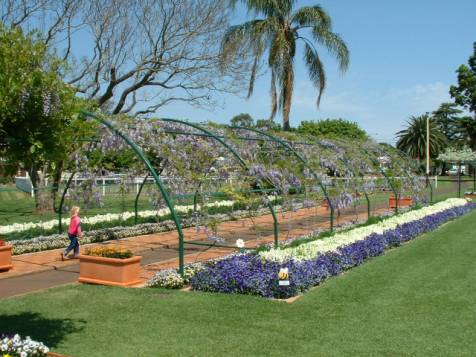 <![endif]>
<![if !vml]>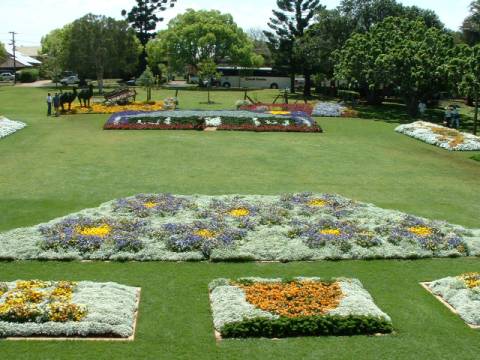 <![endif]>
Our coach is seen parked on the road beyond the trees
Flora in private gardens around the City
<![if !vml]>
<![endif]>
<![if !vml]>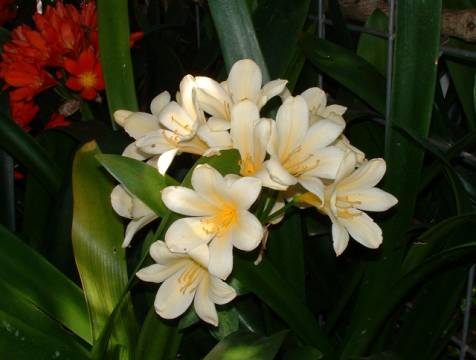 <![endif]>
<![if !vml]>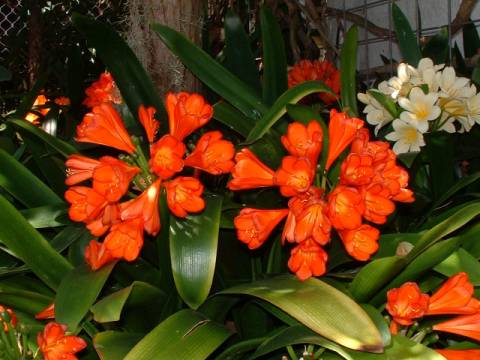 <![endif]>
<![if !vml]>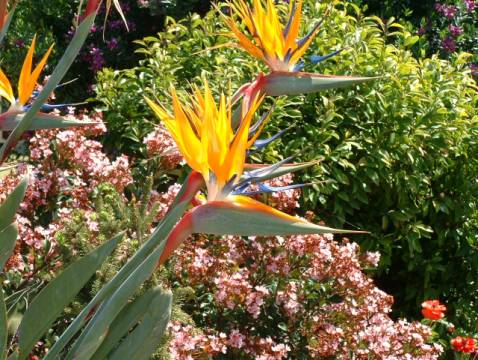 <![endif]>
<![if !vml]>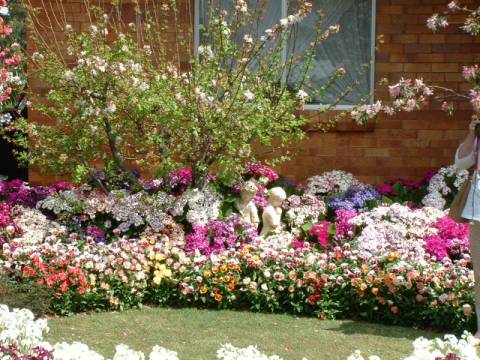 <![endif]>
<![if !vml]>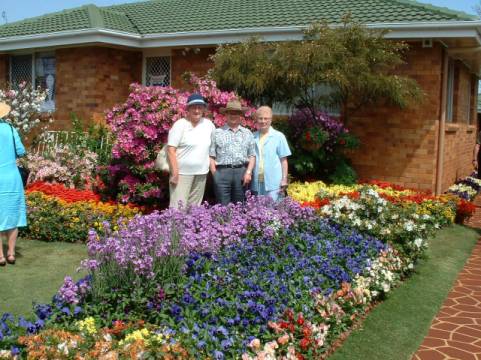 <![endif]>
Muriel BONNER with George and Marion MILLIE
Reunion of

The

Far East Old Farts
in absentia – Ken ROGERS & Pat HAYNES
Guest of Honour & Honorary Member – Gordon BONNER
<![if !vml]>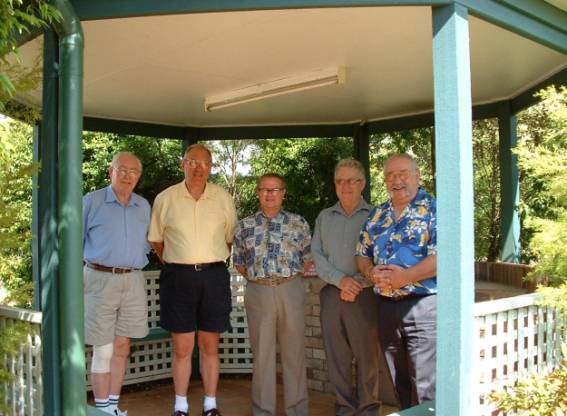 <![endif]>
Roy ASHMAN, Gordon BONNER, George MILLIE, Reg HARPER, Gerry PECK
The Ladies
<![if !vml]>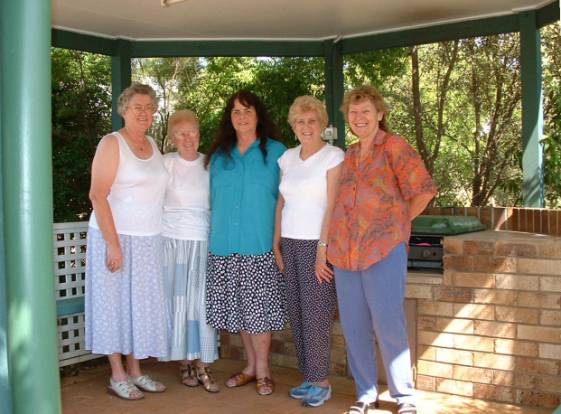 <![endif]>
Muriel BONNER, Marion MILLIE, Margaret PECK, Kay ASHMAN, Vera HARPER
Published: September 2002
---