QUEENSLAND, AUSTRALIA – Sunday 16th June 2002
We of the fraternity of ex-Arborfield brats that chose exile in the Antipodes await the news of this year's gathering of that ilk with great anticipation. The very worthy George assures me that big Max will once again do the honours in forwarding all the news, gossip and photos from the annual event, so that we here might glean some knowledge of old comrades and their hopefully happy fates. To all that gathered this year for the reunion at Arborfield, may I take this opportunity of wishing you well and a happy return to that venue for many years to come.
We here in Queensland, Australia, are working quietly away at gathering a little group of ourselves together so that we may undertake, from time to time, modest gatherings of our own. There is a good deal of pleasure to be enjoyed when a group of us manage to muster, I can imagine how much enjoyment is derived from so much larger a gathering of the "Clan" as is manifest at the great annual reunion. Good luck to all attendees and long may the Association continue to prosper and meet in this way.
Gerry 'Greg' PECK
Reunion

Parade – "

Lochsgray

" Barracks, Toowoomba
<![if !vml]>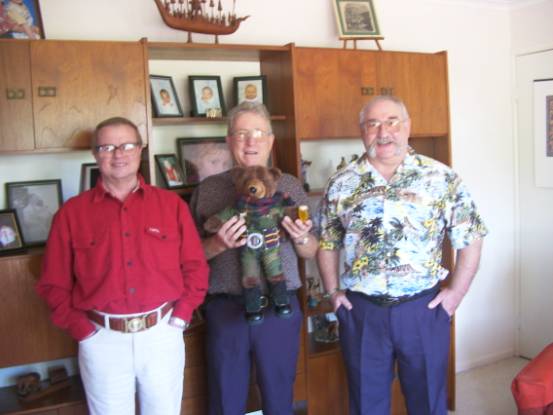 <![endif]>
Inspecting Officer – General Asmuchas 'Yukon' BEAR, REME (retired)
On Parade – George MILLIE (49B), Reg HARPER (51A), Gerry PECK (53B)
<![if !vml]>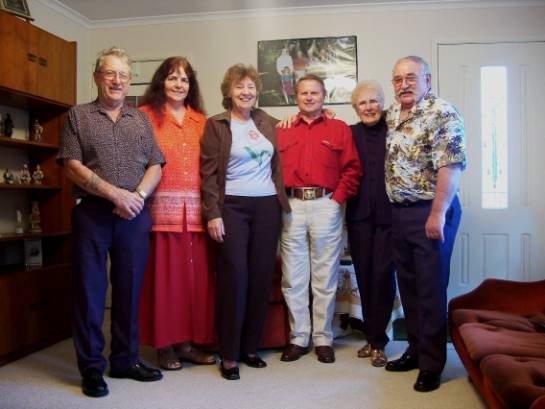 <![endif]>
Reg HARPER, Maggie PECK, Vera HARPER, George MILLIE, Marion MILLIE, Gerry PECK
Published: June 2002
---