QUEENSLAND, AUSTRALIA – Sunday 20th May 2007
Editorial and Photographs contributed by Greg PECK 53A
Kingston
Because family naturally get first bite of the cherry-beret. Former Para Roy 'Dusty' Ashman of Arborfield's 42C intake had to be wined and dined in celebration of his Barfday on the 20th May, two days prior to the actual event. A special gathering of FEOFA was undertaken to ensure that his elevation to the rarefied heights of octogenarianism was accorded the full ceremonial rites due to a Brat of such vintage.
A good old fashioned beano at a very good restaurant had been on the cards but alas and alack, the swines sold out to some mug punter that wanted to hire the whole shebang for a wedding reception. Jipped, by the Cringe!  Of the suggested venues that were offered in lieu, Dusty and his good wife Kay decided that they would prefer a repast laid on here in Yetaboon Barracks. So Maggie and I set about organising a German feast, with kartoffelsalat and all the trimmings.
George Millie and wife Marion have company from overseas and are up-country at the moment so they were excused boots. Reg Harper made it by the generous self sacrifice of his good lady and his daughter, who elected to do the jobs scheduled for his carpet cleaning business between them. Thus leaving him free to front up, greater love hath no man than he wot see's his missus pick up a shovel, so he can pi$$ it up with his mates.  Phil Hutchinson and his missus drove down from Cooroy and overnighted with us at chez Yetaboon.
The group thus assembled saw Dusty presented with a superb gift of crystal goblets, four in number and each graced with a badge that was relevant to Dusty's time in a ginger suit. Namely AAS, original REME badge, Kings Crown REME Badge and the Parachute Regiments badge.
As a bonus, Peter Jones. (Oz Pete from Townsville, another Para and devoted fan of Dusty, laid on a beer cooler that carries instructions on how to leave a perfectly serviceable aircraft and use a parachute.) Dusty said he could do that standing on his head and (bless him) I rather think he might have....
It was through Peter's wife Dai that we purchased the Crystal goblets and had the badges lasered on, they did a superb job at a truly giveaway price.
We had a very pleasant afternoon of it and it all went off as smooth as clockwork, thanks to Maggie's excellent organisational skill with anything culinary. Great day, great company and a good man in whose shadow it is a privilege to walk.
<![if !vml]>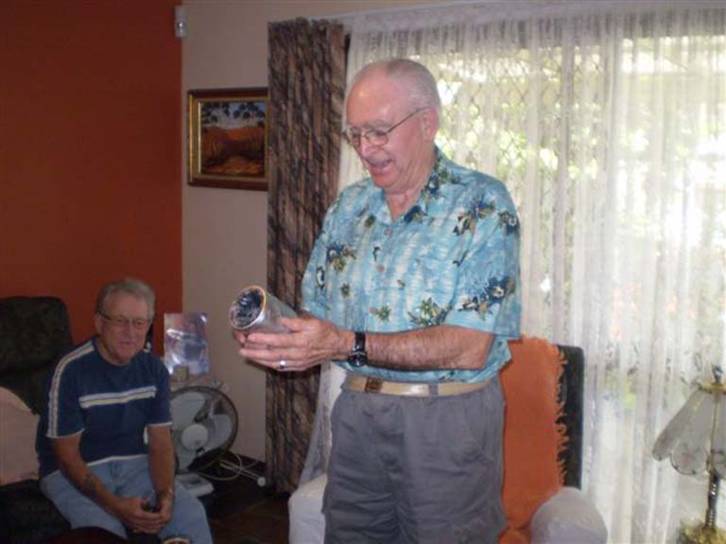 <![endif]>
The presentation to Roy Dusty Ashman 42C at Yetaboon Barracks.
<![if !vml]>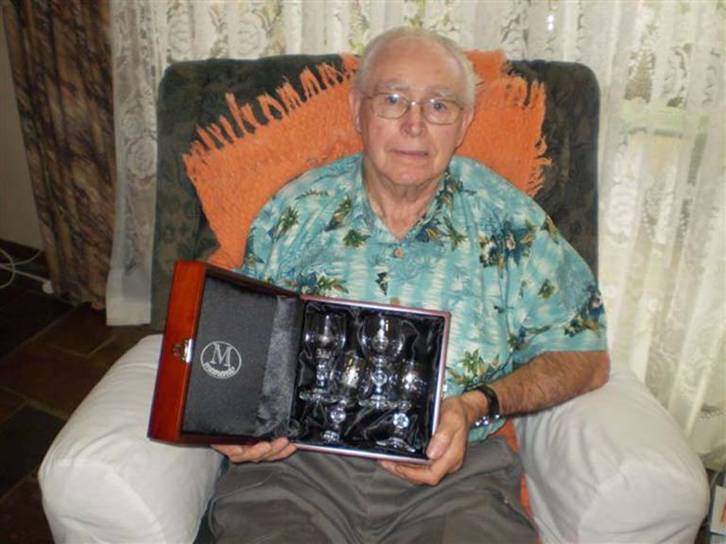 <![endif]>
Roy Dusty Ashman 42C with the engraved goblets presented to him at Yetaboon Barracks.
Published: 1st June 2007
---