QUEENSLAND, AUSTRALIA - Tuesday 21st February 2006
Author: Gerry PECK (53B)
Brian Jones, 9th Staffordshire (Prince of Wales) Regiment
& R.E.M.E., 1958 to 1973
Brian Jones, a former member of the REME and thus affiliated very closely to the league of gentlemen, of which FEOFA is a vitally integral part, was taken to FEOFA HQ at Toowoomba and inducted as an honorary member of FEOFA.
<![if !vml]>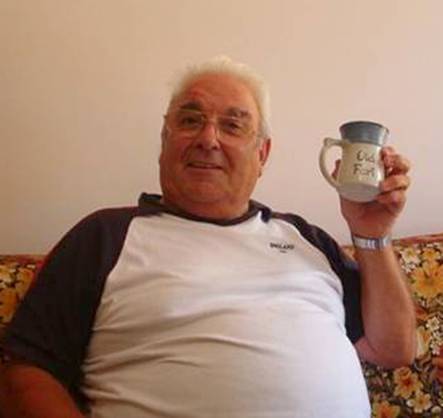 <![endif]>
Photograph: Margaret Peck
Brian is pictured here with his "Mug of entry", which was presented to him by the entertainment(s) and motivational officer for FEOFA, the "right on" George Millie of 49B infamy. In fact all of the members have it (infamy) and I am desperately seeking to pass on the baton of Duty Jeep to another "mug", as all FEOFA members are affectionately called.
Sadly, as Jonah was not an ex Brat, he does not qualify to hold any position of extreme juniority within the organisation. Jonah was in SE Queensland for some six days and was given the run around by all of us during that time.
He has now retreated, in remarkably good order, into northern "Mexico" (New South Wales, i.e. south of the border … you work it out!), where he is scheduled to travel with the chuck wagon in the Grafton cattle muster. His nephew arranged this after learning that Jonah had driven a long distance "honey-cart" for many years, as a consequence of which his place in the local band was re-arranged so that he played in the "down-wind" section.
Jonah thoroughly enjoyed his sojourn in Queensland, which proves yet again how easily people are taken in by Yetaboon.
Published: 1st March 2006
---
<![if !vml]>

<![endif]>