QUEENSLAND, AUSTRALIA – Friday 16th to Thursday 29th April 2004
Bob & Shirley's 'Yetaboon' Pilgrimage (continued)
[Reporter: Gerry PECK; Photographer: Margaret PECK; 'Ead 'Itter: George MILLIE]
Day Eleven – Australia Zoo
Monday 26th April
The agenda for the day was a trip to Australia Zoo at Beerwah, a small town nestled in the shadow of the Glasshouse Mountains. It is the home of Steve Irwin, better known as the 'Crocodile Hunter'. We arrived in good time for the commencement of the live shows in the "Crocoseum", a huge new complex that is like a sort of Coliseum with water. Bob and Shirley were well chuffed because they got in for pensioner rates, a saving of $10. The show was very professional, most entertaining, impressive, and the handlers and animals/birds were obviously well attuned to each other. The highlight was the interaction with two huge Estuarine crocodiles, and the icing on the cake the personal appearance of Steve and Terri Irwin. Their handling of the huge reptiles was incredible, with Steve on several occasions actually in the lagoon at the same time as the crocs. Their intentions towards him were manifestly obvious and he had to move sharply in several instances. Sitting directly above this scenario, we could see all too clearly just how close the crocs were as he scrambled out of the chest-high water. Crocs normally lurk in murky water and attack by stealth, so they were at a disadvantage in the crystal clear water of the Crocoseum lagoon. Even so …!
<![if !vml]>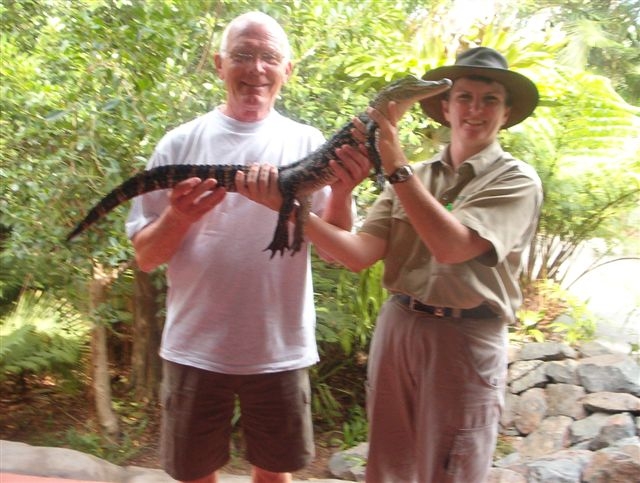 <![endif]>
Australia Zoo – Bob Langley and 'friends'
<![if !vml]>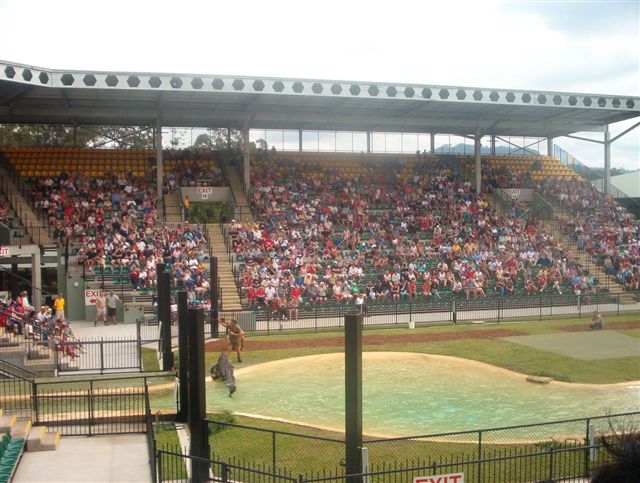 <![endif]>
Australia Zoo 'Crocoseum' – Steve Irwin and 'friend'
The Zoo has been upgraded and is just immaculate; the staff is dedicated, enthusiastic and courteous to a fault. It was tremendous value for money and we managed to cover the entire 60 acres and all the major exhibits and shows during our day there. The next expansion will incorporate a further 120 acres, the intention being to establish it as the premier conservation zoo in the world. Bob summed it up with one word, "fabulous". While Shirley enthused about the cleanliness of the place, wherever we wandered there was no litter whatsoever. We rounded the day off with a trip to the lookout point for the Glasshouse Mountains, doing an involuntary detour on the way out that appeared to save us some time in the fairly heavy traffic on the main highway, which we rejoined at Caboolture.
<![if !vml]>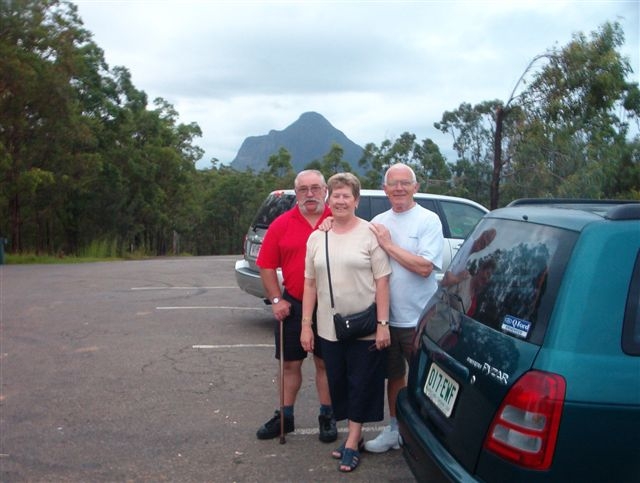 <![endif]>
Gerry, Shirley & Bob with one of the Glasshouse Mountains in the distance
Day Twelve – Sanctuary Cove
Tuesday 27th April
Today was earmarked for a trip to Sanctuary Cove, a private estate and boat Marina set amid golf courses in prime Greg Norman country. Adjacent to the Marina the many specialty shops and superb eating establishments are accessible to the general public, with plenty of free parking too. Meeting up with Reg and Vera again we set up lunch for 12.00 hrs in "George's", a rather posh eating house with full waiter service to every table. We then wandered the Marina area, checking out some of the luxurious craft moored there, even getting a free tour of a Houseboat. After checking out some of the excellent shops we entered "George's" for lunch. On my recommendation Bob and Shirley joined us in ordering the Barramundi, except Reggie who preferred a steak meal. The "Barra" was superb and the table service excellent, with some inadvertent juggling thrown in as live entertainment by our hapless waiter. Including the coffees and alcoholic beverages the bill worked out at just $22.50c per person. We all thought that the cuisine was well up to the mark!
Following the very enjoyable lunch we made our way down to Harbour Town so that Shirley could buy a suitcase to replace one that had a broken zip. Reg and Vera were getting so many business calls on their mobile phone that they decided to go home and organise some sort of roster to cover the sudden unseasonal demand for their professional services. Many purchases later, before calling it a day, we decided to check out the goings-on at Surfers Paradise. Bob and Shirley just loved the place, it has an off-beat ambience that is always constant, come rain, hail or shine. Considering all that it has to offer, the Gold Coast's many shops and Arcades and remarkably keenly-priced merchandise, not to mention low cost meals at various establishments, (e.g. 200g steak with chips and side salad $7 ) drew from them many appreciative comments.
Day Thirteen – Brisbane
Wednesday 28th April
This was the penultimate day for Bob and Shirley's stay with us here in Oz; their choice of venue for the day was a trip into Brisbane itself. To give them a chance to see things from a different perspective we left the car at a nearby station car park and took the electric train into the City, disembarking at Central Station. The trains run every half hour and from Central and it is just a short walk into the Queen Street Mall, which is the beating heart of Brisbane. Maggie, often venturing into the city with our daughter, is a far more frequent visitor to Brisbane than I, so this was her opportunity to shine as head tour guide for the day. Checking out the various shops and stores lining both sides of the Mall, we then popped into the very large Myer complex with is its multi-storey arcades. We ate lunch, a quarter chicken with chips for $4.50 each, at the "Red Rooster" franchise, one of the many eating concessions on the lowest level. Hunger thus dealt with effectively, we made our way to the Treasury Casino by the banks of the river and spent well over an hour or so demolishing the profits made from a $5.00 note invested in the poker machines.
In an attempt to beat the rush-hour we caught the return train at 15.06 hrs and drove the rest of the way home from the station where we had left the car. Bob joined me for a game of pool on my 8' x 4' slate-top billiard table and we had a very good session indeed. In some very closely-fought games we were level-pegging and opted to play a decider. Bob is a very fine potter of a ball and to be perfectly frank he was doing better than I, prompting me to play a more tactical game, aka 'dirty pool'. In the end I managed to finesse him into a bad situation, pipping him at the post. A very enjoyable evening followed by a delicious meal prepared by Maggie and Shirley brought another brilliant day to a close. Other than the odd light shower during the course of the day even the threatened heavy rain failed to manifest itself.
<![if !vml]>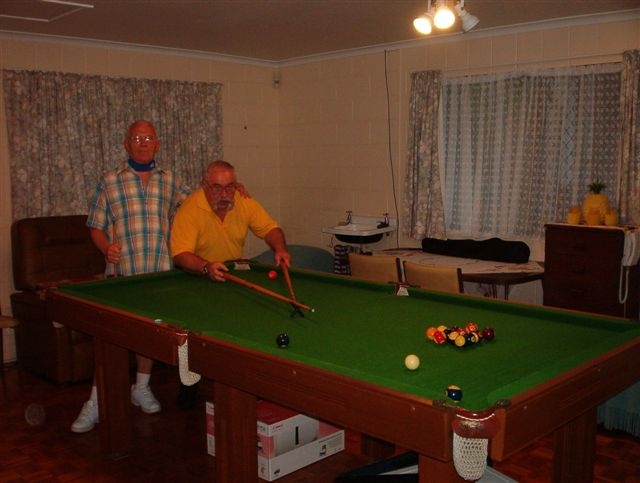 <![endif]>
A serious moment in the pool room
Day Fourteen – New Zealand Bound
Thursday 29th April
Breakfast was tinged with a little sadness, because at 13.20 hrs Bob and Shirley had to leave for New Zealand on the second leg of their Antipodean odyssey. Reg and Vera rang to wish them God speed, so typical of that warm-hearted pair. We drove them to the International Terminal at Brisbane Airport, arriving spot-on at 11.20 hrs in order to comply with Flight instructions to be there at least 2 hrs prior to departure time. Accompanying them to the baggage check-in area in the departures lounge, we took our leave of each other with Shirley having a 'wee toot' at the parting. As we said our farewells they assured us of their intention to return, and our last view of them was from the escalator as we descended to the lower levels of the terminal.
Reflections
In conclusion to this fantastic fortnight I have to say Bob and Shirley were great company; they appreciated everything that was done for them and when something occasionally went awry, as happens with the best laid plans, their sense of humour made light of it. They fitted in extremely well with us FEOFA lads and lasses when we gathered together in numbers and the camaraderie that we ex-Brats always enjoy was there in full measure throughout. My 'crook' back gave me some 'gyp' as a result of a chair leg giving way on one of our trips, slowing me down more and more throughout the fortnight. Bob and Shirley were very understanding and solicitous of my limitations and lack of ground speed. Personally, it was a reaffirmation of a long ago comradeship and a most welcome contact with an old friend. For Maggie and Shirley, it was the discovery of a mutual soul mate and the start of a friendship that we hope will continue to flourish in the years ahead. The old Arborfield mystique is alive and well!
But wait! There's more! In the morning, Bob Driscoll (53B) and his wife Sheila are due to arrive in Brisbane…….bewdy!
Published: April 2004
---
<![if !vml]>

<![endif]>