QUEENSLAND, AUSTRALIA – Friday 16th to Thursday 29th April 2004
Bob & Shirley's 'Yetaboon' Pilgrimage
[Reporter: Gerry PECK; Photographer: Margaret PECK; 'Ead 'Itter: George MILLIE]
Day Eight – Another FEOFA Reunion
Friday 23rd April
The weather, brilliant and rather warm for Autumn, remained ideal for the plan for the day - a mass gathering of FEOFA from as far afield as Toowoomba in the west and Cooroy in the Noosa hinterland at the far end of the Sunshine coast. Maggie and I were laying on a BBQ for the occasion. First to arrive shortly after 09.00hrs was the Toowoomba (49B) contingent, George and Marion Millie. They were dropped on our doorstep by their Godson Michael and his wife Nicole. The Millie's were attending the wedding of Michael's brother on Saturday and would stay overnight with us. Next to put in an appearance was Reggie Harper of 51A vintage, followed soon afterwards by Roy Dusty Ashman (42C) and his wife Kay. We were especially delighted to see Kay, who has suffered some fairly severe bronchial problems. Reggie's wife Vera was in Sydney on family business and not due back until noon on Saturday. I started on the duties that are only proper for a Jeep confronted by senior intakes, as in the preparation of burnt offerings. Just as the last of the meat received its layer of charcoal, the newlyweds arrived right on cue, I refer of course to Phil (53A) Hutchinson and his lovely bride, Lynne. They had made very good time indeed, all the way from Cooroy in less than two hours, a distance of around 160 kilometres.
<![if !vml]>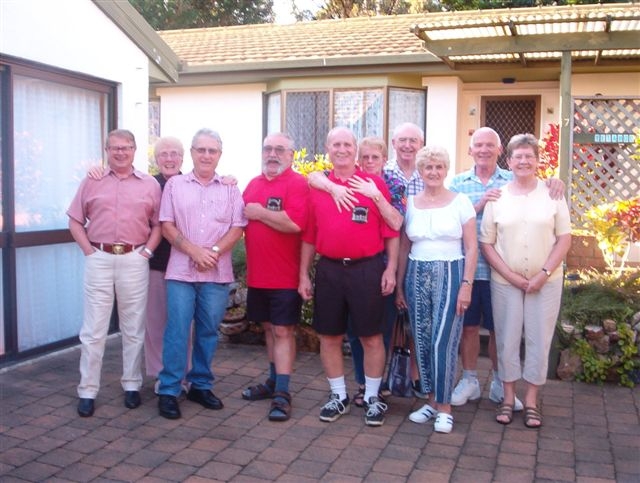 <![endif]>
FEOFA and guests
(left to right) George ('A' Coy 49B) & Marion Millie, Reg Harper ('B' Coy 51A), Gerry Peck ('B' Coy 53B)
Phil ('B' Coy 53A) & Lynne Hutchinson, Roy ('E' Coy 42C) & Kay Ashman, Bob ('C' Coy 52B) & Shirley Langley
[photographer: Margaret Peck]
The burnt offerings were graciously received and we had a really good session, with many anecdotes being thrown into the ring, each one unlocking a memory of places and faces from our shared past. Lynne was just fascinated by the tales being trotted out as we regaled each other with humorous episodes in which we had either been personally involved or witnessed first-hand. It was a wonderful day, brilliant company, superb weather and all the food and drink that you could want. Bob and Shirley confided to Maggie and me that it was a highlight of their stay in Oz and those few words were, in truth, reward enough. As the guests began to take their leave of us, Bob and Shirley prepared to depart with Reg, the plan being for them to take in a trip to Brisbane with the Harpers once Vera had been picked up from Brisbane Airport on Saturday. Reg and Vera live on a beautiful, very bucolic and quite magnificent acreage at Anstead, near Ipswich. It was the second area in Queensland to be settled. Maggie and I were on standby to deposit the Millies on Saturday afternoon at the wedding venue where George was to be the main speaker on behalf of his Godson.
Birthday Gifts
Reg, on behalf of the FEOFA members, presented Bob with a commemorative scroll, designed, printed and framed by George, in recognition of his 67th birthday which was to fall on the morrow, Saturday 24th April.
<![if !vml]>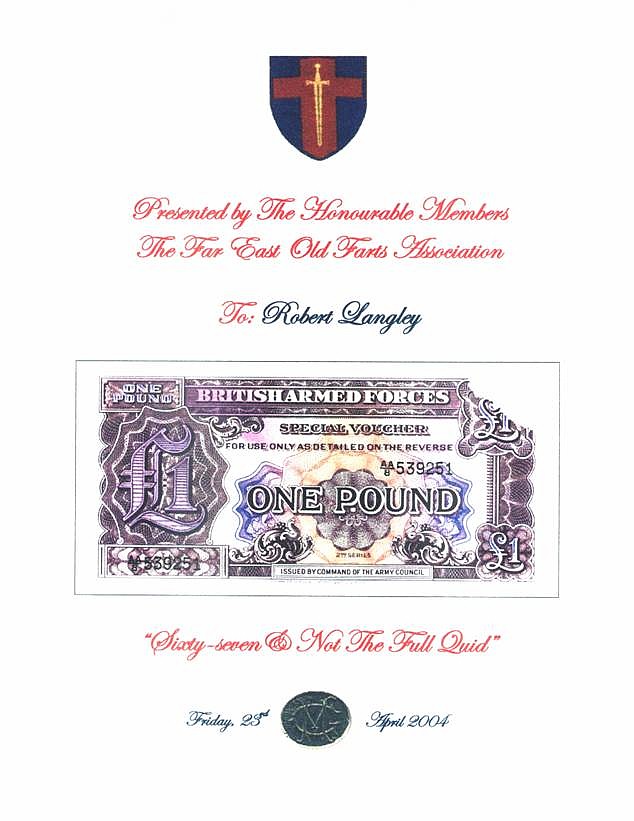 <![endif]>
The 'Scroll', printed on yellowing parchment and framed
On behalf of the FEOFA wives, Marion presented Bob with a pottery mug tastefully decorated with an appropriate legend:
<![if !vml]>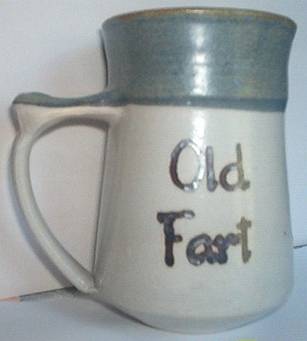 <![endif]>
George presented Bob with an official medallion struck to commemorate the first ANZAC Day, celebrated on 25th April 1915.
<![if !vml]>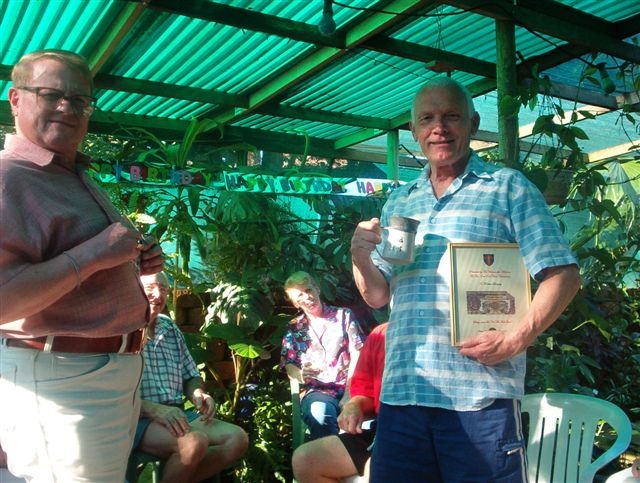 <![endif]>
George preparing to present Bob with the ANZAC medallion, whilst Bob exhibits his 'Scroll' and FEOFA mug
Day Nine – Anstead
Saturday 24th April
Reg, Bob and Shirley picked Vera up from the Airport, and then proceeded to the lookout atop Mount Coot Tha, where a 360-degrees view can be enjoyed with uninterrupted vistas of city, coastline and hinterlands to feast ones eyes upon. Even the oddly-shaped Glasshouse Mountains are clearly visible from this vantage point. A tour of the Botanical Gardens was next, with a meal in the idyllically situated restaurant and then a short drive into the city, followed by a trip along and across the Brisbane River by way of a city "cat", a high-speed passenger catamaran, servicing the river. Their destination was South Bank, a large park-like complex directly opposite the central business district of Brisbane on the far bank. A very well patronized open air market set up in the complex has many specialty shops on its periphery, restaurants selling all manner of exotic cuisines, and the more mundane fast food outlets. The park area has a lido which is always full of people enjoying the chance to take a safe dip. As evening drew in, the city lights came on, so that the return trip on the city "cat" was like going into a tunnel of lights, with the reflections shimmering in the moving waters and the car lights of the riverbank freeway on the city side of the river adding to this surreal effect. This is certainly something that I would recommend for any visitor to Brisbane to add to their itinerary.
Published: April 2004
---
<![if !vml]>

<![endif]>