RAF MIDDLE WALLOP
Photographs contributed by George MILLIE
<![if !vml]>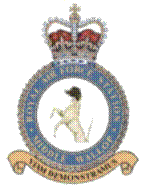 <![endif]>
Monday, 7th October 1957 - N° 1 Conversion Course
Telecommunications Technician to Aircraft Technician (Electrical, Instruments & Radio)
<![if !vml]>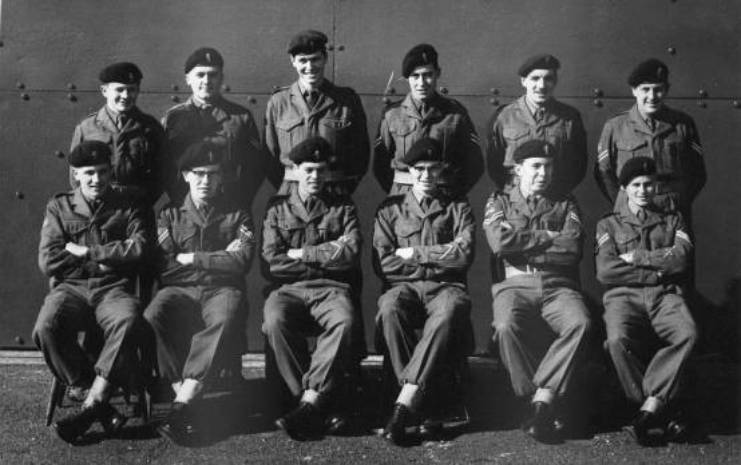 <![endif]>
Rear Rank: 1 Cfn Jesse James, 2 Cpl Norman Hurst, 3 Cfn Bob MacClacklan, 4 Cpl Mick Bray, 5 Cpl Eric Wearmouth,
                 6 Cpl Batty
Front Rank: 1 Cfn Barnard, 2 Cpl Pete Royale, 3 Cfn Wilding, 4 n/k, 5 Cpl Dave Perrot, 6 Cpl George Millie. 
Since the first publication of the photo above, Eric Wearmouth 52B has come up with some amendments to the original identifications and the names have now been corrected. Just one left to identify.
The Editor
15th October 2008
---
SCHOOL OF ARMY AVIATION MIDDLE WALLOP
Technical Training Branch
9th November 1959 – 25th March 1960
No 7 Aircraft Technician (Instruments) Course
<![if !vml]>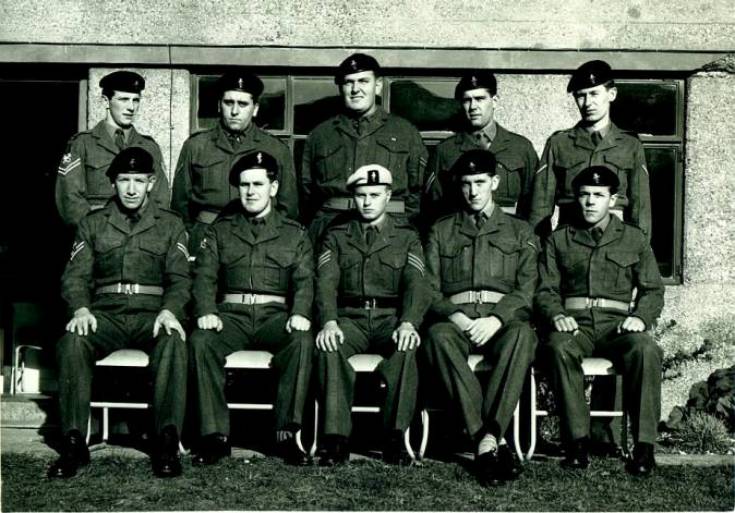 <![endif]>
Photograph and names contributed by Len SYMONDS
Photographed outside Hangar 5, facing the airfield
(standing, left to right) – Cpl HATCH, L/Cpl CLIFFORD, Cpl NIXEY, Cpl SYMONDS, L/Cpl PALMER
(seated, left to right) - Cpl EDWARDS, Cfn MOORE, Sgt George MILLIE (Instructor), L/Cpl RILEY, Cfn WALTERS
1960 - Permanent Staff, Fleet Air Arm, REME & RAF
<![if !vml]>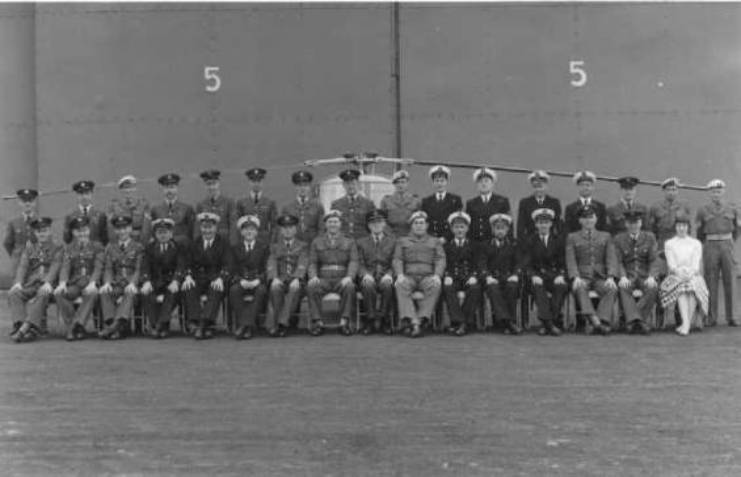 <![endif]>
Photographed outside Hangar 5, in front of a Skeeter AOP Mk 12 Helicopter
(standing, from left) 3rd Cpl REME (Chief Clerk); 9th WO2 REME (Instructor Radio); 14th Cpl Nottage RAF (Instructor Instruments);
15th Sergeant REME (Storeman); 16th Sergeant G.A. Millie REME (Instructor E&I)
(seated, from left) 3rd Flight Sgt Les Wright RAF (Instructor Electrical); 7th WO Ponting RAF (Chief Instructor);
8th Lt Col REME (CO); 9th Flt Lt RAF (2 I/C);10th WO1 REME (Assistant Chief Instructor);
14th Sgt RAF (Instructor Aerial Photography); 16th Civilian (CO's Secretary)
1962 - Chief Petty Officers, Fleet Air Arm seconded to the Army Air Corps
Light Aircraft Familiarisation Course prior to posting to Squadrons
<![if !vml]>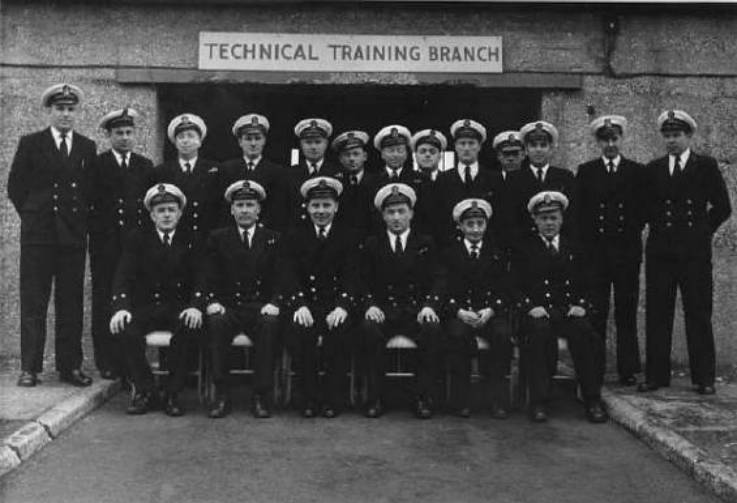 <![endif]>
(standing 8th from left) CPO Slim BIGGS, (standing 10th from left) CPO Roy BONNEY
I was unfortunate to be their Instructor (Electrical), during which period as a group they were sober only on their first morning. Their routine thereafter followed the same daily pattern – every morning they arrived in the lecture room totally hung-over from the previous night's serious drinking, dozed throughout instruction, and went to the Mess for lunch. Several never bothered to return for the afternoon session - by they had recovered sufficiently to commence the process all over again.
_________________________________________________________________________________
Information has come in from Bill Baird, REME/AAC 1960 – 1969 on the location and some of the identities in the photo below.  Believed to be taken in 1962 outside the 'Basic Rotary' hangar.  All subjects are either the staff of 'Basic Rotary' or 'Basic Fixed Wing'.  If it jogs a few memories then please contact The Editor with any additional information.
The Editor
1st September 2012.
<![if !vml]>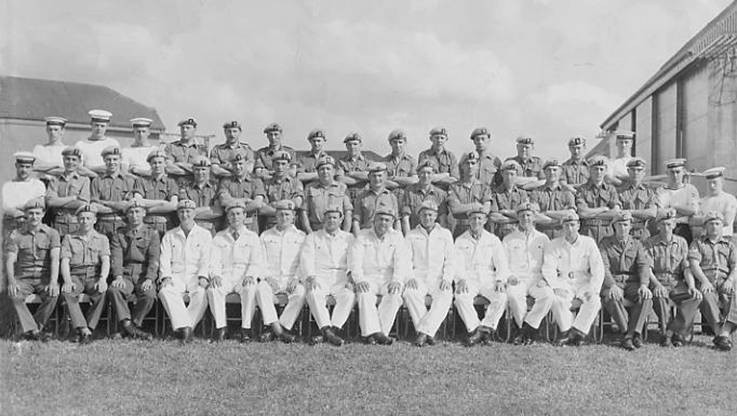 <![endif]>
Original source of photograph: unknown.
Rear Row: 5. Miller, 8. Alfie Gover (trained as a pilot), 11. Dusty Binns, 12. Ginge ???, 13. Greg Peck.
Centre Row: 6. Tom Hardy, 7. Chunky Walker, 8. Sgt. Starling, 15. Monty Kennedy, 16. Mike Petit (R.N.)
Seated: 1. S/Sgt. Kennet ?, 7. Major Tarrant ?, 15. S/Sgt. Bourne.
A Social Evening in the Officers' Mess
<![if !vml]>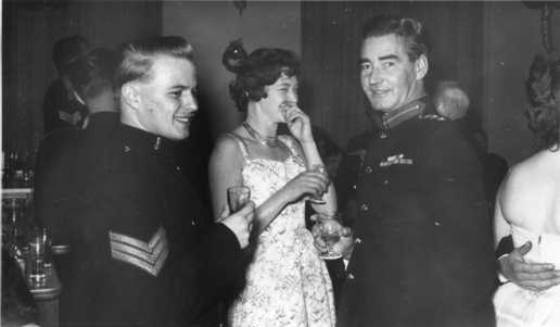 <![endif]>
George MILLIE with the Colonel and his current girlfriend
1963 - Warrant Officers & Sergeants Mess Dining-in Night
<![if !vml]>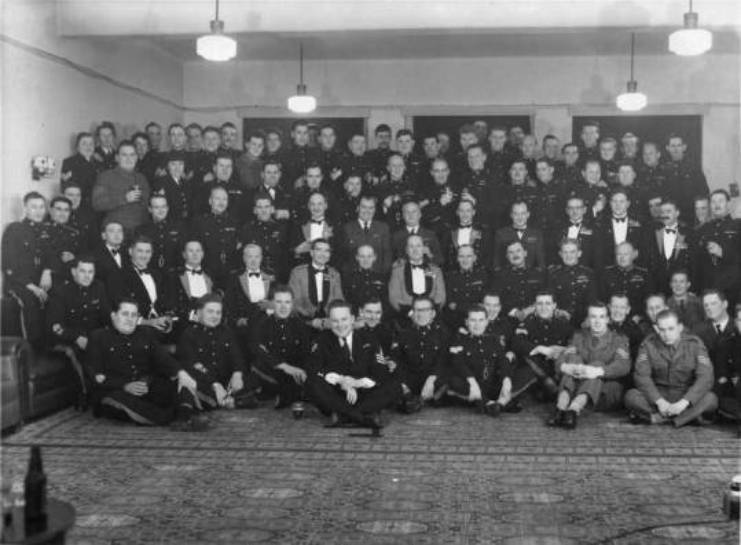 <![endif]>
First Published: 25th September 2007.
Latest Update: 15th July 2013.
---
<![if !vml]>

<![endif]>