We arrived at Port Said on Suez Canal on 27 December 1949 and were soon surrounded by local traders in their bum boats sending up their wares in baskets. They were fiddled rotten by us lot sending them down old coppers from our pockets. Some of us were allowed ashore for a short visit. It was very interesting to see how the other half lived; there was a great deal of poverty with beggars everywhere and the smells were something else. A pal of mine was taken into the military hospital in Port Said. He had been suffering badly with seasickness for most of the time aboard ship. His name was Craftsman Lofty Backhouse; I think he came from the Stockport area. I never saw him again; I hope he made it home OK.
It was after leaving Port Said that things started to go wrong. Travelling along the Suez Canal the ship had a collision with a sandbank when she had to move over to allow an aircraft carrier to pass through. This did some damage and reduced her speed considerably. On entering the Red Sea we stopped for a short stay but had to stay offshore. We went ashore in small motor boats whilst our ship took on water and stores. We then commenced our slow journey towards Aden and the Indian Ocean. It was during this part of our journey that the worst thing happened; a small child belonging to one of the families died from dehydration and was buried at sea. With us in attendance, the poor child was committed to the sea. What a sad occasion this was, one I shall never forget.
We arrived safely in Aden, what a god-forsaken place. We dropped anchor in the harbour near some floating pipelines attached to buoys. These were for us to take on water. It was purified seawater and tasted awful. Small local boys used to dive from these buoys to collect coins thrown from the ship. We were allowed ashore for a restricted visit due to terrorist activity in the mountains, which was being dealt with by our forces. I am glad I was not posted there; it was awful, dust everywhere due to the shortage of rain in the region.
We were soon on our way again on the last leg of our journey to Singapore. By this time we had been kitted out in tropical gear in our case, olive green jackets and shorts, a sight to behold; white knobbly knees in baggy shorts galore. We were now crossing the Indian Ocean slowly at half speed, the sea was calm, the sun was red hot, and things were getting better. I remember spending hours looking over the side at dolphins leaping out of the waves alongside the ship. They followed us for miles.
During this crossing we met another troopship passing homeward bound. I think it was our sister-ship the Dilwara. They both passed quite close to each other and there were lots of cheering and shouting from them for us to "Get yer bloody knees brown". Eventually we sailed into the Straits of Malaya (Malacca). We had good views of the coastal and jungle areas; they looked quite formidable and for some of the troops on board they would never be forgotten. At last we arrived in Singapore, well overdue and ready for action. We disembarked and were soon transported to the various units on the Island and up-country in Malaya. Most of the REME personnel including myself went to 4 Base Workshop and District Workshop in Ayer Raja Road and were billeted in nearby Rowcroft Lines. This was a very large camp with row upon row of wooden billets.
Some of the names of the lads I met on this voyage that spring to mind are Craftsman Viv Carter from Oldham, Corporal Mac Crawford, Lofty Backhouse from Stockport, Craftsman Williams from London, Craftsman Morris, Craftsman Roscoe and some with just nicknames like Brummie, Geordie, Jock and Taffy, you are all on my photographs and if you want to get in touch contact me through my e-mail address (above).
---
Voyage of 1954 – Japan to UK
Contributed by Jim BAULF (49A)
"This photograph of the Dunera was taken in Kowloon, Hongkong in early 1954. Most of the passengers were the Royal Irish Fusiliers (at least one fight on the troop decks each night). She was on the way from Kure, Japan via Pusan, Korea and Singapore, to 'Blighty'. I disembarked at Singapore to go to Kluang in Malaya."
<![if !vml]>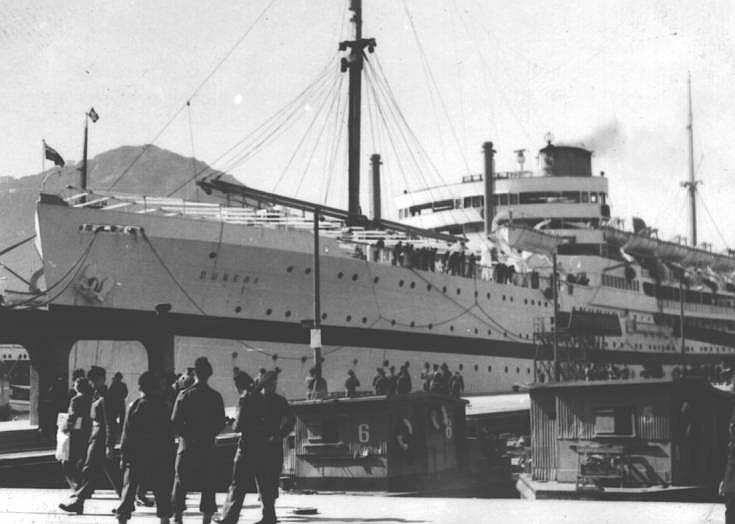 <![endif]>
---
Voyage of 1957 – UK to Singapore
Contributed by Keith TILLY (51B)
Leaving the UK on board HMT Dunera for Singapore in 1957, with the passenger ship Queen Mary in the background.
<![if !vml]>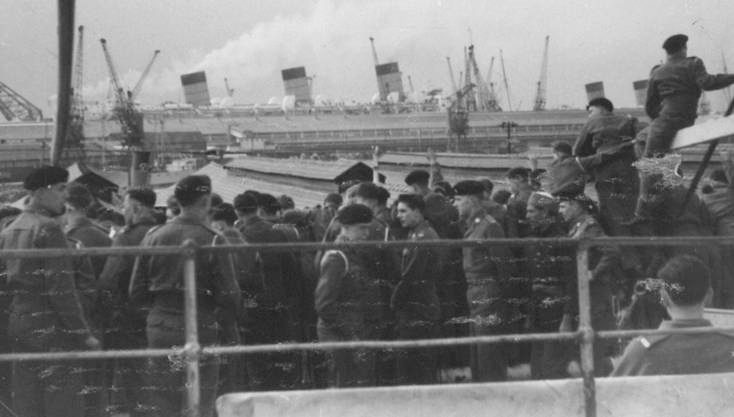 <![endif]>
The troop deck
<![if !vml]>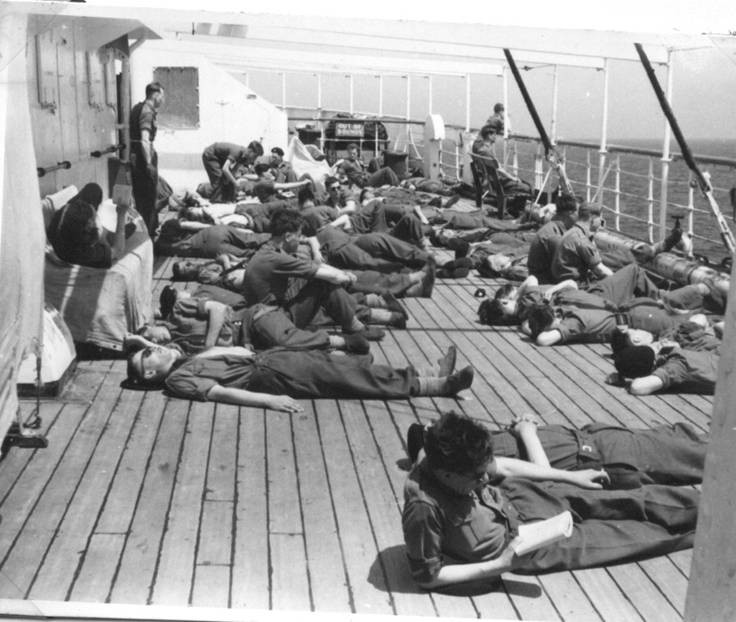 <![endif]>
The "entertainment"
<![if !vml]>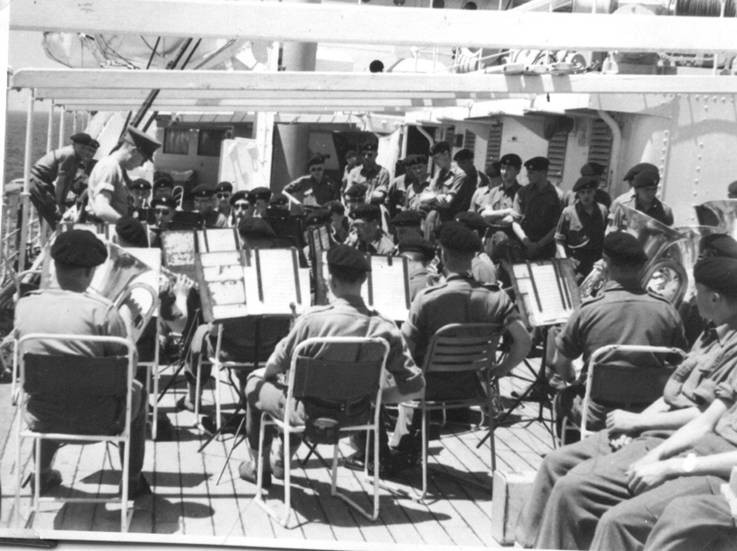 <![endif]>