MIDDLE WALLOP & AUSTRALIAN ARMY AVIATION
<![if !vml]>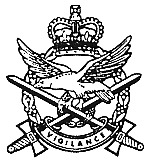 <![endif]>
To listen to the
Australian Army Aviation Corps Quick March
Click on the Badge
Sources: Museum of Australian Army Flying. Museum of Australian Army Flying, Oakey, Queensland
'Fourays", Official Journal of The Australian Army Aviation Association
Army Aviation Centre – Home of The Australian Army Aviation Corps
Introduction
The Australian Army is not a newcomer to the field of military aviation. From 1912 to 1921, Australian Army Aviation was known as the Australian Flying Corps (AFC). During World War I, as a formation of the 1st AIF, the AFC brought much distinction to the Australian Army.
The first Victoria Cross to be awarded to an Australian airman was won by Lieutenant F.H. McNamara, an Army Lieutenant in the AFC, on 20 March 1917.
In 1921 a new service was born. This proud service, the Royal Australian Air Force, soon established its own traditions and in World War II, was to add further laurels to Australian military aviation.
The Australian Army again entered the military aviation field after World War II and since that time, has served in every post-war campaign, gaining an enviable reputation.
From 'Box Kite' …
<![if !vml]>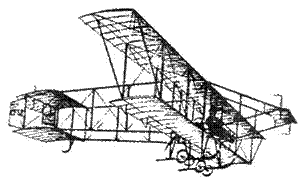 <![endif]>
… to 'Black Hawk'
<![if !vml]>

<![endif]>
Australian Army Aviation continues to serve Australia.
History of Australian Army Flying
Early History
On 20th September 1912 the Minister for Defence approved the submission by the Chief of the General Staff for the formation of a Flying Corps in Australia. Five aircraft were ordered and on 1st March 1914, the first flights were made by the Aviation Instructional Staff from Point Cook (S.W. of Melbourne, Victoria). Soon after the declaration of war in 1914, the fist course of four Army officers commenced flying training and they were followed by a further eighty-one students during the course of the war.
Early in 1915 the first half-flight was deployed to Mesopotamia at the request of the Viceroy of India – this was the beginning of operational flying for the Australian Army. During the War of 1914-1918 four squadrons of the Australian Flying Corps served in the AIF.
<![if !vml]>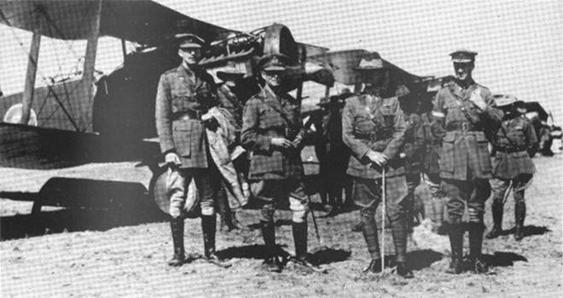 <![endif]>
Lt. General Sir Harry Chauvel inspecting No 1 Squadron Australian Flying Corps
(left to right) Lt. Col. F.G. Newton (AAG attached Desert Corps), Lt. Gen. Chauvel, Lt. Col. Williams, &
Major Neate (British Intelligence Corps)
<![if !vml]>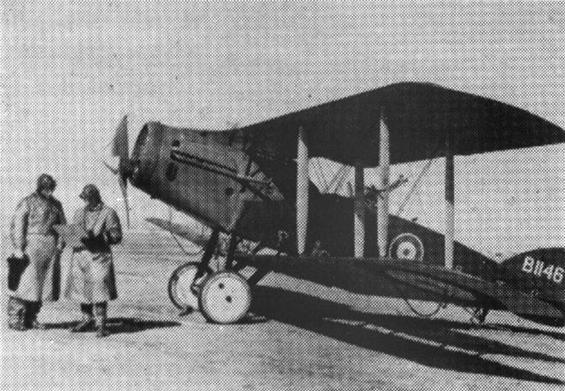 <![endif]>
Lt. Ross Smith (left) and his observer with an aircraft of No 1 Squadron Australian Flying Corps in Palestine
<![if !vml]>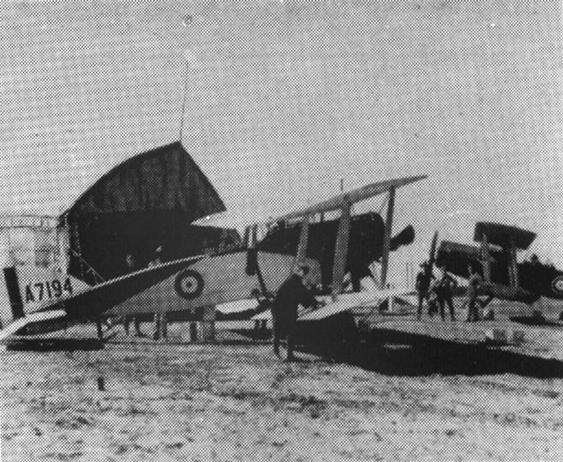 <![endif]>
Australian Flying Corps at Mejdel, Palestine
Following the war, squadrons were disbanded and aircraft and equipment were returned to Great Britain. A period of uncertainty followed, culminating in the formation of the Australian Air Force on 31st March 1921 (Title Royal Australian Air Force was bestowed on 21st March 1921).
Flight training of Army personnel then ceased, although an association with aircraft was retained during the years of the Second World War (1939-45) when Army personnel flew as observers in aircraft flown by RAAF pilots. In 1946, the Director of Royal Australian Artillery arranged for an RAA captain to begin a basic flying course in the UK. This officer then qualified at the RAF Central Flying School as an instructor. Two other RAA officers were similarly trained during the period 1947-51. In 1950 it was agreed by the Chief of the General Staff and the Chief of the Air Staff that Artillery pilots should fly light aircraft on Air Observation Post (Air OP) duties. Training of Army pilots began in Australia with No 3 (Fighter Reconnaissance) Squadron at RAAF Fairbairn (Canberra, Australian Capital Territory) which had an increment of Auster Mk III aircraft added to its normal establishment of Mustang fighters. The Army pilots trained in the United Kingdom in the period 1947-1951 were in turn posted as instructors on the staff of this RAAF unit. In 1953 the increment was deleted from No 3 (Fighter Recce) Sqn and 16 Air OP Flt (RAAF) was raised in its place; the RAAF-owned Auster aircraft were retained.
The years 1950 to 1957 were frustrating for the Army in that the support provided by the Air OP Flt (120 hours per month) was totally inadequate and no practicable policy in respect of light aircraft for the Army was achieved. There were, however, two aspects which helped to retain the Army Aviation spirit over this period. Firstly, Australian Army pilots were able to fly with 1903 Air OP Flt RAF which was an integral unit of the British Commonwealth Division in Korea. Secondly, in 1957, 1 Army Aviation Coy was raised in Eastern Command in an effort to supplement the limited support provided by the 16 Air OP Flt. This unit was located at Bankstown Airfield (New South Wales) and consisted of a small group of Army officers and senior NCO pilots who operated civil aircraft on charter to the Army.
Also in 1957, the Defence Committee agreed in principle that the Army should have its own organic light aircraft. However, it was not until 1960 that the Defence Committee endorsed a plan for the formation of 16 Army Light Aircraft Squadron. This unit was to be located at RAAF Base Amberley in Queensland and equipped with both fixed and rotary wing aircraft, the maximum all-up weight of which was not to exceed 4,000 lbs. At this point, ownership and some control of light aircraft support for the Army passed from the RAAF to the Army.
Recent Developments
16 Army Light Aircraft Squadron was formed at RAAF Amberley on 1st December 1960 under the command of an RAAF officer. The unit was established from a nucleus provided by 16 Air OP Flt and 1 Army Aviation Coy which were both disbanded as of that date. The unit was equipped with Cessna 180 fixed wing aircraft (which had replaced the Auster Mk IIIs of the 16 Air OP Flt) and Bell Sioux 47G2 rotary wing aircraft.
From 1960 to the present day represents a period of expansion for Army Aviation. 16 Army Light Aircraft Sqn was, in turn, re-designated to 1 Div Army Aviation Regt and later 1 Aviation Regt, which is the current title. Command of the Regiment passed from RAAF to Army in December 1964. it was during this period that a permanent detachment (two Cessna 180 aircraft) was deployed to Papua New Guinea (PNG) Command, and in 1965, 182 Recce Flt (two Sioux helicopters) was deployed to Malacca, Malaysia, to provide intimate support for the Australian Infantry Battalion of the 28th Commonwealth Infantry Brigade. The flight was later absorbed by 28 ANZUK (Australia, New Zealand, United Kingdom) Aviation Sqn and was disbanded when Australian forces were withdrawn in 1973. In 1965, elements of 161 Independent Recce Flt deployed to South Vietnam. In June 1968, 183 Recce Flt was deployed to PNG and the original detachment was withdrawn. Early in 1969, 171 Air Cavalry Flt deployed to Holsworthy (New South Wales), and in February 1976, 183 Recce Sqn (formerly Flt) returned to Australia and was disbanded at Oakey (near Toowoomba, Queensalnd).
On 1st July 1968, the Australian Army Aviation Corps was formed with Corps seniority next after Infantry. Initial Corps membership was 106 officers, all of whom were qualified pilots. Since then, officers and other ranks trained in aviation trades other than flying have been absorbed into the Corps. Corps strength fluctuates but is approximately 180 officers and 195 other ranks.
On 1st July 1969, the Army formally took over Oakey Airfield from the the Department of Civil Aviation.
Until 1st August 1972, 1 Aviation Regt was the only Army flying unit on the Army Order of Battle. On that day, however, the following Army Aviation units were raised from the 1 Aviation Regt nucleus:
HQ

Army

Aviation Centre (

Oakey

),
1 Aviation Regiment (new establishment),
School of Army Aviation, and
Army Aviation Centre Base Squadron
On 17th February 1974, 173 General Support Sqn was formally raised at Oakey.
On 13th December 1983, Army Aviation Centre Base Sqn was formally re-titled Base Support Unit, Oakey.
On 20th November 1987, 5 Aviation Regiment was formally raised at RAAF Garbutt, Townsville (North Queensland).
On 1st January 1990, the Australian Defence Force Helicopter School was raised at RAAF Fairbairn.
On 30th April 1992, Base Support Unit, Oakey was re-designated Base Administrative Support Centre, Oakey and is now a Logistic Command unit.
History of Oakey Airfield
There has been a military aviation presence at Oakey since 1942. In December of that year, the decision was made to construct No 6 Aircraft Depot RAAF, at Oakey. The Depot was designed to relieve No 3 Aircraft Depot at Amberley of a great deal of repair and overhaul work and to become a forward depot for aircraft operating from New Guinea and Northern Australia.
Work on the construction of No 6 Aircraft Depot was commenced by the Civil Construction Corps on March 15th, 1943. Eventually the number of personnel rose to about 2,000.
Aircraft maintenance work commenced on 23rd December 1943, with the overhaul of two twin-row Wasp engines. By early 1944, the range of aircraft equipment being serviced at Oakey had increased considerably.
<![if !vml]>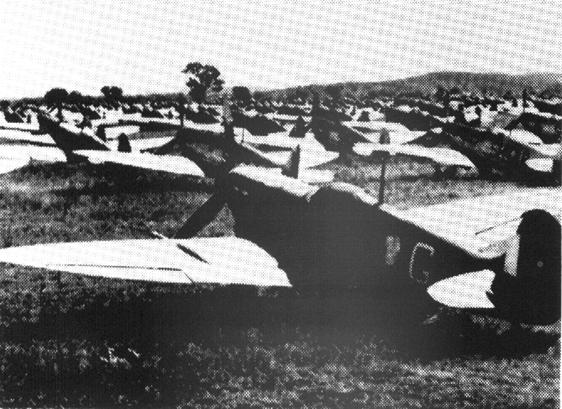 <![endif]>
The Depot was now servicing large quantities of communications equipment, radio compass receivers, direction finding equipment and radio altimeter equipment which was flowing in for use in general equipment maintenance and from the salvage of damaged aircraft.
The first aircraft to be repaired at Oakey was Spitfire A58-27 which was received on 4th February 1944.
No 6 Aircraft Depot was a key station in maintaining the RAAF effort in the South West Pacific area and provided the facilities required for all major airframe and engine overhauls beyond the capacity of other aircraft repair depots within the zone.
Aircraft types serviced, assembled and test flown included Beaufort (A46), Kittyhawk (A29), Lancaster (A66), Mustang (A68), Norseman (A71), Spitfire (A58), and Wirraway (A20). In addition, Seafire aircraft (the marine version of the Spitfire) were assembled for the Royal Navy.
<![if !vml]>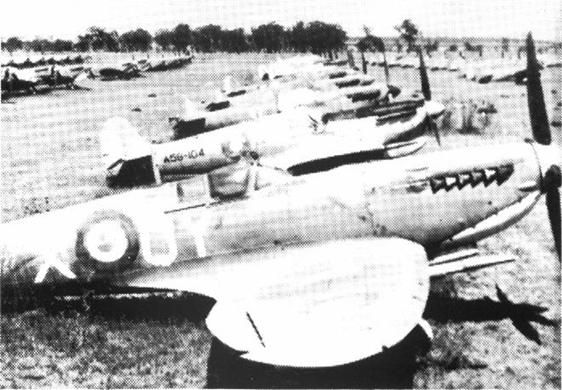 <![endif]>
The end of the war on 15th August 1945 brought to a halt the servicing and assembly of aircraft. However, it created a necessity for the storage of large numbers of surplus RAAF aircraft and No 6 Aircraft Depot became a key storage area.
By 10th December 1945, 544 aircraft (one Oxford, 40 Boomerangs, 50 Mustangs, 221 Kittyhawks and 232 Spitfires) were stored at Oakey. At the same time, the personnel strength of the Depot was rapidly reduced to about 350 people.
By 4th October 1946, all assets other than those temporarily required by the RAAF at Oakey became available for disposal. Public auctions were conducted by the Commonwealth Disposal Commission on February 13th-14th 1947, during which some 220 buildings were sold to various Government agencies and private individuals.
Disposal of surplus aircraft stored at Oakey proceeded smoothly and by November 1947 some 553 aircraft of various types had been declared to the Commonwealth Disposal Commission.
The last RAAF unit stationed at Oakey was disbanded on 12th March 1948. Twenty years later, work commenced on the present facility – the home of Australian Army Aviation.
<![if !vml]>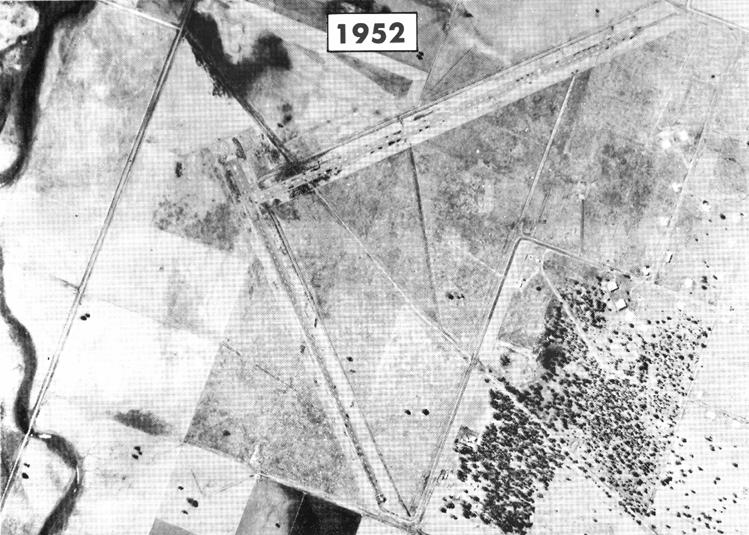 <![endif]>
<![if !vml]>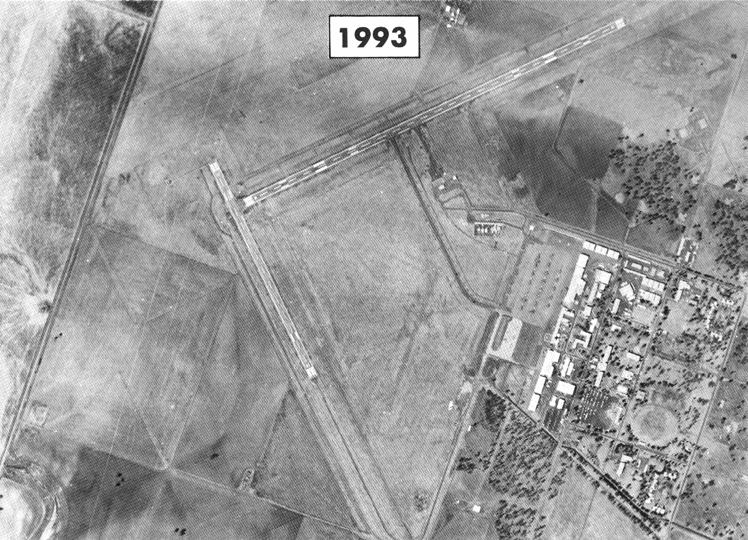 <![endif]>
School of Army Aviation, Oakey
Flying instruction of Army pilots commenced at RAAF Fairbairn, ACT, at the 16th Air Observation Post Flight in 1951 and continued in the Training Flight of 16th Army Light Aircraft Squadron at Amberley from 1960 to 1966. In 1966, the 16th Army Light Aircraft Squadron was renamed and re-organised as 1st Division Army Aviation Regiment with two flying squadrons. These squadrons were 16th Aviation Squadron and Aviation Training Squadron. On 1st August 1972, Aviation Training Squadron became the School of Army Aviation (SAA) at Amberley, Queensland. The SAA moved to Oakey in April 1973.
The SAA has a total of 25 aircraft comprising:
6 Bell UHI-H 'Iroquois',
6 Sikorsky S70A-9 'Black Hawk',
8 Bell 206B-1 'Kiowa', and
5 GAF N22 'Nomad'.
The other major assets of the SAA is its permanent staff of 72 people who are employed in one of these areas:
Administrative Wing;
Corps Training and Tactics Wing;
Operational Flying Training Wing;
Operations Wing.
RAEME Aircraft Maintenance School
RAEME (Royal Australian Electrical & Mechanical Engineers) Aircraft Maintenance School (RAMS) had its origins in 1964 as the Aircraft Technical Training Flight (ATTF) at RAAF Base Amberley. The first course was conducted in February 1965 with RAAF Instructors.
In 1967, ATTF was renamed the Aviation Training Wing (RAEME) and the RAAF instructors were gradually replaced with Army personnel. In 1972, Aviation Training Wing (RAEME) was disbanded and became Training Company 5th Base Workshop Battalion. In 1973, the Battalion relocated to its current location at the Army Aviation Centre, Oakey.
<![if !vml]>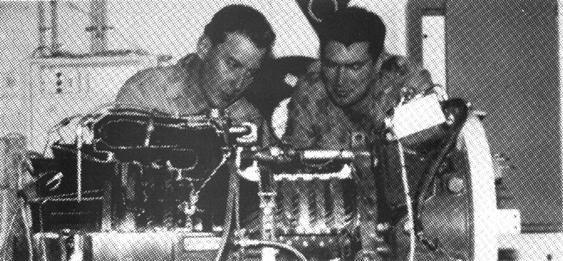 <![endif]>
On 20th July 1989, Training Company was renamed RAMS and became a unit in its own right, coming under the direct command of Army Training Command, Sydney.
RAMS has an establishment of 33 instructors and support personnel. Instructors are drawn from all RAEME elements within aviation units and include all ranks from Corporal to Warrant officer. An instructor on posting to RAMS must undergo an Instructor Development Course to enhance and confirm teaching skills. A normal posting tenure is two to three years when the instructor could expect to be posted to another aviation unit, taking his instructional experience 'into the field'.
<![if !vml]>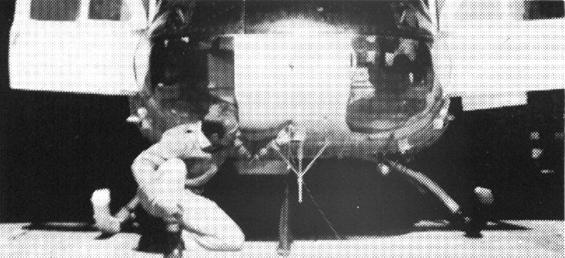 <![endif]>
Since its beginnings as the ATTF, RAMS has been responsible for training of RAEME aircraft maintenance personnel in the maintenance of the Cessna (1965-69), Sioux (1965-69), Pilatus Porter (1969-91), Bell 206B-1 (1971-current), Nomad (1976-current), Iroquois and Black Hawk (1990-current). The School trains personnel from the RAAF, RAN, Royal Thai Navy, Royal Thai Air Force, Indonesian Air Force, Papua New Guinea Defence Force and a number of Australian Government and civilian organisations.
The courses currently conducted by RAMS include career training for RAEME personnel, the training of Army officers in aircraft engineering management and techniques, and courses which qualify RAEME personnel in trade requirements for promotion to Sergeant and Warrant Officer. RAMS also works in association with the School of Army Aviation to conduct pilot technical maintenance training.
At the moment, RAMS is implementing a number of exciting and innovative new training initiatives. These include:
Computer Based Training (CBT), a self-contained, self-paced learning package presented to the student through the medium of a computer. CBT Section is currently developing interactive courseware for aircraft fitters and avionics trades. This incorporates laser disk technology and run-time video.
Simulated Aircraft Maintenance Trainers (SAMT), a computer generated simulation of selected aircraft systems.
The Middle Wallop Connection
<![if !vml]>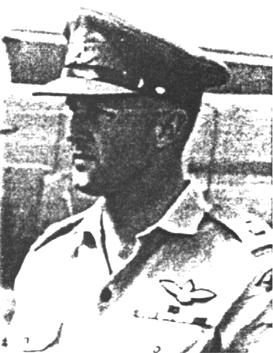 <![endif]>
Ken J. Oram's World War II career began with 2/5 Field Regiment AIF in Milne Bay (Papua New Guinea) and concluded with the same regiment at Balikpapan (Borneo). In the meantime he gathered a varied experience with HQNGF, HQRAA 3 Div, US Navy (PT boats), 2 Bomber Command USAAF, and HQ 1 Aust Corps.
Returning to Australia late in 1945 he attended Staff College (Grade 3) at Carbarlah, Queensland. His post-war appointment was to the Directorate of Artillery AHQ Melbourne (Victoria). He was on the spot when the then current policy of standardisation with the UK unearthed the requirement for Air OP units. Because of his interest in aircraft he was nominated for Air OP training in UK.
The initial plan called for attendance at a refresher Observation of Fire Course at Larkhill (Wiltshire), to be followed by two stages of flying training: ab initio under RAF supervision and operational conversion under Royal Artillery instructors. While all British officers on the course were then posted to Air OP units for practical experience this had not been included in the original plan for Ken Oram.
Middle Wallop
AHQ realized that one pilot would not have much effect, so a decision was made to train a flying instructor who would then return to Australia and train pilots locally. A vacancy was requested and obtained for him on a flying instructors' course at RAF Central Flying School at Little Rissington (Gloucestershire), beginning one week before the completion of training at Middle Wallop (Hampshire). This oversight was further complicated because the course was not one of the 'specials' for Army pilots but a normal course comprising highly experienced pilots from the Fleet Air Arm, and the Fighter, Bomber, and Transport Commands from the RAF.
Once the RAF had recovered from the initial shock, the whole affair was treated as rather hilarious. Indeed Ken Oran (illegally wearing Air OP wings) reported in to CFS for enrolment and administration, then left for Middle Wallop for the final week's training and "Wings Parade" before returning to CFS to commence the course. A sympathetic CFI and friendly instructors entered into the spirit of things and although formal training was restricted to Tiger Moth, Auster Mk V, and Harvard, he also gained flying experience in Prentice, Oxford, Anson, Mosquito, and Lancaster aircraft before being rated as a QFI. He then returned to Middle Wallop to serve as a staff flying instructor for one full Air OP course.
Returning to Australia Ken Oran was posted to the School of Artillery, North Head, pending attendance at Staff College, Queenscliff the following year (1950).
First Published: 20th May 2007.
Latest Update: 1st November 2008.
---
<![if !vml]>

<![endif]>