QUEENSLAND, AUSTRALIA – Tuesday 25th April 2006
[Reporter: Gerry PECK; Photographers: Margaret PECK & Vera HARPER; 'Ead 'Itter: George MILLIE]
ANZAC Day in Toowoomba
ANZAC Day went like a dream! 
Dusty Ashman (42C) got to our place bright and early and we set off for Toowoomba at the dawn of a beautiful sunny day. We arrived in good time after an uneventful and almost traffic free 140 odd kilometres of travelling.  A quick change into "regimentals" and we were ready for the arrival, right on cue, of Reg Harper (51A) and his group. He brought along Ronnie1, a US Vietnam Veteran who was to march alongside of George's special mate, Robin Jock Lamont (Royal Australian Corps of Signals).
NOTES:
<![if !supportLists]>1 <![endif]>Ron CURTIS, former Master Sergeant (US Army), 128 Assault Helicopter Company, 1st Aviation Brigade, Phu Loi, South Vietnam.
We made our way along to the closest point where we could park our cars and walked the length of the route to where the BESA2 contingent was waiting to form up. Reg, because of his missing leg, was driven to the assembly point, taking with him his and George's eldest grandsons, who were going to march with us.  Dead on time, we formed up and column by column, marched off. The two young 'uns soon picked up on what was required and performed flawlessly, they marched as the centre in the two files that we formed at the end of the BESA contingent.
NOTES:
<![if !supportLists]>2 <![endif]>British Ex-Servicemen's Association, Queensland
Less successful were the three valiant souls who marched in the file to our immediate front, bless them. They were marching for their deceased fathers and who can gainsay that? Problem was that they could not hold step! We solved that by taking our step from the standard bearers and our cadence from the bands. I confess to having a smirk at the thought that our column would have looked like a "Dagwood sandwich", with a well turned out crust fore and aft and a sloppy "filling" between them!
The ceremony at the Cenotaph was very moving and the highlight was the speech by a young girl3 who had attended last year's ceremonies at ANZAC Cove itself. She really did make an excellent fist of that task! As usual, the crowds, both along the route and at the park4 where the Cenotaph is located, were huge. For a city of forty thousand souls, I have to say that a very substantial percentage of them were either in it, or attending it, very impressive!
NOTES:
<![if !supportLists]>3 <![endif]>the address was given by Miss Kristy O'Brien, Senior Student, St. Saviours College, Toowoomba
<![if !supportLists]>4 <![endif]>Mothers' Memorial Park
<![if !vml]>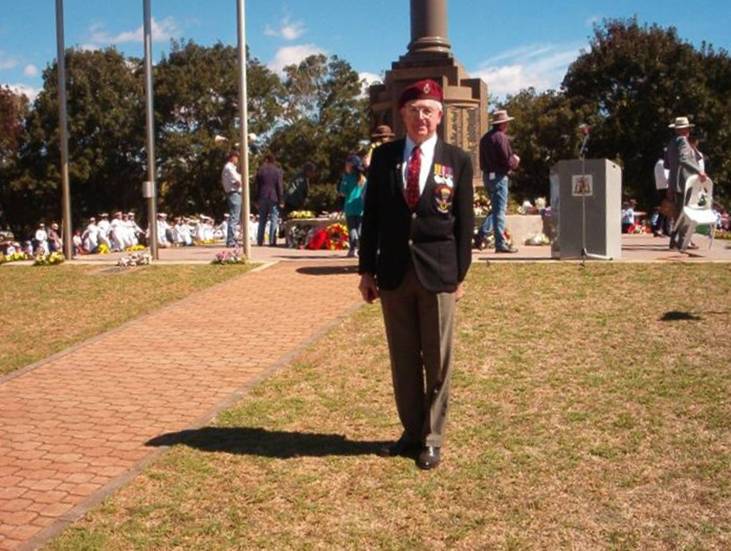 <![endif]>
Photograph: Margaret PECK
Roy ASHMAN with Mothers' Memorial in the background
<![if !vml]>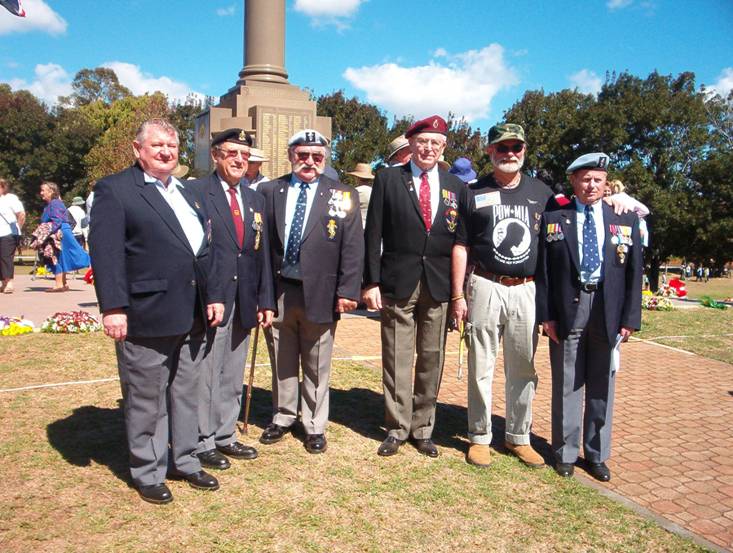 <![endif]>
Photograph: Margaret PECK
(above): Robin LAMONT, Reg HARPER, Gerry PECK, Roy ASHMAN, Ron CURTIS, George MILLIE
Lunch was taken at a restaurant just a short distance from the Cenotaph and after that we all retired to Chez Millie and were there treated to fine finger foods and desserts by Marion, served up in FEOFA HQ along with wine and beer as required. Ronnie was also given a "Two-up" flipper and two pennies as a memento of his attendance of an ANZAC parade. The significance is that only on ANZAC Day, is that (gambling) game allowed to be played without penalty if caught by the Police. As a kid in Melbourne, I was once given ten bob for "keeping nit" while a two up school was running behind some tennis courts. Memories….
Our group took its farewell of Toowoomba and our mates at 16.00 hrs. We had enjoyed perfect weather, a superb parade, a moving ceremony, the most convivial of company and bonhomie that would put the best and most effervescent champagne ever bottled to shame.
Who could ask for more? I wouldn't have missed it for quids and to me it is yet another chapter in the ongoing saga of what being a Brat has meant to me.  
The Day After
Another fabulous day, perfect weather, wonderful company and lashings of good humour and bonhomie.
A trip to Toowoomba is always a pleasure but there is something almost sublime about it when the trip includes the ANZAC Parade. Truly, the town and its people put on a remarkable display and it is a privilege to be allowed to participate in it. I can never thank you enough George for putting to us the suggestion that we "show up" and support you in the Garden City. Maggie and I count it as a highlight to our year and it is a pleasure in its entirety.
Ronnie being there for this one was just fantastic and the Grandkids were brilliant, they were taken up with the solemnity of the occasion and rose magnificently to the demands of the parade. The lads never put a foot wrong! Which is more than I can say for the bloke to my immediate front who shambled along like an amiable grizzly. Even that didn't detract from the day though, as he was displaying his father's medals and therefore upholding the tradition as best he might. I simply took my step from the standard bearer, my cadence from the bands and ignored the meandering directly ahead of me. Having Dusty there was fantastic too, he is just so "unflappable" that I reckon he is the original "Mr Cool". Kirrin's bright conversation was a pleasant addition to the ambience of the lunch we all enjoyed. So nice to come across a sensible teenager who is intelligent and well spoken. It would seem, from the superb speech made by the other young lady during the parade, that Toowoomba is well blest in that respect.
Altogether a day that money simply could not buy and we thank you all for your parts in it.
Published: 1st May 2006
---
<![if !vml]>

<![endif]>