Aden And The Auster.
Contributed by: Mike JACKSON (53A)
Editor: Webmaster AAS – John (Peat) MOSS © 09/11/06
Foreword
Mike Jackson is an ex-Army Apprentice from the

Arborfield

Boys' School, near Wokingham, England. Intake 53A.
He has sent me some photos of his posting to Aden 1962/63 and his exploits as an aircraft mechanic during that period.
We hope you enjoy this presentation.
John C. MOSS (55A)
__________________________________________________________________________________
<![if !vml]>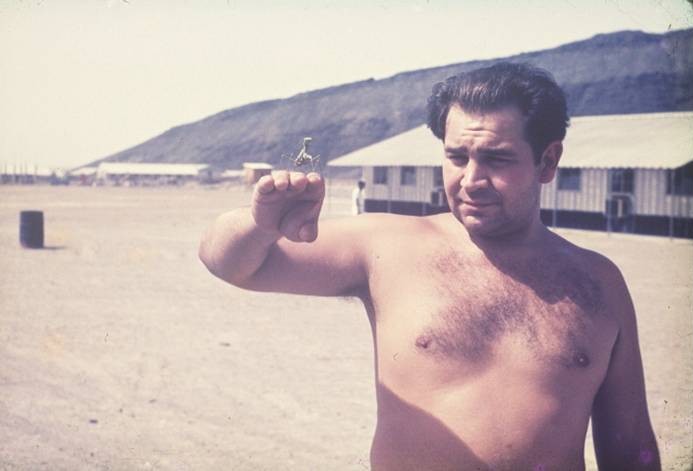 <![endif]>
Mike & Friend – Morris the Mantis.
<![if !vml]>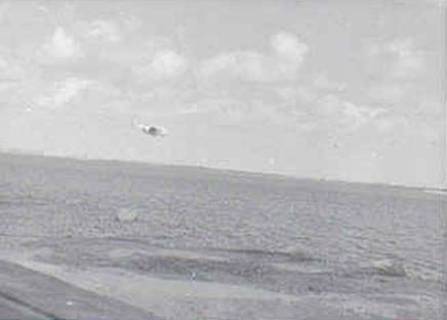 <![endif]>
Over the causeway.
<![if !vml]>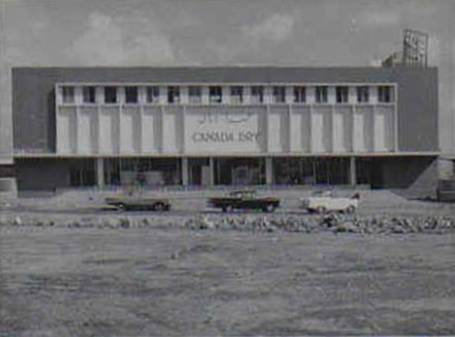 <![endif]>
Past the Canada Dry Plant.
<![if !vml]>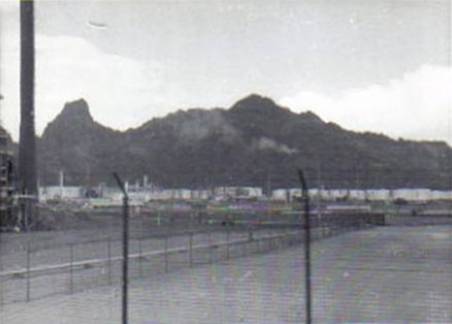 <![endif]>
Past the Shell Refinery.
<![if !vml]>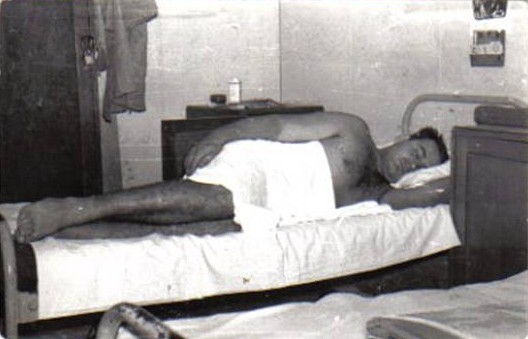 <![endif]>
The Warrior at rest (Only 511 days to Demob).
The runway in Aden.
Where the Blacktop ends, that's where you find 653 Squadron AAC.
<![if !vml]>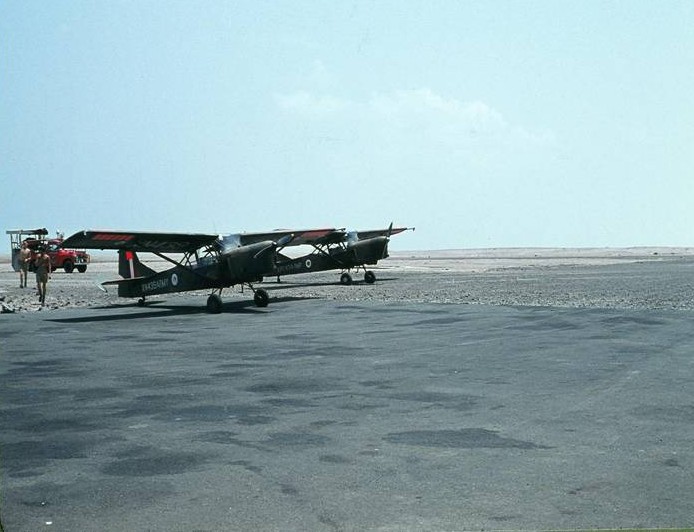 <![endif]>
The VIP
We had a VIP visitor. As usual the powers to be decided that he was to be taken "Up Country" to monitor an exercise.
All went well until it was their time to come home.
That's how we found ourselves in a "Beaver" on a rescue mission.
Note:- Check out the pecking order, Corporals at the back of the bus!
<![if !vml]>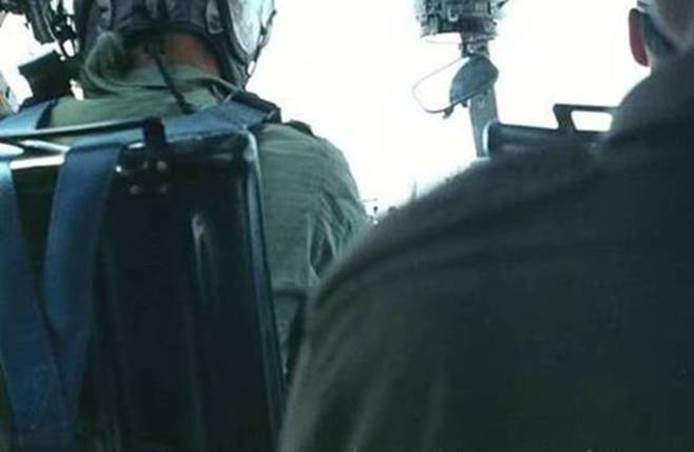 <![endif]>
The Desert View.
Gentlemen, if you look to your right hand side, you will see sand…
<![if !vml]>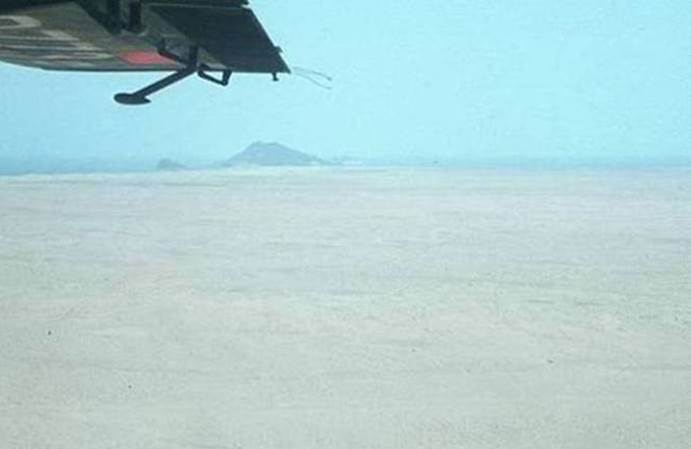 <![endif]>
The Desert View 2.
And more sand…
<![if !vml]>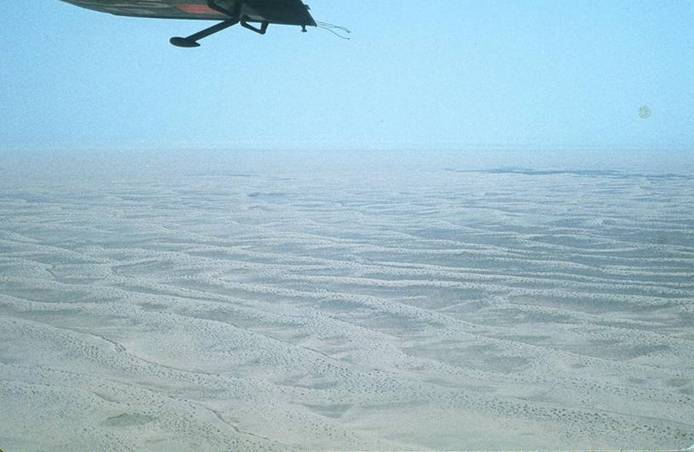 <![endif]>
Oasis?
Very occasionally, some green but it's not Blighty…
<![if !vml]>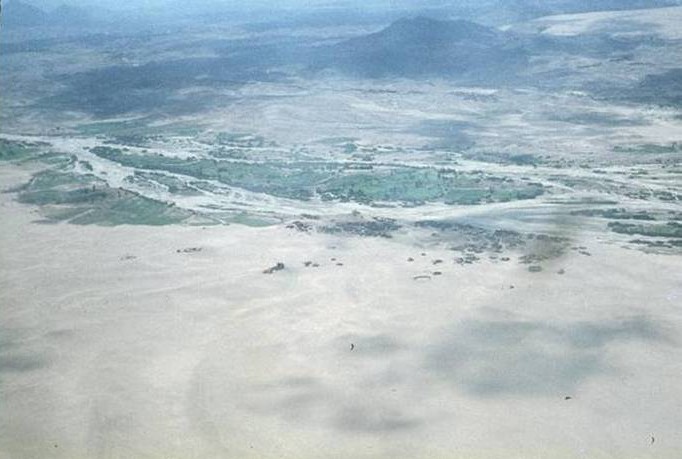 <![endif]>
XP 240.
Finally we found XP 240.
<![if !vml]>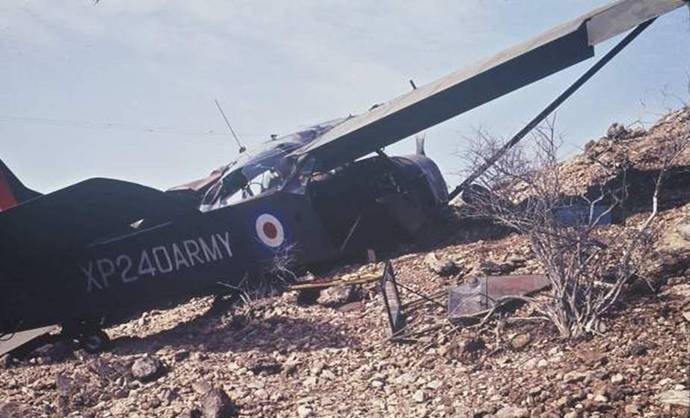 <![endif]>
A bad day for XP 240.
"Yes Staff, he probably ran out of.
Airspeed
Altitude
And Ideas, all at the same time"…
<![if !vml]>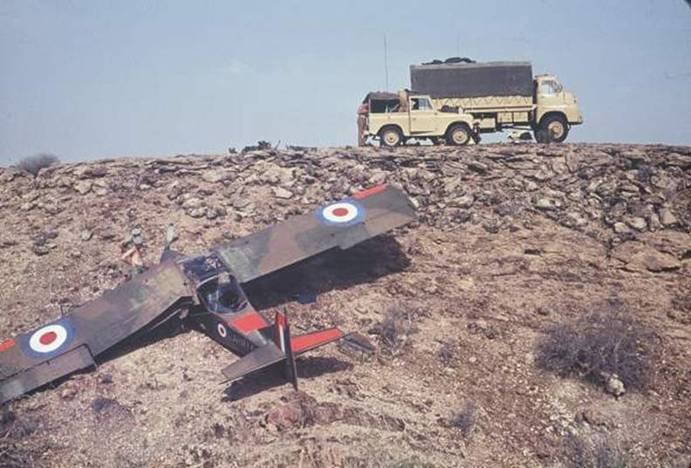 <![endif]>
Wingless!
All we could do was to put the wings on the back of an RL attach a sling, and…
<![if !vml]>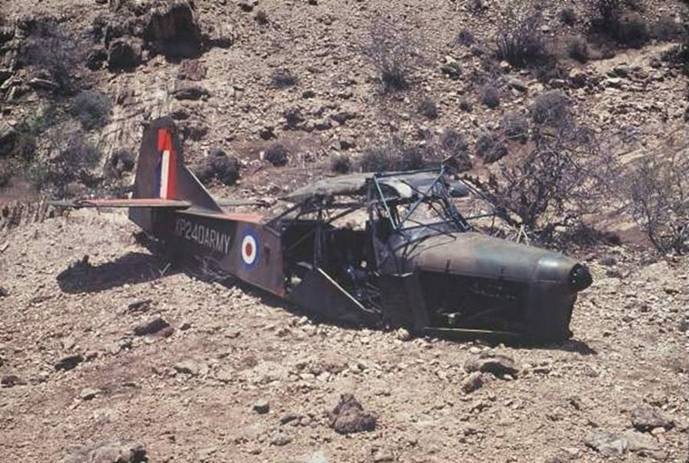 <![endif]>
RAF Skyhook.
Wait for the RAF…
<![if !vml]>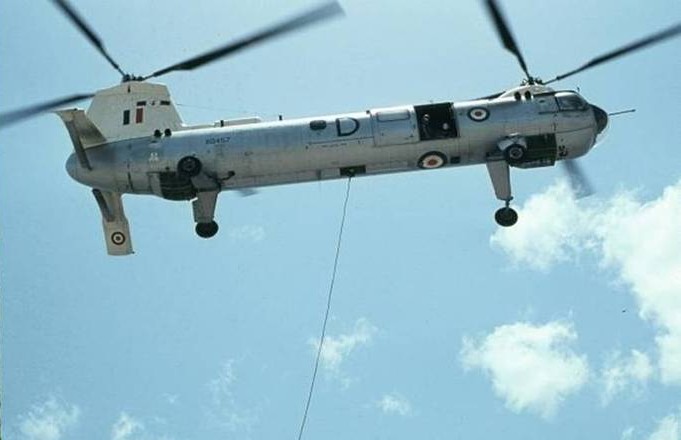 <![endif]>
"Up - Up" and Away.
That was easy, the only problem being was when the helicopter started its engines…
A cartridge start scared the locals guarding the site. They thought that they may be under attack!
<![if !vml]>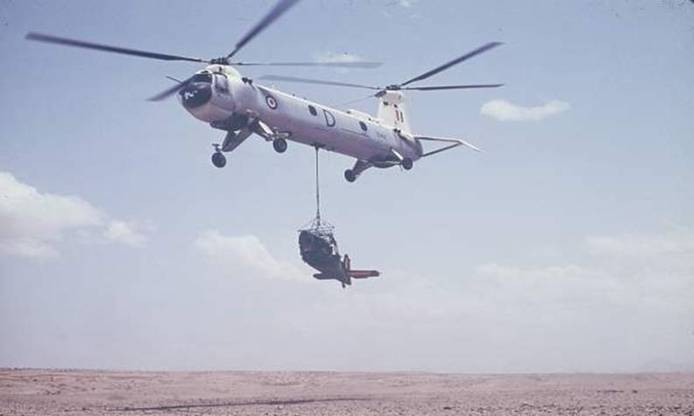 <![endif]>
Suspended.
XP 240 on its way home…
<![if !vml]>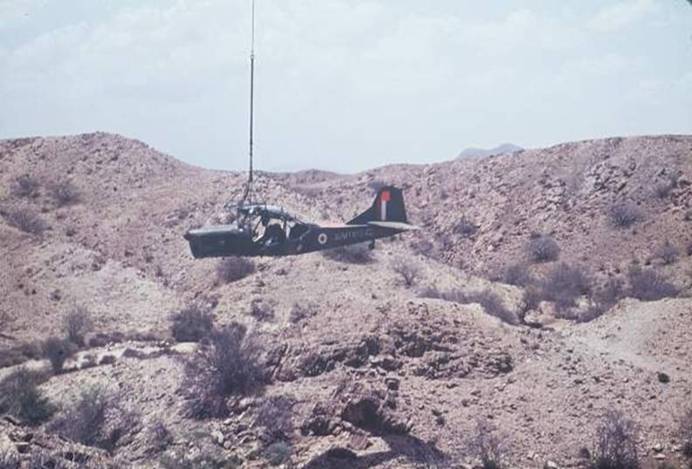 <![endif]>
Flying High.
It seems to track very well…
<![if !vml]>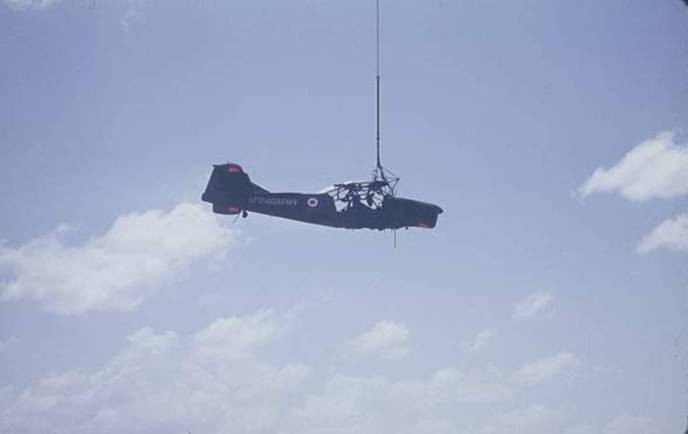 <![endif]>
The descent at the hangar…
We arrived back just after the Auster, you can just see the helicopter over the right hangar. The cloud of dust on the left is where the Auster landed.
XP 240's bad day was not over. When it reached approx. 50/60 feet above ground, the RAF dropped the aircraft. When the helicopter finally landed, the crew explained that they had an open mic intercom system with throat mics.
So when the Loadmaster coughed, the Pilot thought that he had said "Cut" so he released the load. The tail feathers of the Auster flexed down resembling an F4 Phantom…
<![if !vml]>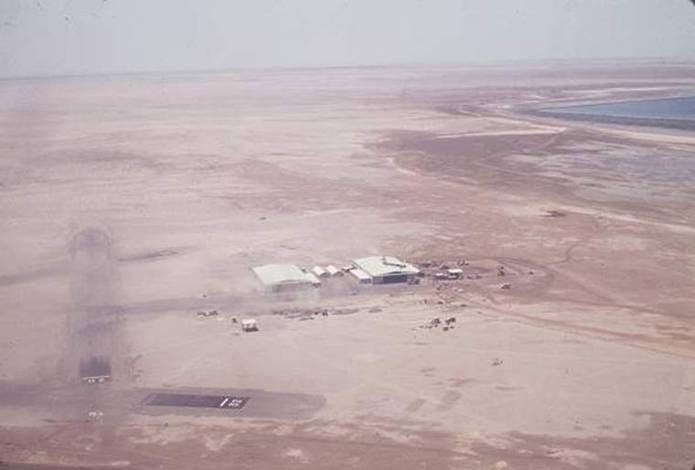 <![endif]>
____________________________________________________________________________________
Boeing 747-400
Mike's career eventually took him from Electrics and Instruments on Beavers to Avionic endorsement on Boeing, Airbus and Douglas products.
Another accomplishment by an Army Apprentice Soldier.
<![if !vml]>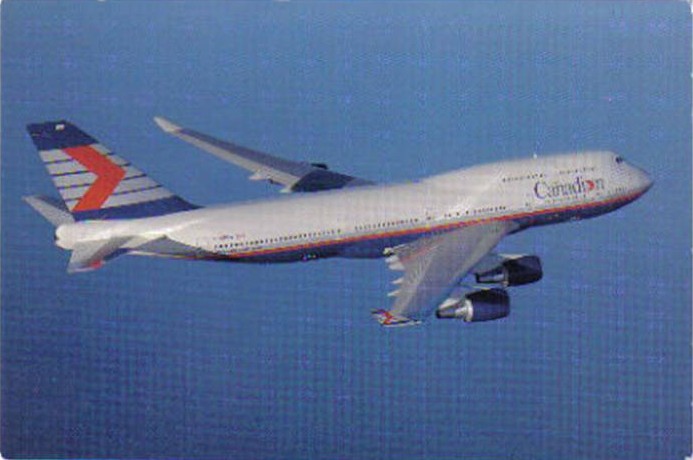 <![endif]>
B 747-400
John C. MOSS Webmaster of the Army Apprentice Soldiers web site.
___________________________________________________________________________________
Information Added 8th December 2012.
A link to this article was placed on the 'Army Aviation' web site by 'The Editor'.  It evoked two relevant responses which have been added below.
Tom Drake wrote…..
Thanks for that Trevor. Mike Jackson was a good buddy of mine in Aden. He and I and another Blackie, Al Caine, used to go to Ras Imran to snorkel and fish with rods, in the days before the violence started. I was at the incident with the Auster up country too. In fact I had recced and chosen the strip before it landed! I think that's my Landrover in the photo.
Service: REME 1956 to 1980. Lt Ac Observer; Air Tech; Tiffy.
Alan Harrison wrote……
My first posting was to 15 Flight in Cyprus care of HM Trooping Ship (Dunera)? Luxury NO. The move down to Aden was courtesy of HM LST. A drawn out affair as one of the engines did not want to play for almost the full length of the Red sea. As we were only moving at about the same speed as the following wind it was very uncomfortable and as there was only about 25 of us on board we were allowed to sleep on deck. The cooks spoilt us rotten grub wise as there would normally be up to two hundred on board. That was the last of good food for 2/3 months. The initial accommodation was in a tented UN transit camp outside of RAF Khormaksar and there is no adequate description for the poor food we had over that period. Wish we had been given 10 man compo packs. We kick started the AAC in Aden in Feb 1961 with two Chipmunks on ex Cyprus the other ex Kenya. We assembled them in RAF Khormakser with much head shaking from the RAF as we multitask trades. I found this single trade structure still in operation when working at Topcliffe in the late 1980s.Then we eventually got the Mk9 Auster's (mobile oil dispensers). And eventually the salvation of the AAC in Aden at that time the DH Beavers.(It should be noted that in 1962 up in Kuwait several of us took over Mk6 /7 Austers at the Kuwait training school which performed better than the Mk 9s in Aden.
Service: REME 1959-1981(653 SQD) CYPRUS/ADEN FIXED WING MW AIR TROOPS IN MALAYA/BORNEO .ROYAL SCOTS GREYS AIR TROOP GERMANY. 71 A/C WKPS. 1REG AAC. 4REG AAC. 7REG AAC. 657 SQD AAC SULTAN OF OMANS AIR FORCE. RAF/Navy(Bulldogs) Saudi Air Force Tornadoes
Army Air Corps, 653 Squadron, Advance Party bound for Aden.
<![if !vml]>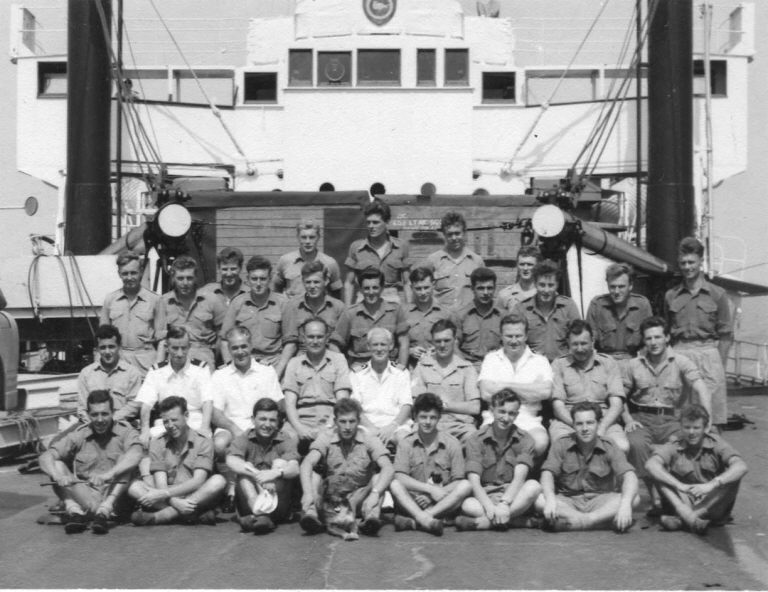 <![endif]>
Photo contributed by Alan Harrison to the 'Army Aviation' web site.
First Published: 18th September 2006.
Latest Update: 8th December 2012.
___________________________________________________________________________________
<![if !vml]>

<![endif]>